Hear directly from a patient who recently traveled from Canada to have thyroid surgery at the Clayman Thyroid Center
---
Patient: 71 y.o. male from Florida
I would like to express my thanks to all my doctors and assisting teams that made my two operations a big success. Dr. Rashmi Roy, Dr. Gary Clayman, and Dr Nate Walsh. I really do believe I had 3 of the best in the world doctors working on me. I wish to thank the assisting staff for all their hard work as well. I am recovering nicely. Again, Thank to the best team in the world!
Patient: BW, 40 y.o. male, Dallas, Texas, Thyroid Cancer Surgeon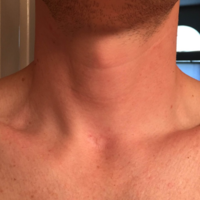 Call it what you will - accident, coincidence, serendipity, fate.  I happened to volunteer for a thyroid ultrasound to allow physicians to practice using the equipment.  I didn't have to volunteer.  I didn't even have to be there in the first place.  Dr. Clayman happened to walk up right when I was getting my scan and said to me matter of factly, "Hey, you've got your own little papillary thyroid carcinoma."  Being a thyroid cancer surgeon myself and familiar with thyroid cancer, I knew this was treatable and a successful outcome was in my favor.  It gets you thinking a little bit though.  I had to travel a significant distance and, like so many other busy people, I had a lot of work and life commitments in the coming months - one of which was a full Ironman triathlon 3 months away.  Dr. Clayman in his calm and confident manner reassured me about both my prognosis and about making my evaluation and treatment happen.  He even told me not to scratch the Ironman off my list yet either.  With that I left town ready to figure it all out.
     A month later my cancer was removed by Dr. Clayman.  My procedure was outpatient, I was back in my own home the next day, and the only pain medicine I needed was 2 doses of Tylenol in the entire recovery period.  I started back to triathlon training in 5 days and was back to work in a week.  I competed in Ironman Texas two months after surgery and despite all of this, I shaved 30 minutes off my personal best time.  I'm now a year out from surgery and my incision site, which you would never even notice unless you know what you're looking for, can be covered up by my thumb.  I rarely even remember I've had cancer, much less surgery to remove it.  I have always been well aware of Dr. Clayman's reputation and have even seen him work before, but to experience it on the other side of things confirms everything.
     My experience with him as a patient has been nothing but comforting.  From gentle reassurance about my diagnosis and treatment to checking up on me post-operatively with words of encouragement, I've never had any doubts about how things would turn out. There's always a smile on his face, and when you're with him, he makes you feel like you're the only patient in the world.  The stars aligned quite spectacularly for my cancer to be found and cured in the way that it was, but the brightest star of all, was Dr. Gary Clayman.  Thanks for everything.
---
Patient: Steven G Rothrock MD, FACEP, FAAP, 55 y.o. male, Professor of Emergency Medicine University of Florida College of Medicine,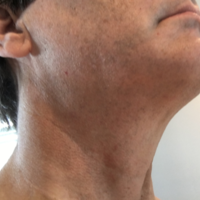 Steven G Rothrock MD, FACEP, FAAP (with his expressed permission)
Professor of Emergency Medicine
University of Florida College of Medicine
Orlando, Florida
When I was diagnosed with thyroid cancer, I asked ENT (Otolaryngology) experts, thyroid experts, and cancer experts whom I should go see. They all said that Dr. Clayman was the best thyroid surgeon and best thyroid cancer specialist in the United States.  I had a large papillary cancer that had spread outside of the thyroid and to multiple lymph nodes throughout my neck. Dr Clayman explained my entire treatment process before and after my cancer surgery (modified radical neck dissection) in a calm, reassuring manner to help alleviate any fears and answer all questions that my wife and I had. He continued to monitor me closely for more than a decade. I had two prior neck surgeries (tracheostomy as a child, and thyroid removal) before seeing him and having my neck dissection. I had multiple old scars and my neck looked relatively deformed from my older surgeries before seeing Dr Clayman. He made my neck look much more normal while working to take out all of the cancer at the same time. I later found out that Dr Clayman was a leading expert who is a nationally known expert who has conducted extensive research into thyroid cancer treatments – both surgical and non-surgical. In the past, surgery for this cancer was fairly invasive with a high risk of complications. Dr Clayman is one of the leading experts who has promoted less invasive and limited thyroid cancer surgery so you have the best chance of preserving your voice, your nerves, your parathyroid (calcium control) glands, and all of the other vital structures within your neck. 
In summary, Dr Clayman is the best and most knowledgeable thyroid cancer surgeon in the country.
 
 
Steve Rothrock
---
Patient: N. E., 34 y.o. female, Austin, Texas, Entrepreneur business owner and mother - Total thyroidectomy and bilateral central compartment surgery for papillary thyroid cancer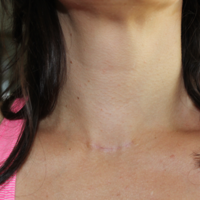 Dr. Clayman did a great job on my thyroid cancer surgery, finding the perfect balance between removing as much as he could without effecting other delicate things nearby.  I truly appreciate the time he took to answer my questions, as well as my family's concerns.  
 
Dr. Clayman has the most current knowledge on thyroid cancer surgery and did a great job explaining how treatment plans have changed throughout the years. 
 
Although not so important, my incision site is hardly noticeable and I had minimal discomfort after my total thyroidectomy and lymph node surgery.
 
Most of all, I appreciate Dr. Clayman being accessible to me and going above and beyond just the surgery.  He is truly a caring individual and doctor.
My highest recommendations!
---
Patient: P. B., 48 y. o. female, Shreveport, LA, Practicing nurse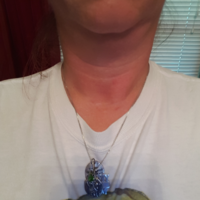 I met with Dr. Clayman about my upcoming thyroid surgery and he made me feel like I was his only patient. We discussed the surgery, many options, what he thought was best for me, etc. I was nervous because of the probability of having thyroid cancer. My father had passed with cancer not even a year prior to finding my cancer, so I was a wreck. Dr. Clayman calmed my nerves about the surgery and the outcome. I knew I was at the right place for my care. Once my surgery was over, I was amazed at the Incision site. Not once did the scar worry me. Now, about 14 months later, no one even notices my scar. It was pretty much nonexistent after about 6 months. When I went for my follow up visit with Dr. Clayman, he asked how I was doing, checked the Incision site, and before I left, gave me a hug. What a wonderful kind hearted man he is. Thanks again, Dr. Clayman, for everything you have done for me and others.
---
Patient: PL, 59 y.o. male, Thyroid Cancer Surgeon, Corpus Christi, Texas
As thyroid cancer surgeon, I have come to know Dr. Gary Clayman very well. I have referred patients with difficult head and neck problems to Dr. Clayman. As a physician I have seen the care and respect he has given my patients over the years.
When I developed thyroid cancer that needed more expertise than was available in my home town it was only natural I seek Dr. Clayman's help. He has skills that he has developed over the years of practicing medicine that others will never obtain. He strives to do the very best for his patients. He will not take short cuts or do things that are not necessary. He has been on the fore front of developing new techniques in surgery and helping to shape the treatment of thyroid cancer.
There are no guarantees in medicine but having a compassionate and caring physician makes a big difference.
---
Patient: D. M. Naples, Florida, Artist age 77
Dr. Clayman preformed a partial thyroidectomy on me on October 13, 2021. I ended up at the Clayman Thyroid Clinic in Tampa after becoming disenchanted with the local surgeons in my home community. I read through all of the internet information on Dr. Clayman and the Clayman Thyroid Clinic and was very impressed. My comments concerning my surgery are: the prep work leading up to the surgery, the surgical process, the doctors detailed explanation of process itself, and the recovery process were all done very professionally done with an emphasis on the well being of the patient. The staff: receptionist, nurses, PA's, and recovery staff all did a fabulous job. In retrospect I am extremely pleased that I traveled to Tampa to receive this excellent medical care from Dr. Clayman and his entire staff.
I will recommend Dr. Clayman and his Clinic to all I come in contact with.
PS: I am now almost two weeks into recovery with great results.
---
Patient: retired Palm Beach County civilian employee of 22+ years
From the first phone call with my surgeon, till we checked out, it was the best hospital experience of my life.
Every person I came in contact with was very professional, and courteous.
They were honest and did the minimal amount of cutting on me.
If you need to get your throat cut , this is the place to go.
I highly recommend Clayman Thyroid Center.
---
Patient: AVT/Riverview, FL/Grateful Mom and Government Civilian
I am eternally grateful for the Clayman Thyroid Center! When I was 41 years old I had an ultrasound done on my neck where a small nodule was discovered. Doctors kept dismissing the nodule because it was so small even though Radiologists listed it as suspicious. I insisted on having it checked yearly where doctors continued to dismiss it because of its size (under 1 cm). Fast forward 4 years and after my yearly ultrasound, I noticed I now had two nodules (one on each side) and they were both listed as suspicious yet I kept getting an all-clear from doctors. I insisted on seeing a thyroid specialist and was referred to the Clayman Center. That is the best thing that could have ever happened to me. Dr. Walsh called me on the phone and had a half hour consultation with me. This was during the covid lockdown where additional hospital measures were in place. After my initial appointment with Dr. Walsh, I now had a plan to determine what was going on with these nodules. They performed a needle biopsy on both areas and some lymph nodes and turned out both of my nodules (both under 1cm) were cancerous and it had spread into some of my lymph nodes. Dr. Roy delivered the news that no one wants to hear, but did so in a very professional manner. She was very caring and understanding and put my worries at ease. Dr. Clayman came to answer any questions prior to my surgery and also put all of my worries at ease. The surgery went well, my recovery went well, and later underwent the Radioactive Iodine Therapy which also went well. I am now cancer-free! I cannot stress how wonderful this group of doctors has been for me. Their experience is above all others and I highly recommend anyone to see this group if you are looking for the best medical doctors out there! Again, I am eternally grateful for these amazing doctors. Thank you Dr. Clayman, Dr. Walsh, Dr. Roy and your amazing team who worked to cure me.
---
Patient: Janice P in Ruskin, FL. Thyroid Surgery Patient
I knew I had Thyroid problems, I had a Nodule full of Hurthle Cells, Hashimoto's, and my bloodwork was off the charts. I set out to find the very best Thyroid Surgeons in the Country. When I started looking, I was living in Michigan. I looked there. If you are going to have surgery, you want the very best surgeons, somebody who does many thyroid surgery's and has experience to handle any situation.
I decided to choose the Clayman Thyroid Cancer center. I wrote to them and sent my previous Thyroid info. Dr. Nate Walsh became my favorite Doctor, and I must say, if you are lucky enough to get him as your surgeon, you will do well.
I had my surgery last June, and developed complications due to poor nutrition because of former gastric bypass surgery. I had problems for a whole year, and Dr. Walsh, Dr. Clayman and Dr. Roy stood by me and got me well again. During this past year, because of Dr. Walsh, I also found out that my heart was going bad, I had a 98% blockage and found out I had a mini heart attack. Now I'm 100% better, my heart is fixed, and I will never have to worry about Thyroid disease again.
I will never forget the excellent care I received from Dr. Nate Walsh. Thank you for saving my life :)
Love you, Dr. Clayman!
---
Patient: J. T. 81 year young retired woman, Maitland, Florida
I am so pleased that I was able to have the very best surgeon in the country, Dr. Clayman, to remove my thyroid, some lymph nodes and to oversee the removal of a parathyroid adenoma. You want the best when you have cancer. I was treated perfectly by the entire staff and made to feel confident in their professional abilities. Dr. Clayman has a wonderful bedside manner, he was right there to answer any questions and give support. I made the right choice and I would do it all over again with the same surgeon. My little scar is healing nicely and in time will disappear.

Thank you, Dr. Clayman and staff for an outstanding service well done!
---
Patient: A. S. 76 year old retired woman, thyroid cancer, Lake Worth Florida
Nothing is more frightening to hear you might have cancer! I was scared when the biopsy came back as "positive"...I thought it "would never happen to me". I asked my thyroid doctor what do I do now? Where do I go? He told me Dr. Gary Clayman was the top thyroid cancer doctor in all of Florida...and possibly the USA. I made my decision after researching Dr. Clayman online and reading the many wonderful testimonials from his many patients. I chose him as my surgeon and my journey began...! In a few days I received a special call from Dr. Clayman to ask me what was going on. I told him of the biopsy and my fear...that I might lose my voice. In a calm and caring manner he assured me "that will never happen"...we will totally cure you". I went to bed that night knowing I made the right choice.

From the moment I arrived at the hospital for my scheduled surgery I was treated with the upmost respect and care. They explained everything to me and Dr. Clayman came into the room...an imposing figure! and went over everything he was going to do. They redid ALL the tests and within a few hours...he had his "game plan" and off I went to surgery. I never experienced any pain in recovery and when I woke up Dr. Clayman assured me "they got everything" and I was cancer free! He will forever be my hero and I am so grateful to him for his expertise and experience in what I know is a very difficult precise surgery. He was confident and never cocky...caring and understanding. He makes you feel like you are the most important patient! What more could I ask for.

I would recommend (and have) Dr. Clayman to anyone!!
---
Patient: T. O. 48 year old male, Executive Director of Orchestra, Large Hurthle cell Neoplasm
Following is my personal testimony regarding my experience with the Clayman Thyroid Cancer Center and Dr. Clayman:

Sometimes accidents happen for a reason. As an avid triathlete, I was on a training ride and had a rare crash. From the crash, I ended up being sent to the emergency room for a CT scan due to hitting my helmet and head on the pavement and being knocked out for several minutes. With only bad abrasions and pain, I was getting ready to be released from the ER when the doctor on duty informed me that I needed to follow up with my primary doctor because a tumor was identified on my thyroid. This begins my journey to Dr. Gary Clayman in Tampa, Florida.

Following a series of tests at my local medical center including an ultrasound, fine needle biopsy of the tumor and genetic testing, it was determined that I had a 7 - 8 cm hurthle cell nodule on my left thyroid that could not be diagnosed whether it was cancer until it was removed. This was a big surprise as I did not see or feel the nodule in my neck and was in excellent health. I began researching my condition which led me to contacting Dr. Clayman since all the articles I read indicated that the best outcomes in thyroid surgery correlate directly with the experience and knowledge of the surgeon. Reaching out to him via email, he contacted me the same day and discussed the information I had provided him. He recommended that I needed to have surgery to remove the nodule but that it did not have to happen immediately due to my schedule. The following morning, Dr. Clayman called and reassured me that everything would be fine and that the surgery would be scheduled after I returned from my trip.

My day of surgery began with an early arrival at TGH followed by a myriad of tests to determine the best course of treatment and a meeting with Dr. Clayman. He was calm, reassuring and provided me with a clear picture of the surgery I would undergo which for me was a partial thyroidectomy. I was released the same day, did not have any pain and went out for dinner that evening. I returned to work five days post-surgery and began cycling six days after the surgery.

I was so fortunate to receive the good news that my tumor was not cancerous and celebrated by racing a triathlon one month after surgery. My entire experience with the Clayman Thyroid Cancer Center was extremely positive and if I should ever need another thyroid procedure, I would definitely return to see Dr. Clayman and his staff.
---
Patient: E. M. 71 year old woman, County Board of Commissioners, Augusta Georgia, Recurrent thyroid cancer
My journey began November 1, 2016 when I became ill with what appeared to be a throat infection and upper respiratory illness, but turned out to be a large mass on the left side of my thyroid. I had my first surgery on December 27 which resulted in removing a 4.7 cm tumor with two lymph nodes which turned out to be papillary thyroid cancer. My next surgery was January 17, 2017 to remove the remainder of my thyroid and a few more lymph nodes which also showed cancer. From there I had an RAI treatment and was told I would be fine - that this was the "most curable cancer on the planet".

I was not comfortable with all this and asked for a PET scan which I had and which showed much more cancer in the lymph nodes of my neck. I realized then I was in trouble and I immediately sought out who was the best surgeon for this and more than once Dr. Clayman's name came up. Every testimony I read encouraged me more to contact him.

I completed the registration form over a weekend and at 6:45 am on a Monday morning, Dr. Clayman called me. As I stood looking at the phone I couldn't believe he was calling. He was kind, calm and reassuring - I realized God had opened the door. It was then that I knew I had to go to Tampa for treatment. Everything was arranged with efficiency albeit a hurricane caused a temporary postponement, but on 9/27/2017 he operated. The day before surgery I had tests performed with an unparalleled level of sophistication. His thoroughness in reviewing all the tests was abundantly apparent. His entire staff was knowledgeable, kind and efficient and I was treated like family.

Dr. Clayman operated for several hours performing an extensive bilateral neck dissection and when it was over he told my family he got it all. There was a concern over my vocal cords but he was able to remove the cancer and save my voice. There are not enough words to describe what a wonderful person Dr. Clayman is as well as being a gifted and amazing surgeon. He truly cares about his patients. Even when I came home he was a just phone call away. Everyone has his personal cell phone and is welcome to contact him with questions. I am thankful for him every day. I was able to go back to work in two weeks and am doing well. I only wish I had found him sooner but in his words "you can't go back but forward to the right surgery". I'm 8 hours away from Tampa but I would have traveled any distance to be treated by him. No matter how far from Tampa you are – he is the best! I hope that if someone needs his help, they will certainly contact him. You can expect the highest quality care.
---
Patient: J. G, 19. year old male student, papillary thyroid cancer with metastases in neck lymph nodes, Alexandria Virginia
On behalf of my son, James, I want to share our experiences with Dr. Clayman and the Thyroid Cancer Center. My son was diagnosed with multiple thyroid nodules at 18 years old that were extremely suspicious for cancer. His doctors here in Washington DC did not understand the complexity of the issue and were actually following recommendation I gave to THEM from research I had performed.

I googled "Best thyroid surgeons" and Dr. Clayman's name popped up. I researched his experience and work history at MD Anderson Cancer Center and read through his CV and his extensive multi-decades experience on thyroid problems; his 700+ surgeries a year really impressed upon me his level of experience. I sent a question to him via his website and that same night he called me to discuss my son, I almost fell out of my chair! I never believed a doctor with his reputation and prestige would actually call, but he did.

From the moment we arrived in Tampa until the day after my son's surgery, Dr. Clayman made us feel like my son was his top priority. When Dr. Clayman entered the room, his confidence filled the air and we knew he knew what was going on. I have never had a doctor so qualified who could also remain humble. He was not arrogant or pompous. He was kind, compassionate, and exquisitely qualified. He is very accessible to his patients and told my son to feel free to email him, call him, text him, or send smoke signals, any time he was needed, even if in the future. From my perspective, he was sensitive to my worries as a mother and attentive to my concerns. We went to Dr. Clayman even during the threat of Hurricane Irma, and would do it all over again. He is the best. As my son stated to me, "I recommend everyone see Dr. Clayman for their thyroid surgery, even if you have to go through a hurricane to see him."

There is no one else.
---
Patient: L, Z., 44y.o. female, West Palm Beach, FL IT Project Manager D.O.S: 5/15/17 Total Thyroidectomy
I cannot express all my gratitude to Dr. Gary Clayman. He really is the best doctor in the field. Considering how fast I had to schedule my surgery, he was on the top of the situation, taking good care of me before, during, and after the procedure. He addressed all my doubts and concerns, and helped me with dedication and appreciation.
He did an amazing job removing my thyroid. Despite it being less than four months since the day of my surgery, the scar is hardly noticeable and the near organs didn't have any damage. Based on what I notice; I am pretty sure my mark will disappear with time.
Also, his staff was attentive responding to all my inquiries.
I've never seen a team so dedicated to their patients.
I really thank him for providing the best care I could imagine.
---
Patient: J. "Jim" W. , 87 y.o. Salem, VA Retired Date of surgery: 6/05/17
My thyroid cancer was diagnosed through a biopsy and a surgery date was set with a local surgeon. I did some research online and I, for whatever reason, was not comfortable having my surgery done here locally.
After reading about Dr. Gary Clayman, I contacted him via email regarding the details of my case. That night, Dr. Clayman called me at 10:45 PM! He made arrangements to have someone from his office call me the next day (Thursday) and surgery was scheduled for the following Monday.
Monday morning several tests were performed. My surgery occurred at 6:30 PM. I awoke afterwards with mild pain. The next morning I had no pain and have not had any since.
I fell in love with the staff. They were so friendly and helpful, even got a hug or two.
THIS IS THE ONLY PLACE TO GO IF YOU HAVE A THYROID SURGERY!! THIS IS ALL THEY DO!!!!
---
Patient: S. S. , 75 y.o. old female , Panama City Beach, FL Retired Nurse Date of surgery: 4/19/17
Let me start by saying that my husband and I are medical professionals. In February 2017, following an auto accident, I discovered I had suspicious nodules on my thyroid. After an ultrasound and needle biopsies, no cancer was found. Not trusting medical care in my city, my husband found Dr. Clayman on the Internet.
After researching him, we found his credentials to be impeccable. The very first night after scheduling an appointment, Dr. Clayman telephoned me to discuss my condition- what Doctor does that!? We went to Tampa and couldn't have been treated better. His office was extremely efficient. We arrived at 9am and went immediately for blood work. After that we did ultrasound - let me tell you that their equipment is state of the art, a thousand times better than what is available in my city. He found a small cancer and I had my thyroid removed the next day. I returned to my hotel for 1 additional night and then home.
After 4 months there is no visible scar!
---
Patient: M. W., , 62 y.o. Baltimore, MD, Physician Date of surgery: 6/27/17
Because I am a busy physician who speaks with patients all day long, my goals after my diagnosis of thyroid cancer were to first, of course, get rid of it, and second, do this with the least amount of recovery time and the lowest risk of damage to the nerve in the throat that helps control speech. Even though Baltimore has two of the top hospitals in the country, I searched for the most experienced thyroid cancer surgeon I could find, with the lowest rate of complications. That search led me to Dr. Gary Clayman.

Dr. Clayman was a top surgeon at MD Anderson Hospital in Houston before he went to Tampa to establish a dedicated thyroid cancer center. Physician friends and colleagues vouched for his experience and skill. After my initial inquiry and data submission, Dr. Clayman personally called me more than once to answer questions and explain the process.

My entire interaction with Dr. Clayman and his staff was outstanding. After my initial online inquiry, data submission, and phone calls with Dr. Clayman, I felt confident in placing my thyroid cancer surgery in his hands. I was able to fly down to Tampa on a Sunday, get pre-op done on Monday, surgery Tuesday morning, back to hotel Tuesday afternoon, and fly back home to Baltimore on Thursday.

Four days after surgery, I was able to resume bicycling and rode ten miles without a problem. Dr. Clayman was able to remove only half of my thyroid to remove the cancer, transplant the parathyroid gland, keep my laryngeal nerve intact, and give me a minimal scar, which continues to fade. What could be better than that, other than not having thyroid cancer at all?

I will always be grateful to Dr. Clayman and his skilled team (many of whom followed him from Houston to Tampa) for their outstanding and compassionate care.
---
Patient: B. Z. , 74 y.o. woman Columbus, IN Retired Date of surgery: 6/21/17
I looked on the internet for the best place to go for thyroid surgery.
Dr. Clayman's name popped up on the screen repeatedly. I knew that I had to go to someone with experience after reading about all the things that can happen under the care of a doctor that does not do thyroid surgery every day. Experience and results were the two things that were important to me.
Dr. Clayman is everything you would want in a surgeon. Experienced, a real connection to his patients, with personal phone calls before surgery and after, ability to take away any fears you have prior to surgery, answers questions, and to him, this is easy, with nothing to fear. I had a large benign goiter that had grown substernally and I had no doubts that he could handle this. I had a hematoma, which does not happen often, and required to go back to surgery 2 hours later to evacuate it. Dr. Clayman took care of it and after one night in the hotel, I was cleared to start our trip back to Indiana.
It was a little scary going to a different state for surgery, and being in the care of total strangers. But the whole experience was beyond my expectations. The staff was excellent and so kind. You will feel special and cared for at The Clayman Thyroid and Thyroid Cancer Center.
Dr. Clayman is the best!!!
---
Patient: I. E. , 81 year old gentleman, Jensen Beach, FL Retired Date of surgery: 6/26/17
In June 2017, Dr.Clayman removed my much enlarged (8 centimeters in one dimension) thyroid lobe through a small incision. The surgical process - before during and after- was painless. My recovery was quick and uneventful.
Gratefully, I benefited from Dr. Clayman's top notch expertise and care. He and his assistants were with me at every step of the way. The surgery attained its objectives in relieving pressure on my windpipe while not damaging the parathyroid gland. Now, a few months later, I am in good health without need for medicines/supplements of any kind. Everything went as Dr. Clayman described it to me, there were no surprises. My thanks also go to Dr. Clayman's and his entire staff! I highly recommend them!
---
Patient: C. M. 56y.o female, Romania, Date of Surgery 4/18/17
Dr. Clayman is a great doctor, a top thyroid surgeon in the world, maybe the best one globally. He is extremely professional, very warm, while providing great care, before and after the surgery.
Together with his outstanding team, he removed my medullary thyroid cancer. I am very happy that I chose him for investigations of my thyroid disease and for my surgery.

I am grateful to him for all my life!

Even if you have to cross the ocean to reach Dr. Clayman and the Thyroid Institute and Thyroid Cancer Center, it's worthwhile to do it. As a patient, you should think to the fact that only a doctor as Dr. Clayman, performing these kind of operations daily, can be the best in dealing with all kind of possible cases and also details necessary to be solved during the surgery.

With high gratitude, now and always!
---
Patient: SPC Palm City, Florida Retired 65 year woman total thyroidectomy
My experience with Dr. Clayman and the entire staff at Clayman Thyroid Cancer Center surpassed all of my expectations and then some!
Dr. Clayman's personal phone calls to me letting me know what to expect and how to proceed were certainly unexpected and reassuring. His staff made me feel like a family member. What blew my mind was the level of care I received. The nurses did everything possible to make my stay overnight comfortable and painless.
What really amazed me was and the fact that I had absolutely no pain after the surgery! A little bit of a sore throat was my only discomfort and even that was slight! Bravo Dr. Clayman and to the entire staff at Clayman Thyroid Cancer Center thank you all very much for the outstanding level of care you gave me!
Thanks again!
---
Patient: HM 72 year old male with Hurthle Cel Neoplasm of the Thyroid Altamonte Springs, Florida
At the end of last year, at the age of 72 I was diagnosed with a nodule of my thyroid gland. Although the diagnosis was benign there were some hurthle cells that could lead to thyroid cancer.
My mother, father and only sibling had died from cancer and I was concerned. My research lead me to the decision for surgery. After consulting with doctor friends and searching around the country for a thyroid surgeon, Dr. Gary Clayman rose to the top of my list.
He and his staff were wonderful. I filled out an online questionnaire from Dr. Clayman's website and shortly afterwards, I received a call in the evening from Dr. Clayman. We discussed my case thoroughly and Dr. Clayman was extremely knowledgeable, helpful and supportive. After that conversation with Dr. Clayman, I decided he would be my surgeon. A few weeks later I had my surgery with Dr. Clayman. The caring time spent with him and his staff was unmatched by any other medical experience.
My surgery went well as I had one half of my thyroid gland and two lymph nodes removed. I believe Dr. Gary Clayman has given me the opportunity to live a normal life. I would highly recommend Dr. Gary Clayman for any family member. My daughter has just been diagnosed with multi(3) nodule goiter and we will be consulting with Dr. Clayman as soon as we get the results from her fine needle aspiration (biopsy).
---
Patient: LT 68 year old woman with papillary thyroid cancer Melbourne Florida (retired)
When my Endocrinologist called and told me I needed my thyroid removed, I was stunned and upset all at the same time. My Endocrinologist said "Go to Tampa to the Clayman Thyroid Center" for the thyroid removal. I was hesitant about going to a hospital 200 miles away and meeting with a doctor I was unfamiliar with.
I "Googled" leading thyroid surgeons, and the #1 name was Dr. Gary Clayman. I called his office and explained that I was going to put off the surgery for two months until my recent surgery(unrelated) had a chance to heal. I decided to start all the paperwork still wanting to wait.
What changed my mind was a phone call at 9:30 pm from Dr. Clayman. He was so caring, so understanding and listened to every word I said - Understood my concerns. I had never met this man! What doctor calls patients whom he has never met!? He explained my thyroid issue and the need not to wait. At the end of our conversation, I knew he was my surgeon.
The next day, his office called me and I had my surgery two weeks later. I had a very difficult and complicated operation and I cannot imagine any other doctor doing this surgery! Dr. Clayman's expertise is known worldwide and it was an honor for him to do my surgery. The professionalism of his staff and the caring of Dr. Clayman helped me through a most difficult time. The caring continues and is still continuing a month after surgery!
Dr. Gary Clayman is AWESOME! His staff is just as AWESOME.
---
Patient: A. B., 36 y. o. female, Saint Augustine, FL, IT Consultant
First off, let me say that if your search for a thyroid surgeon has brought you to this site, search no more. Dr. Clayman is who you want to see. Cancer is a scary thing, and to hear that word at such a young age can be surprising. I was blindsided by my diagnosis, having discovered it by accident when at the doctor for a routine medical issue. I was immediately referred to Dr. Clayman by a family member, and the rest is history. He performed a full pre-surgery evaluation on me using top of the line ultrasound, biopsy, and other imaging. I had everything and everyone needed to perform the tests in one room there in Tampa, which is quite rare. I was able to go in and walk out a few hours with all my tests finished. After the test results were in, Dr. Clayman called me himself with the results, a plan of action, and assurance that all would be okay. A month later, I had full thyroidectomy to remove my papillary thyroid cancer. In addition to removing my thyroid, he took the time to check the lymph nodes in the area to ensure that the cancer had not spread. Dr. Clayman's bedside manner is excellent - he listens well and is calming, caring, and kind. He explained the process to myself and my family in great detail, making us feel prepared for what was to come. Both he and his staff were excellent to follow up after the surgery, even visiting the recovery room and making sure I had all my post-surgery medications. I had very little pain from the surgery (only over-the-counter pain medications needed) and no issues with my voice. My scar is minimal - most people don't even see it and it's only been a few months since surgery (the attached picture was taken 3 months after surgery). The best part is that my cancer is now 100% cured. I feel so blessed that I was able to find and be treated by Dr. Clayman and his staff. Dr. Clayman's knowledge and experience is unsurpassed.
---
Patient: ST, 53 year old male from San Antonio, Texas. Right Thyroid Lobectomy.
In January of 2017, I was diagnosed with a large mass on my right thyroid Lobe measuring about 8cm X 6cm. I had no symptoms and was shocked and terrified with the thought of cancer, thyroid removal surgery, etc. I was referred to a local ENT for surgery and treatment. When I asked how many thyroid surgeries he had performed he responded – "about 100 in the last 20 years". He told me he does a variety of ENT surgeries like ear tubes and tonsils every Wednesday. I became really nervous with that response. I immediately started researching Thyroid Cancer and related surgery and of course came to the conclusion that this area of the neck is loaded with very sensitive areas like nerves to the larynx (voice box), the trachea (breathing tube) itself, parathyroid glands, lymph nodes, and the thyroid gland just to name a few. There was no way I could trust my surgery to anyone who was not an expert. That's when I found Dr. Gary Clayman. Dr. Clayman has performed over eight thousand thyroid related surgeries. He performed thousands of thyroid surgeries over many years first at Houston's prestigious MD Anderson Cancer Center, and then he opened the Clayman Thyroid Cancer Center in Tampa in the fall of 2016. Please research his bio and related work on your own and I believe you will find he is an expert in thyroid disease and surgery.
When I arrived in Tampa from Texas, I found Dr. Clayman's staff to be very experienced and professional. They truly cared about my feelings and explained and performed all pre-operative tests, scans and biopsies with care and expertise. Dr. Clayman met with me personally and reviewed all of my test results and answered all of my questions. His confidence and obvious expert experience showed in the details he described about my diagnoses and prognoses. To give you an example, my thyroid mass was very large and Dr Clayman calmly explained that removing it was no problem for him in fact he had just removed a huge mass 4 times the size of mine the day before! I instantly was reassured and I knew I was in the hands of the best! My surgery went very well and Dr. Clayman was with me before and after my thyroid lobectomy to explain all details of surgery both pre-op and post-op. The incision was small and is healing well after just 3 weeks. My pathology turned out to be benign so obviously I was thrilled. I was so thankful to have Dr. Clayman perform my surgery and my trip to Tampa to be his patient was the best decision I ever made.
---
Patient: E. S. 77 year old female with recurrent papillary thyroid cancer and paralyzed nerve to voice box , West Palm Beach Florida, retired
After being diagnosed with recurrent thyroid cancer, it was imperative that I find a surgeon that I had confidence in and a background to go with it. My son's surgeon in Colorado recommended Dr. Gary Clayman of the Clayman Thyroid Cancer Center in Tampa Florida.
After speaking with Dr. Clayman on the phone, his positive attitude, the knowledge that he preformed these high risk surgeries (I have only one functioning vocal cord and that he had to avoid damage of the voice box). He assured me that I would be fine.
A few days later, a patient cancelled their surgery and I was offered their appointment. I believe God was looking out for me. I accepted and was operated on October 17,2016.
The care and compassion that I was shown prior, during and after the operation was, and still is unbelievable. Dr. Clayman and his staff , Jolene and Joan were with me every step of the operation and Caroline set up and coordinated all the paper work. At this point, I am cancer free. I would recommend Dr. Gary Clayman and his staff without hesitation. My sons and my husband felt that Dr. Clayman was the surgeon for me and I totally agreed.
Thank you again and God Bless
---
Patient: V. C., 56 years old educator, Houston, Texas Recurrent thyroid cancer left lateral neck and central compartment
My name is Valerie C. and Dr. Clayman saved my life. On November 2, 2002, I was diagnosed with Metastatic Papillary Thyroid Carcinoma. In layman's terms: thyroid cancer that spread to the lymph nodes and soft tissue in my left neck and central compartment. I had already undergone multiple other operations for this thyroid cancer by other surgeons and I was terrified. I was referred to Dr. Clayman and got an appointment one week later. At the time, I was a very healthy 42 year old woman with a preteen age daughter. I was overwhelmed by the entire concept of recurrent cancer and a major institution but was assured by Dr. Clayman that all would be well. My surgery was performed that following week and from that day to my returning to work was exactly one month. I have remained cancer free for the past 14 years. I am truly grateful for Dr. Clayman and all of his knowledge and expertise. Thank you for being such a great surgeon and such a caring doctor.
---
Patient: W. R. 66 year old female, Lake Mary Florida Insurance Executive
It is never good news when told you have cancer and will need surgery- in fact it is down right scary. After going through knee replacement surgery a few months earlier, I was not looking forward to another surgery so soon. I have been fortunate to have good doctors that recommend other good doctors when needed.
My endocrinologist, gave me the news and proceeded to tell me my surgery options and when he finished I asked "who would you go to for this surgery?' He didn't hesitate with his reply, "Dr. Clayman! We now have a wonderful renowned surgeon in thyroid cancer, in our area."
What I found with the Clayman Thyroid Cancer Center was organization with tremendous organization and effectiveness. I was able to take care of paper work and questionnaires regarding my medical history ahead of time. Since I live several hundred miles away, my first visit was the day of surgery so being prepared with all information was essential.
Form the moment I arrived at the hospital (with my husband) the personnel were helpful and most accommodating. Admission was a snap and we were brought up to Dr. Clayman's door.
What a great staff! I have seldom felt so special. Dr. Clayman and his team were with me all morning pre-op and they actually read all those questionnaires I had filled out. If I had to have a pre-op test done, he did it or was there while it was done. When I had to have a pre-op x-ray, Joan escorted me to that and waited for me. This kind of care and attention meant a lot to me and I feel that this doesn't adequately describe my appreciation of the experience.
Talking to my after-care nurses it was obvious that they too have the utmost respect for Dr. Clayman and were glad to have him here in Tampa.
Thank you, Dr. Clayman for your attention and care. I know there were other people involved, whose names escape me, that helped make my time there seem so...effortless and to them I extend gratitude, also.
---
Patient: Age 31 – (age at time of surgery 26) – profession: linguist revision central and lateral neck dissection for peristent papillary thyroid carcinoma Los Angeles, CA
Before meeting Dr. Clayman, I had met with several surgeons, and they expressed concern about the complexity of my revision case, specifically the risk to my vocal cords.  I had undergone a surgery in Los Angeles at a major medical center by a surgeon reported to be an expert thyroid cancer surgeon. Unfortunately, he left significant disease in my neck which I have since found out is quite common except with truly exceptional thyroid cancer surgeons.
 When I met Dr. Clayman, he was serenely confident—and incredibly kind.  He took the time to answers all of my questions and wasn't at all uncomfortable about detailing his relevant experience as a surgeon, which far exceeded any national peers. 
 
Within a few minutes, I knew he was "the one" (to save my neck).  He is the paradigm by which I judge all other surgeons, and the example in my mind of what a surgeon should be – extraordinarily skilled but kind and respectful, and very patient.  I have always felt like a human being when dealing with Dr. Clayman, despite how busy he is and the number of cases he takes on.
 
It goes without saying, but years have passed since my revision, and I'm doing better than ever—voice intact...and never a hint of cancer again!
---
Patient: Patient: J B, 39 y.o. male, vice president & principal, MMR Group, Inc., Baton Rouge LA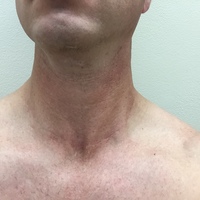 I was diagnosed with metastatic thyroid cancer, specifically papillary carcinoma on April 29, 2014 at the age of 37. I elected to pursue surgery specifically with Dr. Gary Clayman. My case was somewhat unique as I have an identical twin who was diagnosed with the same cancer six months prior to me. As a concerned family member, I was able to 'get smart' about the disease, the options, surgery, and treatment not by virtue of, but rather by the circumstances of my twin's experience.
And so I first met Dr. Clayman as a supportive sibling bearing witness to a family member's experiences. Through our research, we had both read and heard through various sources (including a member of the board of MD Anderson), that Dr. Clayman was set apart as the very best among the very best. I was able to see firsthand the complete skill set that Dr. Clayman possesses. His personal care and attendance to the patient gave our family an incredible level of comfort quite apart from his professional distinguishment (which is literally second to none).
Soon after, I myself became a patient of Dr. Clayman. Six months after my brother's successful surgery with Dr. Clayman, I was diagnosed with the same affliction and the choice was very clear as to the surgeon I wanted. What seemed like an overwhelmingly complicated, intimidating, and daunting procedure to me was nothing but straightforward and routine for him. His confidence was indeed infectious and reassuring. On May 13, 2013 (short two weeks after my diagnosis) Dr. Clayman performed a total thyroidectomy with an extended complicated left and right neck dissection to remove the thyroid, affected tissue, and the cystic metastatic lymph node areas. I spent two nights at the hospital and one night in an adjacent hotel prior to returning to my hometown of Baton Rouge. I have no long term vocal issues and the scarring is so minimal that it goes completely unnoticed by most.
I, my wife, our three kids, and our extended family are forever grateful for Dr. Clayman's lifework. As I have told others in the past and will repeat in the future; "if you ever have to face a thyroid cancer then attend to your care and treatment with one person, Dr. Gary Clayman. I am here today because of him." It's the strongest endorsement I can make.
---
Patient: Anthony Guillen, 40 year old male, total thyroidectomy and central compartment lymph node dissection for papillary thyroid cancer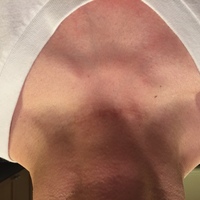 6.5 years ago an observant chiropractor noticed a goiter in my neck, which was soon thereafter diagnosed as papillary thyroid carcinoma. I was 33 years old. After consults with other surgeons, I felt most comfortable with Dr. Clayman's expertise and evaluation. We decided on a complete thyroidectomy, and Dr. Clayman performed the surgery. There were no complications from the surgery and now, over six years later, I have had no recurrence of cancer. Dr. Clayman's skill both in diagnostics and surgery helped ensure that I can live a healthy life for my family: my wife and my three children. Thank you, Dr. Clayman!
---
Patient: M.W. Television host and Vice President of Television Operations, Lake Charles LA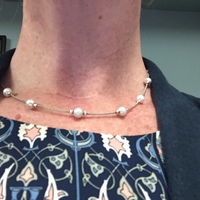 Dr. Clayman was highly recommended to me by my endocrinologist. He advised that although many general surgeons will perform a thyroidectomy, it would be best to use someone who performed this type of surgery often. I work at a tv station and host a daily show, so I was concerned about possible changes to my voice or a large, visible scar. I talked with Dr. Clayman about my concerns, and he made a special effort to keep the scar as small as possible. Within a few shorts weeks I was back on air, and my scar is not even noticeable. I was very pleased with the treatment I received from Dr. Clayman, and would not hesitate to recommend him to anyone facing thyroid surgery.
---
Patient: DW, 59 year old female, anaplastic thyroid cancer, stay at home grandmother taking care of three children, Big Sandy , Texas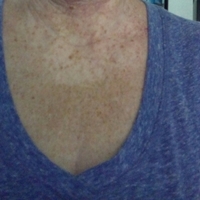 In June of 2013, I got the terrifying call that I had a rare, fast growing thyroid cancer call anaplastic thyroid cancer. One of the most devastating cancers know to mankind. I was immediately sent to Doctor Gary Clayman. Right away, I felt a connection with him. I went in frightened of what lied ahead. Doctor Clayman's calming and confident words made me feel I was in trusting hands. I felt as if I had an army fighting for me. He was very informative and told me what a hard fight will be ahead of me. I then underwent surgery followed by chemotherapy and radiation therapy immediately after surgery. Doctor Clayman showed empathy in my "low" times as well as my "high" times throughout this journey. Even now, three years later, he was truly a big part of my support system and I cannot thank him enough for all the help he has given me. He is an outstanding doctor and I feel blessed to have been referred to him.
---
Patient: W. & J. D., 38 year old male, attorney, Houston, Texas
My husband was diagnosed with Thyroid Cancer in November. As you can imagine, I felt I was at a road block -The rock of our family, now battling a cancer illness at 36…no idea where to turn. It was then a longtime friend contacted and sent me in Dr. Clayman's direction. This friend contacted Dr. Clayman via email, and within minutes (no lie 35 minutes) I received a return email – He (Dr. Clayman) would be "happy" to take the case, he responded.
When we first met Dr. Clayman, we were at ease. He walked in very confident and calm, spoke to us in a matter than we could fully understand what was going on, and he then said "I can remove all of this." He encouraged us to continue on day to day with normal activities. The confidence that he left us with when we both felt such defeat was remarkable; it allowed for us to go home in a better state of mind than we had come in.
Fast forward through time. December 2nd was surgery day. We arrive as told, and once again Dr. Clayman visits with us before surgery, still calm and collective. Once surgery is complete, he comes out and visits with me and my parents. He was very thorough regarding the disease and the details of the surgery…and then again he left us with almost the exact words spoke at the first appointment "I got it all." With every appointment and check-up after, Dr. Clayman has been the same focused, calm and collective, thorough and confident doctor.
The love and passion for his job shines through to his patients giving them the hope and fight needed to pull thru some of the darkest days. I feel Dr. Clayman was heaven sent to us, and my family will be in forever in debt to him. I will go out on a limb by saying he is by far the best in the medical field, and any patient of his will feel the compassion and care we felt. He was open and honest every step of the way. He never left us with things we did not understand, and always made sure we had no other questions. Thank you Dr. Clayman from the bottom of our hearts – without you, I am just not sure what our future would have looked like. I believe in my heart you saved his life.
---
Patient: DGS 67 year old gentleman Aggressive thyroid cancer with local invasion into breathing tube and esophagus Albuquerque New Mexico
I am a life long resident of Albuquerque, New Mexico. I am currently 67 years old. I would like to share some information about myself regarding thyroid cancer and the doctor I refer to as "the man who saved my life", Dr. Gary Clayman.
In 2005, doctors at Lovelace hospital, Albuquerque, New Mexico, diagnosed me with thyroid cancer. In May of 2005, I underwent surgery to have my thyroid removed. In 2006, one year after the first surgery, I returned to Lovelace for my annual check up. There, I was informed that the cancer had retuned. The doctors at Lovelace suggested another surgery be done. I went through another surgery at Lovelace only to be awaked to some horrible news. In the recovery room, the doctor who had performed the surgery told me that there was nothing he could do for me, the cancer had spread. He said if he were to go in to remove the cancer, he would have to remove my voice box and put a hole in my esophagus. He said he knew I wouldn't want to live that way, he said, "so I closed you up". He then said, by the way you have about two years to live.
Searching for answers and hope after the "unsuccessful" surgery, I went to see my endocrinologist. He suggested that I get a second opinion. He mentioned he had met Dr. Gary Clayman, leading head and neck surgeon, at a seminar. Dr. Edward recommended that I should see him as soon as possible. At this point, I was desperate, willing to try anything, so an appointment was scheduled.
Upon meeting Dr. Clayman in January of 2007, several tests were scheduled and done. On January 30th 2007, I went through yet another surgery, this time performed by Dr. Clayman. This man not only saved my life, but was so compassionate about taking care of me and treating me like I was a human being, not just another number. I was highly impressed by his "bedside manner" and I keep him in my prayers each and every night.
I know that anyone who has ever been in his care would testify that his up to date knowledge and kindness outshines many in his field. He can be trusted and counted on for his expertise and I would highly recommend anyone I know to him.
As it has now been 9 years since that morning I met him and I can proudly say that Dr. Clayman was able to remove the cancer that plagued me. He continued his care with me while I went through radiation and has never left my side. I now speak with an excellent voice and eat everything I desire.
Now, I am happy to say I am cancer free! Thank you Dr. Clayman and may God bless you and guide you in all that you do.
---
Patient: SL 55 year old female Business Owner papillary thyroid cancer with neck lymph node spread to both sides of neck Santa Ynez CA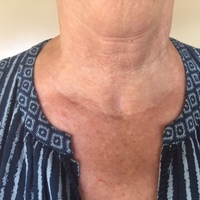 How do you start a testimonial about someone who has saved your life twice?
In 2011, I had a carotid artery scan to see if I had plaque buildup when I
turned 50. A very large tumor in my thyroid showed up, I had a biopsy done
in California and the tumor was in fact malignant. Every doctor I saw in
California was very puzzled with this because my blood work was normal, my
thyroid was functioning normally, and I showed no signs of cancer except for
the biopsy. I told my husband that if I was going to have my thyroid
removed, that I wanted to go to the best surgeon possible. My fear was that
if I didn't, I would be under anesthesia and there would be possible issues
where I wouldn't be part of the decision making. I was referred to Dr. Gary
Clayman and made an appointment.
Dr. Clayman was very professional and confident in my diagnosis. His
confidence and his planning took away all of my fears, along with his years
of experience. At that point, I knew I had the best person for the job. He
was always extremely caring and personable; he took the time to answer all
of my questions, which were many. He performed the surgery, and then I went
back to California. Even miles away, he adjusted my medication and checked
in to see how I was feeling. He made sure my recovery went as planned and my
thyroid replacement medication was giving me the quality of life that I had
before surgery.
I have seen him once a year the last five years, plus blood work four times
a year. He is always there for me when I need him. Five years later, I was
rushed to the hospital for a medical condition unrelated to my thyroid. I
was in need of some guidance and I called Dr. Clayman for his advice. Even
thought this medical issue wasn't his expertise, I trusted his judgment
explicitly. Dr. Clayman got back to me immediately, and because of his
advice, he saved my life a second time. His exceptional care has gone past
removing my thyroid five years ago.
I would recommend him to anyone with a thyroid issue; there is not a better
doctor in my opinion. I have already referred two friends from California to
go see him in Florida for surgery and treatment.
---
Patient: G.A.M., 83 year old female, Pasadena, Texas, retired
I saw Dr. Clayman in early September after having a biopsy at another hospital where they discovered I had Thyroid Cancer. I was 78 years old at that time and wanted to be with the very best. When I saw Dr. Clayman, he performed many more tests to make sure that the cancer had not spread to distant areas of my body.
Dr. Clayman did surgery in November. I had already lost one vocal cord's function prior to my surgery. The cancer had grown into my windpipe so part of that had to be removed. Dr. Clayman performed by surgery and my neck healed well without any scar at all.
Since then I have had a full life traveling to Nepal, Bhuton, a cruise on the Baltic Sea, and being very active with my six grandchildren. Now at 83 my knees are not good. If Dr. Clayman did knees, I would have him do mine. He has all of my confidence. Thank you Dr. Clayman for giving me my life back!
---
Patient: D. F. , 58 year old male with recurrent/persistent thyroid cancer, Attorney at Law Atlanta , Georgia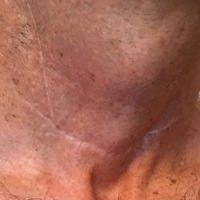 It is with great confidence that I endorse Dr. Gary Clayman. Dr. Clayman is a true warrior, a warrior who has declared war on his number one enemy....thyroid cancer. I came to Dr. Clayman having had a thyroidectomy at another hospital one year earlier by a thyroid surgeon at the major Atlanta cancer center. Unfortunately, I learned my first surgery was "incomplete". As a result,  we went looking for a warrior, a warrior to boldly finish the job. As soon as I met Dr. Clayman, I was immediately impressed with his combined intellect, skill and compassion. Three weeks after consulting with Dr. Clayman, he performed my second and this time "complete" surgery. It is now five years later and I'm disease free, healthy and have a new friend for life… Dr. Gary Clayman.
---