The Clayman Thyroid Surgery Center
America's Best and Highest Volume Thyroid Surgery Center
Founded by Dr Gary Clayman, the Clayman Thyroid Center is widely known as America's leading thyroid surgery center performing nearly 2000 thyroid operations annually. Our reputation as the best thyroid surgeons means patients from all over the US and many foreign countries travel to Tampa for their thyroid surgery. We make traveling for thyroid surgery easy and personalize thyroid surgery for every patient. Last updated: 09/14/2022
Thyroid Surgery for All Thyroid Cancers and Thyroid Nodules
We are a full-service thyroid surgery hospital, offering the most advanced forms of thyroid surgery for all types of thyroid tumors, from small thyroid nodules to large goiters and complex thyroid cancer. All patients are evaluated fully prior to surgery so that the best surgical options are presented allowing every patient a personalize thyroid treatment plan. Our surgeons perform thyroid surgery exclusively. Our patients have written more than 1000 5-star online reviews Google.
Customized Thyroid Surgery Plan for Every Patient
Complete and extensive ultrasound examination
Ability to biopsy even the smallest nodules or lymph nodes
Consultation regarding every option for your specific thyroid disease
Expertise in complex thyroid cancers
Expertise in robotic thyroid surgery that leaves no neck scar
Surgeons work as a team to assure highest cure rates and best outcomes
Highest volume, most experienced thyroid surgeons in America
World's Leading Thyroid Cancer Surgeons
Dr Gary Clayman is the world's most experienced thyroid cancer surgeon, having been the Chief of Thyroid Surgery (and head and neck surgery) at MD Anderson Cancer Center for 17 years prior to founding the Center in Tampa. Approximately 70% of the thyroid operations we perform are for thyroid cancer, and half of these patients had thyroid cancer surgery by some other surgeon at a different hospital some time in the past. When less experienced surgeons perform thyroid cancer surgery and the patient doesn't get cured, their surgeons send them to Tampa for their second or third cancer surgery. Dr Clayman is a "doctor's doctor". He is who they send their family and friends to see. Dr Clayman has published the highest thyroid cancer surgery cure rates and the lowest recurrence rates of thyroid cancers. Dr Clayman has three other surgeons who also perform thyroid surgery exclusively: Dr Rashmi Roy, Dr Nate Walsh, and Dr Hyun Suh.
America's Best Robotic Scarless Thyroid Surgeon
We are the home of America's highest volume robotic scarless thyroid surgeon and thus we are able to customize the surgical approach to fit the needs of each patient. Dr Hyun Suh is one of the world's top 3 robotic thyroid surgeons, and by far the best and most experienced robotic scarless thyroid surgeon in America. Robotic thyroid surgery uses small incisions in the arm-pits and thus there is ZERO scar in the neck. Having the country's highest volume and most accomplished robotic thyroid surgeon on our staff allows us to offer every patient the best surgical option for their situation. Read more about Scarless Robotic Thyroid Surgery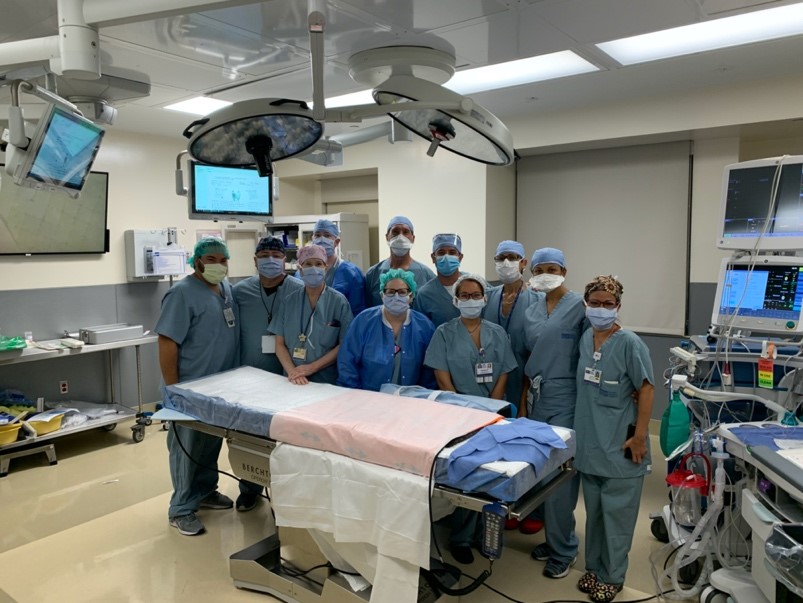 Thyroid Nodule and Thyroid Goiter Surgery
Not all thyroid nodules are cancer. We operate on thyroid nodules every day--some nodules are producing too much hormone, some are large and causing symptoms, some are growing too large. We also remove large thyroid goiters--some so large they extend down into the chest. It is safe to say there isn't a thyroid mass or thyroid tumor that we have not seen many times.
Expert Evaluation of Thyroid Nodules, Thyroid Cancers, and Lymph Nodes
Without expert evaluation, the role for thyroid surgery and how big or small a patient's thyroid surgery should be cannot be determined and thus we evaluate all patients prior to surgery to make sure everyone gets the operation they need. Our thyroid ultrasound team is unparalleled in their expertise and diagnostic ability. Darya, our chief ultrasound director came to Tampa with Dr Clayman from MD Anderson where she was the director of thyroid ultrasound. She has performed more than 25,000 thyroid and neck ultrasounds--probably more than anybody else in the world. Our high resolution ultrasound machines are the newest and best available. The best people and equipment helps us achieve the highest thyroid cancer cure rates available in the world.
Thyroid Biopsy Results in an Hour, Not a Week
Our expert cytology and pathology team provides bedside diagnosis employing the most contemporary approaches using thyroid cytology as well as thyroid protein and genetic material analysis when indicated. Patients who need a thyroid nodule biopsy, or a biopsy of a lymph node in the neck can expect to have their biopsy results in about an hour--sometimes in as little as 20 minutes. This is a huge difference from virtually every other doctor's office or hospital in the world where you typically have to wait a week or two for the results of your biopsy. We have our own thyroid pathologist that is expert in this area, allowing us to see patients for a thyroid mass, diagnose cancer, and then go to surgery to cure the cancer--all in one day!
---
Become Our Patient
Founded by Dr Gary Clayman, the Clayman Thyroid Center is widely known as America's leading thyroid surgery center performing nearly 2000 thyroid operations annually. Our reputation as the best thyroid surgeons means patients from all over the US and many foreign countries travel to Tampa for their thyroid surgery. With same-day evaluation and surgery scheduling, we make traveling for thyroid surgery convenient for every patient.
Our Story... How we Became the Largest Thyroid Surgery Center in the US.
The Clayman Thyroid Center opened its doors September 1st, 2016 and has rapidly risen to the highest volume and pre-eminent thyroid surgery evaluation and thyroid surgery center in the United States. The Clayman Thyroid Surgery Center's founder and surgeon-in-chief left his position as Distinguished Chair of Head and Neck Surgery at the University of Texas M. D. Anderson Cancer Center with the vision of creating a center of excellence in thyroid surgery and evaluation, that had never previously existed anywhere. Dr Clayman realized that nearly 50% of patients with a thyroid nodule having surgery by their local surgeon will not realize that they had thyroid CANCER until a day or two AFTER their operation. Thus, these patients are undergoing the wrong operation--almost always they had an operation that was too limited and they have a much higher chance of non-cure and cancer recurrence a few years down the road. Dr Clayman set his goal to provide a better service to all patients needing thyroid surgery.

Dr Clayman moved to Tampa Florida to join forces with Dr Jim Norman of the famous Norman Parathyroid Center--the world's highest volume parathyroid surgery center by more than 20-fold. They were subsequently joined by the highest volume adrenal surgeon, Dr Tobias Carling who was the chief of Endocrine Surgery at Yale University. Together, these thyroid, parathyroid and adrenal surgeons are the leading endocrine surgery practice in the world. On January 3rd, 2022, all the surgeons of the Clayman Thyroid Center/Scarless Thyroid Center, Norman Parathyroid Center and Carling Adrenal Center moved to a new hospital built specifically for the treatment of thyroid, parathyroid and adrenal tumors--the Hospital for Endocrine Surgery.

A diagnosis of thyroid cancer is absolutely not indicated or required for us to care for you. We wish for all patients to have expert thyroid evaluation and surgery for their FIRST (and only) thyroid operation!
Worldwide Leaders in Endocrine Surgery
The Clayman Thyroid Center is part of the Norman/Clayman Endocrine Institute, comprised of the world's leading surgeons for thyroid, parathyroid, adrenal, and robotic thyroid surgery: the Clayman Thyroid Center, the Norman Parathyroid Center, the Carling Adrenal Center, and the Scarless Thyroid Surgery Center.