Most Important Things to Know About a Thyroid Goiter
What is a thyroid goiter?
A thyroid goiter is an abnormally large thyroid gland. A thyroid goiter develops either because the whole gland is swollen or the gland has multiple growths or nodules within it. Sometimes, a thyroid goiter can get very big and be visibly protruding out of your neck area. Other times, it can get so big that the goiter can grow below your collar bone and into your chest.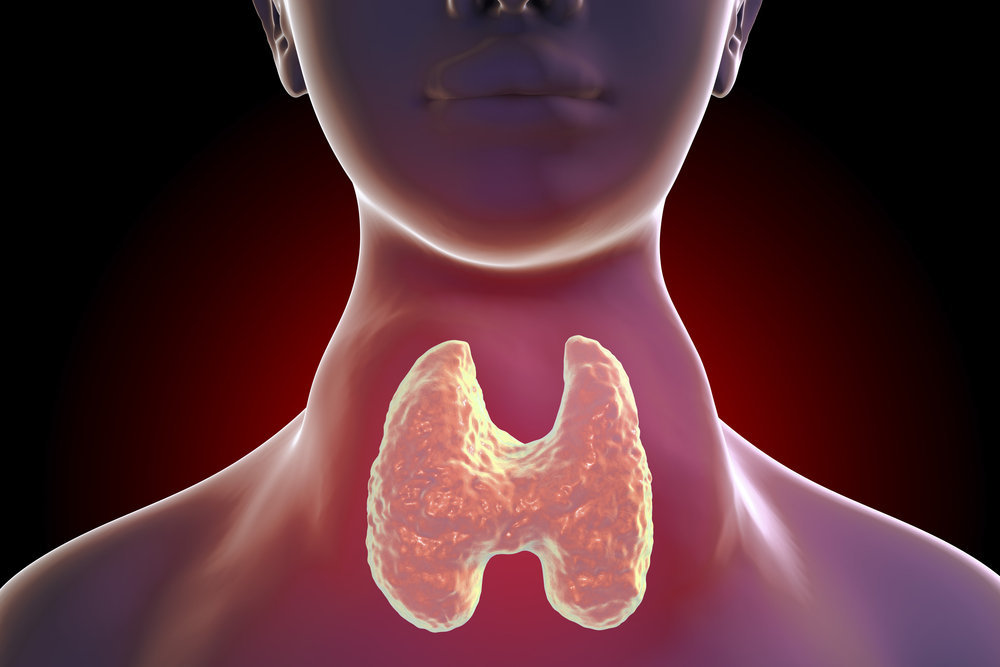 What is a thyroid goiter and what are the symptoms?
The thyroid gland lays right on top of the swallowing tube (esophagus) and breathing tube (trachea). When the thyroid gland grows into a thyroid goiter, the gland pushes and compresses on these structures. The thyroid goiter therefore causes compressive symptoms. These compressive symptoms include tightness in the neck, trouble breathing, trouble swallowing, a chronic cough without feeling sick, constant clearing of the throat, and even voice changes. People will even notice that their collared shirts or necklaces feel tighter because the thyroid goiter is bulging out of their neck.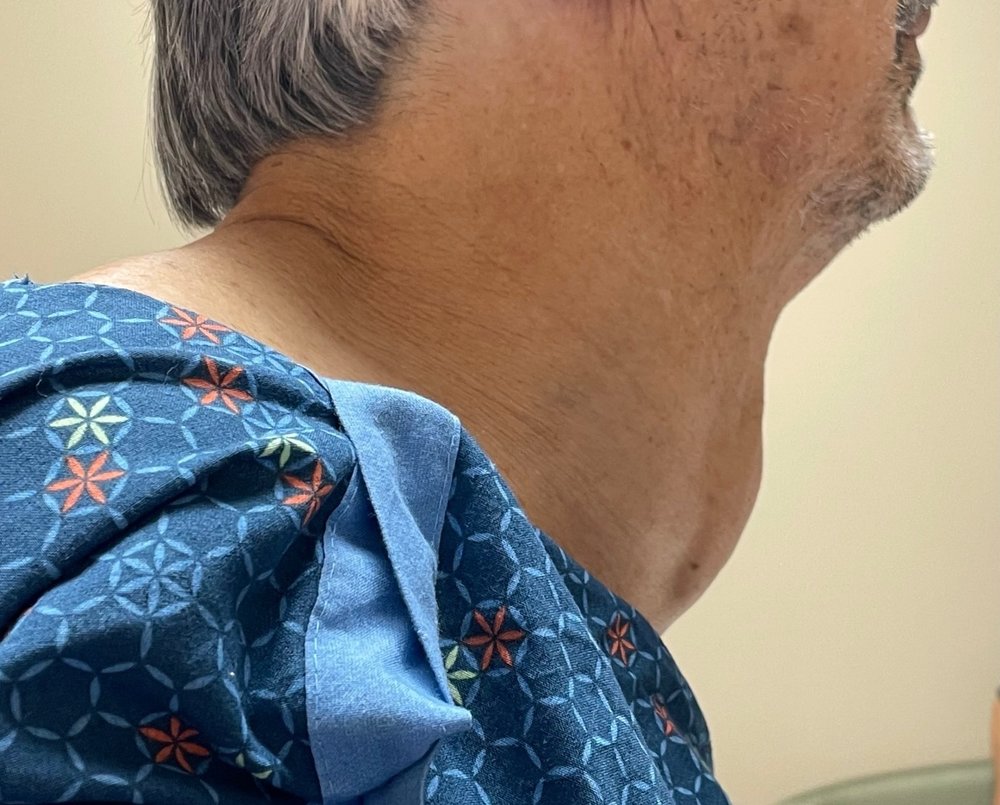 What is a thyroid goiter and are there different types?
There are essentially 2 different types of thyroid goiters. The two different types just depend on how they grow and how long the goiter has been growing. The first type of thyroid goiter is a cervical goiter meaning that it is all within the neck area. It can cause the trachea to be pushed to one side or it can be involved with the major blood vessels in your neck (carotid artery). In other words, a cervical goiter may be very big and fill up the majority of the neck, but it is all above the collar bone and contained to the area of the neck.
The second type of thyroid goiter is a substernal goiter. A substernal goiter is when the thyroid has abnormally enlarged over time and has grown below the collar bone and into your chest. This is not something that occurs over the course of several weeks or months. It usually occurs over the course of years. The most common cause of a substernal goiter is a long-standing thyroid goiter that has grown over many, many years into the chest cavity. The incidence of substernal goiters among patients with a thyroid goiter is reported to range from approximately 5-15%.
Learn more about substernal goiters.
Learn about a patient with an asymptomatic substernal goiter by watching this short video from my YouTube channel.
What is a thyroid goiter and how is it diagnosed/evaluated?
A thyroid goiter can be diagnosed by you or your physician by simply looking at your neck or feeling your neck. A lump in the neck may be noticed visually and should then prompt an expert evaluation. The thyroid goiter can be felt also. It takes up a portion of the neck and feels full, or lumpy and bumpy, or even firm. It can also be diagnosed by imaging that is being performed for some other reason. For example, a CT scan to evaluate someone's lungs can make note of a substernal thyroid goiter that has grown into the chest.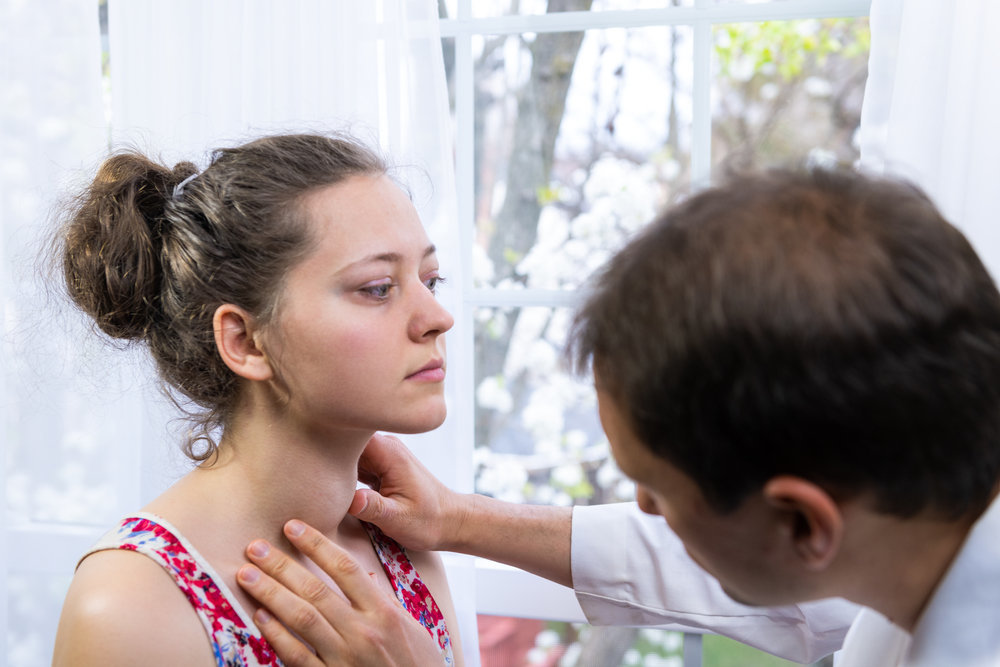 Once a thyroid goiter has been diagnosed, a proper history and physical needs to be performed by your physician. Important things to note are compressive symptoms (as mentioned above), a family history of a thyroid goiter or thyroid cancer, and of course any other serious medical problems that may require medication.
Evaluation of the thyroid goiter would entail a dedicated thyroid ultrasound to look at the thyroid along with any nodules within the thyroid gland. The ultrasound may prompt a biopsy to be performed if there was any concern for thyroid cancer within the thyroid goiter. If the goiter is substernal, then an ultrasound will not be able to see all of the thyroid gland. A CT scan of the neck would then be needed to fully evaluate the extent of the substernal goiter.
For an expert evaluation, become our patient here.
What is a thyroid goiter and what is the treatment?
Many people ask if there is medication that they can take or laser therapy that they can do to shrink their nodules. However, surgery is the only option for removal of a multinodular thyroid goiter. Any thyroid goiter that is causing symptoms or a thyroid goiter that is substernal will need surgery. Surgery would also me indicated if a nodule within a multinodular goiter is suspicious for thyroid cancer. Surgery may entail taking out half of the thyroid gland or total removal of the thyroid gland. Find an expert thyroid surgeon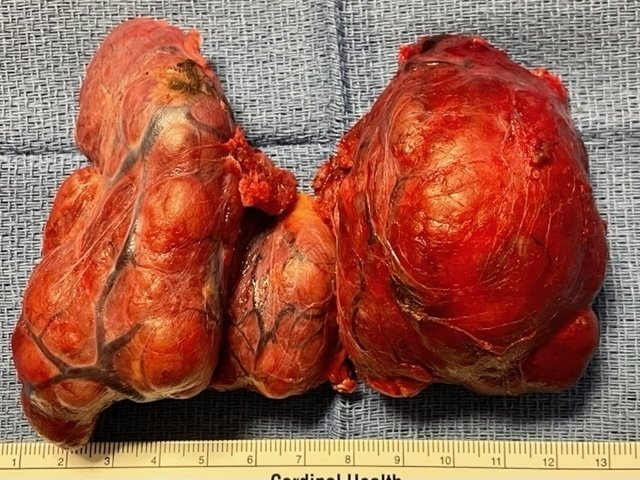 ---
Additional Resources
---
---