Is this a Goiter on my Neck?
Dr. Rashmi Roy, Senior Surgeon at the Clayman Thyroid Center & Hospital for Endocrine Surgery, is unquestionably one of the most experienced thyroid surgeons in the US. Dr. Roy operates on a significant number of patients with thyroid goiters, many of whom other surgeons refuse because of their complexities. In fact, Dr. Roy has a YouTube channel dedicated to goiters & thyroid surgery.
Is this a goiter on my neck?
What does it mean to have a goiter on my neck?
You may ask yourself, what is a goiter on my neck? Are thyroid nodules the same thing as a goiter? What is this lump in my neck? These are all appropriate questions and can be answered in this blog. A goiter just means "big thyroid" and a multinodular goiter means that the thyroid has many nodules giving you an enlarged thyroid. A goiter on your neck is a thyroid that has grown to a large size. The nodules themselves are not the goiter, but in fact the whole thyroid containing the nodules is the enlarged thyroid or goiter on your neck. When the goiter is in the neck, then you will likely notice it as a lump in your neck. Other goiters can grow into your chest and are called substernal goiters. Substernal means "below the sternum" or below the collar bone and therefore into the chest.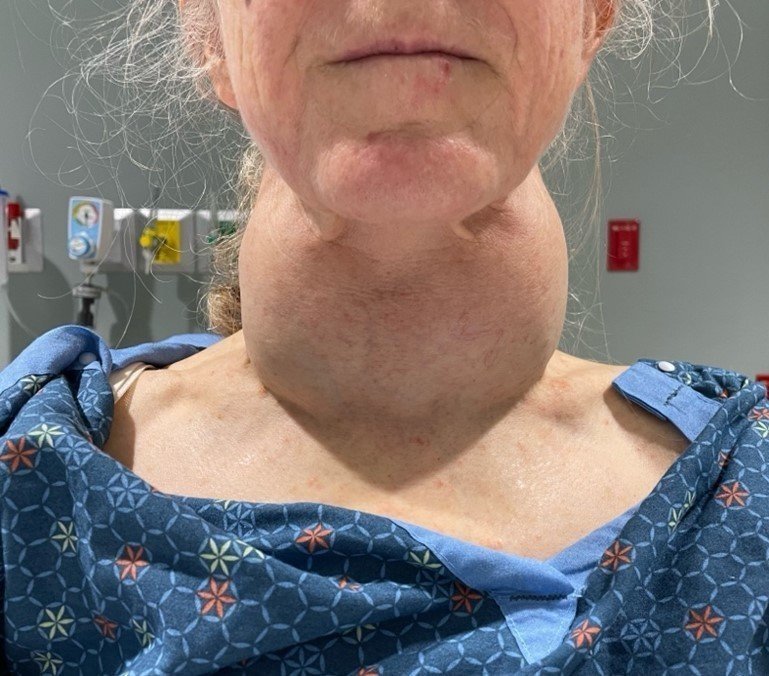 What are the symptoms of a goiter on my neck?
Symptoms of a goiter on your neck is easy to identify if you are aware of where the thyroid actually is in your body. The thyroid sits on top of the trachea (windpipe) and esophagus (swallowing tube), and then grows to a large size. When the goiter in your neck is enlarged, it compresses these structures in the neck. Therefore, the symptoms are called compressive symptoms including difficulty breathing, swallowing, needing to clear your throat, and an overall tightness in your neck (especially while laying down).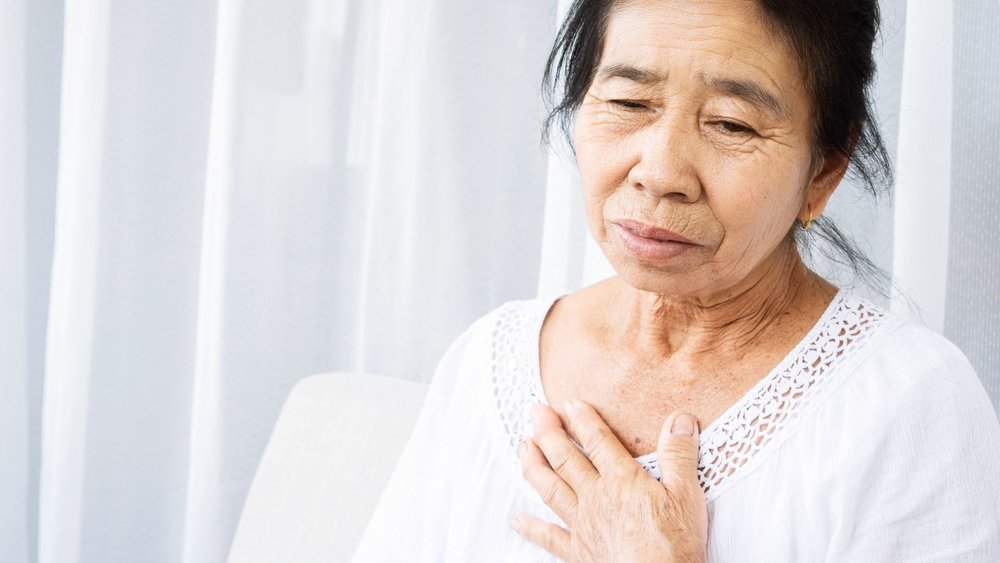 Other more severe symptoms are stridor or wheezing. These are likely due to the fact that the goiter in your neck is so big on both sides of the windpipe that it is compressing the windpipe. The thyroid also sits on top of the nerves that go to the voicebox. Compression of these nerves can cause hoarseness.
There is also a specific sign called a Pemberton sign. This sign is a combination of specific symptoms all happening at the same time. Pemberton's sign is a positional sign described by Dr. Pemberton in the 1940's. It occurs when you raise your arms above your head, turn your head to the right or left, or when you are laying down. These positional changes cause facial flushing (redness of the face), trouble breathing, and possible stridor. This occurs as a result of the goiter in your neck being drawn into the bony chest cavity.
What are the next steps if I have a goiter on my neck?
Evaluation of a goiter on your neck, as with any medical evaluation, starts with a proper history and physical. Important things to note in your family history is if someone in your family has had a diagnosis of a goiter in their neck, thyroid cancer, or other endocrine cancers. Of course, any other serious medical conditions unrelated to your goiter should also be discussed at this time. The physical exam would occur next where your physician actually feels your neck. Feeling your neck gives more information about the goiter in your neck including the size and firmness of your thyroid and any enlarged lymph nodes in your neck.
Another portion of the physical exam for the goiter in your neck is something called a laryngoscopy. This is an examination of your voicebox with a small lighted microscope. It is used to look at the voice box to determine how the vocal cords of the voice box are functioning. Even though a patient does not report change in their voice, this does not ensure that the vocal cords are working normally. A vocal cord that is paralyzed greatly increases the concern that a goiter in the neck may actually be hiding a thyroid cancer.
Blood tests for thyroid function and specific thyroid antibodies is also part of the evaluation. We obtain TSH, T4, thyroglobulin, and thyroglobulin antibodies on a routine basis. T3 and Thyroid stimulating antibody will be added on for specific cases. You should make sure you are being evaluated by a thyroid expert.

Learn how to become our patient here.
The next step for the goiter in your neck would be imaging with a high-resolution ultrasound.
What kind of imaging tests do I need for a goiter on my neck?
All goiters should have a thorough neck ultrasound exam to look at the entire goiter in the neck and the lymph nodes on both sides of the neck. If a worrisome nodule is found within the goiter, a needle biopsy may need to be performed. Needle biopsy is only indicated if there is a mass within the multinodular goiter which is suspicious for malignancy. During a needle biopsy, the ultrasound helps make sure they are getting cells from the right areas. If the whole thyroid is not being surgically removed, needle biopsy is generally done on all thyroid nodules that are big enough to be felt. This typically means that they are larger than about 1 centimeter (about 1/2 inch) across. Needle biopsies of swollen or abnormal appearing lymph nodes in the neck may be more informative than the thyroid nodule itself in obtaining a diagnosis. After the biopsy is performed, a special pathologist is used to look at the cells under a microscope to tell if they are cancerous or benign.
Sometimes, if the goiter in the neck is too large, it cannot be completely seen on an ultrasound. In these cases, a CT scan should be ordered and will be the next step after an ultrasound. The CT scan will show areas that the thyroid goiter extends and prepare the expert thyroid surgeon for their safe and effective approach to remove all of the goiter and spare all other important structures.
Do I need surgery for a goiter on my neck?
Large thyroid goiters clearly need surgical management. There are many indications for removal. The first indication is the shear size of the goiter causing a visible mass in the neck. A second major reason is that the goiter may be producing symptoms of difficulty breathing or swallowing. In some scenarios, the goiter in the neck could be producing excessive hormone and be "toxic" to your body. Multinodular goiters can also harbor a thyroid cancer and need removal to cure the malignancy. Lastly, multinodular goiters that are growing or have failed medical management (RAI treatment) need surgical intervention. Surgery should only be performed by a highly experienced thyroid surgeon.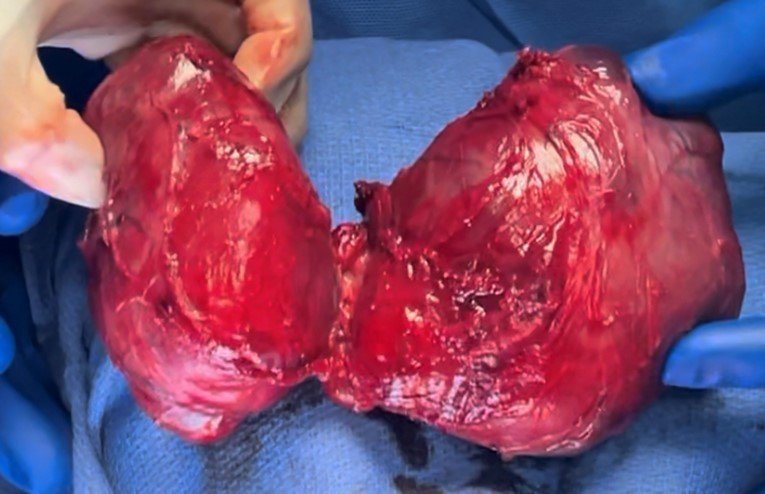 ---
Additional Resources
---
---