Top 5 Thyroid Cancer Symptoms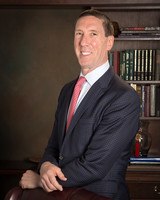 Thyroid cancer symptoms are usually very subtle and may not be noticed or recognized until very late. In fact, almost everyone with thyroid cancer does not recognize that they have slowly developed some symptoms with the associated slow growth and progression of most thyroid cancers. Most thyroid cancers are diagnosed after an person has undergone some type of xray such as a CAT scan in the emergency room and a lump is noted in the thyroid gland or a lymph node.
Top 5 Symptoms of Thyroid Cancer:
Thyroid Cancer Symptom #1: Lump or mass in the neck
Thyroid Cancer Symptom #2: Sense or feeling like you need to swallow something.
Thyroid Cancer Symptom #3: A cough that won't go away.
Thyroid Cancer Symptom #4: Change in your voice
Thyroid Cancer Symptom #5: Fatigue
Thyroid Cancer Symptom #1: Lump or Mass in the Neck
When thyroid cancer symptoms do exist, the most common symptom is a lump or a mass in the neck. This lump can be noted from a mass within the thyroid gland itself or when a thyroid cancer has spread to a lymph node. Thyroid cancer lymph nodes are usually not painful whatsoever. When a thyroid cancer lymph node is painful, the most common diagnosis is a special type of thyroid cancer called medullary thyroid cancer.
A case in point. A healthy 35 year young woman is having lunch with a friend and this friend notices a lump in her neck. Her high resolution ultrasound shows a lump in her right thyroid gland (Figure 1.)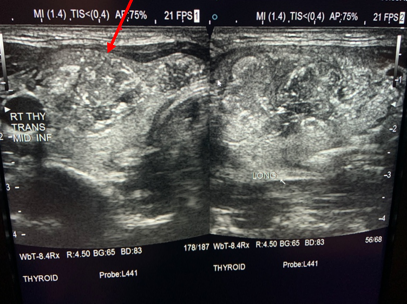 Figure 1: The red line points to the right thyroid mass shown in the high resolution ultrasound
Her needle biopsy shows the most common type of thyroid cancer effecting women called papillary thyroid cancer. Her ultrasound further confirmed that the papillary thyroid cancer had spread to some lymph nodes in her neck and the CAT scan examining her thyroid cancer is shown in Figure 2.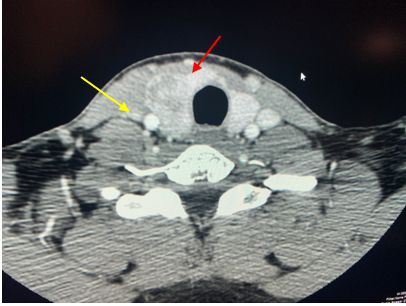 Figure 2: Red arrow in this CAT scan shows the right thyroid mass and the yellow arrow is pointing to the papillary thyroid cancer spread to a small neck lymph.
Expert thyroid cancer surgical care is required to achieve the best cure rate and lowest complication rate for thyroid cancer. Figure 3 Shows what this papillary thyroid cancer looks like after it has been removed.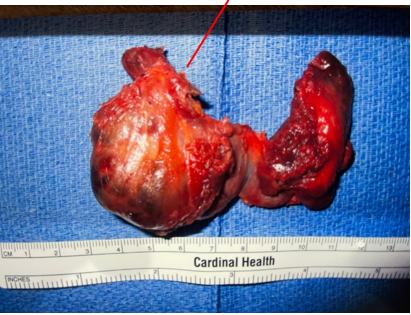 Figure 3: The arrow points to the right sided papillary thyroid cancer following removal. All critical structures are identified and spared.
All important structures are spared and only the thyroid gland and its cancer and those lymph nodes at risk of having thyroid cancer are removed.
It is critically important for people to understand that in nearly 50% of thyroid cancer surgery, the diagnosis of thyroid cancer is not known until final pathology has been obtained. In clearer terms, almost half of people which possess a thyroid cancer do not know they have a thyroid cancer at the time of their initial operation. They went in to have a thyroid nodule or thyroid growth removed and several days after the operation the pathologist diagnoses is that of a thyroid cancer. The surgeon didn't know it was cancer until a few days later—and this can be a problem because if the surgeon knew it was cancer ahead of time, he/she may have performed an appropriate operation to make sure all the thyroid cancer was removed.
Thyroid Cancer Symptom #2: Sense or feeling like you need to swallow something.
The second most common symptom of thyroid cancer is a change in swallowing or a feeling like something is in your throat when you swallow but it "just won't go down". This thyroid cancer symptom is caused by special nerve endings in the swallowing tube (esophagus) called baroreceptors. These special nerve endings sense pressure. However these special nerve endings cannot tell whether the pressure is being created inside the swallowing tube or from the outside of the swallowing tube being pushed in. Because the thyroid gland often lays right on top of the swallowing tube, a thyroid cancer within the thyroid gland will produce pressure on the esophagus producing the thyroid cancer symptom of "feeling like you need to swallow something".
Thyroid Cancer Symptom #3: A cough that won't go away.
It is easy to dismiss a thyroid cancer symptom of a simple cough. Many other potential causes of a cough (without a cold) exist including allergies, post nasal drip, and reflux of stomach acids. These are much more commonly identified as the cause of the simple cough or need to clear the throat than thyroid cancer itself. The cause of the symptom of thyroid cancer of a cough which will not go away is likely due to some form of irritation to the sensory or movement nerves of the voice box. This can be caused by inflammation or irritation of the nerves to the voice box by the thyroid cancer or even due to direct or indirect pressure on these nerves or the breathing tube itself.
Thyroid Cancer Symptom #4: Change in your voice
An individual who presents with a symptom of thyroid cancer which is a change in voice is a later sign of thyroid cancer and an unfavorable one. Sometimes, this change in voice can be very subtle and may only be noticed by the person who is being effected. Any change in voice should be a call to action and an appropriate evaluation for a thyroid cancer undertaken. If a person has hoarseness or loss in voice, this is truly one of an urgent matter for expert evaluation and likely surgery for the thyroid cancer. In adults, although vocal cord paralysis may be caused by other issues, hoarseness (or change in voice) caused by a paralyzed vocal cord must be considered thyroid cancer until proven otherwise.
Thyroid Cancer Symptom #5: Fatigue
Fatigue is a common symptom of thyroid cancer but often overlooked due to the complexity of other potential causes of fatigue. In most circumstances, individuals with thyroid cancer usually present with normal production of thyroid hormone. Although almost all doctors examine thyroid function in the evaluation of a patient with a potential thyroid cancer, those thyroid functions are also almost always normal. The reason that thyroid cancers can produce a symptom of fatigue is not clearly understood. However, with the effective expert surgical management of a person with thyroid cancer who has a symptom of fatigue caused by their thyroid cancer, their symptom is relieved almost immediately following their operation. In fact, this relief, at times, can be quite amazing.
Bonus Thyroid Cancer Symptom #6: Uncomfortable pressure sensation in the neck.
Even though the thyroid cancer may not be very large, it may still produce symptoms of pressure or sometimes even a tight or "strangling" sensation in the neck. This thyroid cancer symptom of pressure may seem disproportional to the size of the thyroid cancer itself. The explanation of this pressure or "strangling" sensation, is, once again, the special nerve endings which sense pressure.
---
What to do about symptoms of thyroid cancer?
If you have one or more of these thyroid cancer symptoms, you should seek expert evaluation by a thyroid cancer expert. This may be a thyroid cancer surgeon or an endocrinologist who has expertise in the evaluation and management of individuals with thyroid cancer. The evaluation of a person with thyroid cancer symptoms includes:
A comprehensive history and physical examination.
Examination of the voice box to examine its appearance and how the vocal cords are working.
A high resolution ultrasound of the thyroid gland and neck lymph nodes
Special blood testing looking at the function of the thyroid gland as well as specific proteins that can be produced by thyroid cancers and found in the blood
Biopsy of the thyroid or lymph nodes of the neck with a tiny needle know as Fine Needle Aspiration biopsy or FNA
CAT scan (also known as CT scan) may also be used in people with very large thyroid masses or cancers or when disease is concerned to be in locations not well examined by the ultrasound of the thyroid and neck.
The Clayman Thyroid Center: Expertise in Thyroid Cancer Evaluation and Thyroid Cancer Surgery.
Find out more about the Clayman Thyroid Center and its surgeons at The Hospital for Endocrine Surgery.
---
---