Patient: BW, 40 y.o. male, Dallas, Texas, Thyroid Cancer Surgeon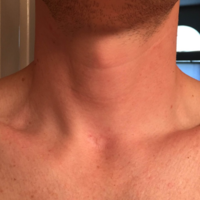 Call it what you will - accident, coincidence, serendipity, fate.  I happened to volunteer for a thyroid ultrasound to allow physicians to practice using the equipment.  I didn't have to volunteer.  I didn't even have to be there in the first place.  Dr. Clayman happened to walk up right when I was getting my scan and said to me matter of factly, "Hey, you've got your own little papillary thyroid carcinoma."  Being a thyroid cancer surgeon myself and familiar with thyroid cancer, I knew this was treatable and a successful outcome was in my favor.  It gets you thinking a little bit though.  I had to travel a significant distance and, like so many other busy people, I had a lot of work and life commitments in the coming months - one of which was a full Ironman triathlon 3 months away.  Dr. Clayman in his calm and confident manner reassured me about both my prognosis and about making my evaluation and treatment happen.  He even told me not to scratch the Ironman off my list yet either.  With that I left town ready to figure it all out.
     A month later my cancer was removed by Dr. Clayman.  My procedure was outpatient, I was back in my own home the next day, and the only pain medicine I needed was 2 doses of Tylenol in the entire recovery period.  I started back to triathlon training in 5 days and was back to work in a week.  I competed in Ironman Texas two months after surgery and despite all of this, I shaved 30 minutes off my personal best time.  I'm now a year out from surgery and my incision site, which you would never even notice unless you know what you're looking for, can be covered up by my thumb.  I rarely even remember I've had cancer, much less surgery to remove it.  I have always been well aware of Dr. Clayman's reputation and have even seen him work before, but to experience it on the other side of things confirms everything.
     My experience with him as a patient has been nothing but comforting.  From gentle reassurance about my diagnosis and treatment to checking up on me post-operatively with words of encouragement, I've never had any doubts about how things would turn out. There's always a smile on his face, and when you're with him, he makes you feel like you're the only patient in the world.  The stars aligned quite spectacularly for my cancer to be found and cured in the way that it was, but the brightest star of all, was Dr. Gary Clayman.  Thanks for everything.
---
Patient: Steven G Rothrock MD, FACEP, FAAP, 55 y.o. male, Professor of Emergency Medicine University of Florida College of Medicine,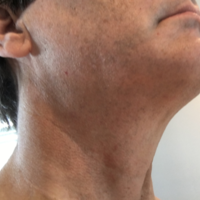 Steven G Rothrock MD, FACEP, FAAP (with his expressed permission)
Professor of Emergency Medicine
University of Florida College of Medicine
Orlando, Florida
When I was diagnosed with thyroid cancer, I asked ENT (Otolaryngology) experts, thyroid experts, and cancer experts whom I should go see. They all said that Dr. Clayman was the best thyroid surgeon and best thyroid cancer specialist in the United States.  I had a large papillary cancer that had spread outside of the thyroid and to multiple lymph nodes throughout my neck. Dr Clayman explained my entire treatment process before and after my cancer surgery (modified radical neck dissection) in a calm, reassuring manner to help alleviate any fears and answer all questions that my wife and I had. He continued to monitor me closely for more than a decade. I had two prior neck surgeries (tracheostomy as a child, and thyroid removal) before seeing him and having my neck dissection. I had multiple old scars and my neck looked relatively deformed from my older surgeries before seeing Dr Clayman. He made my neck look much more normal while working to take out all of the cancer at the same time. I later found out that Dr Clayman was a leading expert who is a nationally known expert who has conducted extensive research into thyroid cancer treatments – both surgical and non-surgical. In the past, surgery for this cancer was fairly invasive with a high risk of complications. Dr Clayman is one of the leading experts who has promoted less invasive and limited thyroid cancer surgery so you have the best chance of preserving your voice, your nerves, your parathyroid (calcium control) glands, and all of the other vital structures within your neck. 
In summary, Dr Clayman is the best and most knowledgeable thyroid cancer surgeon in the country.
 
 
Steve Rothrock
---
Patient: N. E., 34 y.o. female, Austin, Texas, Entrepreneur business owner and mother - Total thyroidectomy and bilateral central compartment surgery for papillary thyroid cancer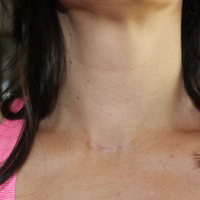 Dr. Clayman did a great job on my thyroid cancer surgery, finding the perfect balance between removing as much as he could without effecting other delicate things nearby.  I truly appreciate the time he took to answer my questions, as well as my family's concerns.  
 
Dr. Clayman has the most current knowledge on thyroid cancer surgery and did a great job explaining how treatment plans have changed throughout the years. 
 
Although not so important, my incision site is hardly noticeable and I had minimal discomfort after my total thyroidectomy and lymph node surgery.
 
Most of all, I appreciate Dr. Clayman being accessible to me and going above and beyond just the surgery.  He is truly a caring individual and doctor.
My highest recommendations!
---
Patient: P. B., 48 y. o. female, Shreveport, LA, Practicing nurse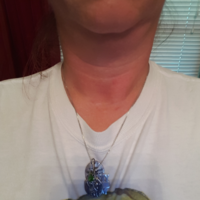 I met with Dr. Clayman about my upcoming thyroid surgery and he made me feel like I was his only patient. We discussed the surgery, many options, what he thought was best for me, etc. I was nervous because of the probability of having thyroid cancer. My father had passed with cancer not even a year prior to finding my cancer, so I was a wreck. Dr. Clayman calmed my nerves about the surgery and the outcome. I knew I was at the right place for my care. Once my surgery was over, I was amazed at the Incision site. Not once did the scar worry me. Now, about 14 months later, no one even notices my scar. It was pretty much nonexistent after about 6 months. When I went for my follow up visit with Dr. Clayman, he asked how I was doing, checked the Incision site, and before I left, gave me a hug. What a wonderful kind hearted man he is. Thanks again, Dr. Clayman, for everything you have done for me and others.
---
Patient: PL, 59 y.o. male, Thyroid Cancer Surgeon, Corpus Christi, Texas
As thyroid cancer surgeon, I have come to know Dr. Gary Clayman very well. I have referred patients with difficult head and neck problems to Dr. Clayman. As a physician I have seen the care and respect he has given my patients over the years.
When I developed thyroid cancer that needed more expertise than was available in my home town it was only natural I seek Dr. Clayman's help. He has skills that he has developed over the years of practicing medicine that others will never obtain. He strives to do the very best for his patients. He will not take short cuts or do things that are not necessary. He has been on the fore front of developing new techniques in surgery and helping to shape the treatment of thyroid cancer.
There are no guarantees in medicine but having a compassionate and caring physician makes a big difference.
---
Patient: A.S., 20 y.o. Female, Houston, Texas - Total thyroidectomy and central compartment surgery for papillary thyroid cancer
When I first came to Dr. Clayman for a consultation, I knew immediately that I was in the right hands. He listened to everything I had to say and answered all the questions I had about my surgery, making sure that I was informed as well as comfortable about the procedure. Although I was apprehensive about the surgery because of the resulting scar, I was very surprised with how small the incision turned out. After only a couple of months, my scar has healed extremely well and people can hardly even notice it anymore. My experience with Dr. Clayman has been such a positive experience and I can always be assured that every appointment will be met with sincerity and care.
---
Patient: A. G., 46 y.o. female, Mexico City Mexico - Total thyroidectomy and central compartment neck dissection for papillary thyroid cancer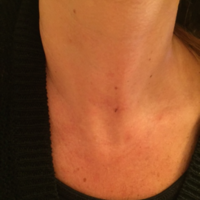 Dear Dr. Clayman

I thank God for having placed you in my path! I thank to you and your wonderful team for the attention I received, from the first moment and everything you did for me, despite all your occupations you were always close and awaiting my recovery.

I hope you will continue to help and heal with the same warmth and closeness that you had with me.
You will be a person I will always remember !!!
---
Patient: AEH, 49 y. o. Female, Houston Texas, CPA/Tax director - Total thyroidectomy for papillary thyroid cancer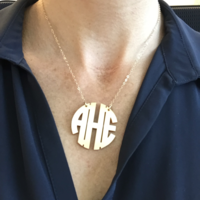 I was diagnosed with thyroid cancer at age 44. I was in the midst of ending my 20 year marriage, and the totally unexpected diagnosis was like a slap in the face. I was a single mother of three now facing cancer alone.

Two of my friends are physicians at the hospital where Dr. Clayman was practicing, and they specifically recommended him for my surgery. The very evening of my diagnosis, Dr. Clayman called me at home to discuss my situation. I was so appreciative of his attention, which did wonders in allaying my fears. 

The ensuing consultations and pre-op procedures were timely and Dr. Clayman and his staff exhibited the utmost in professionalism and care at the same time. They kept me informed every step of the way. Surgery was brief, one night stay in the hospital and fairly speedy recovery. I think I returned to work 3 days post op. Throat discomfort was minimal.

I recall (half jokingly) telling Dr. Clayman just prior to surgery that I wasn't a very vain woman but that I did rather favor my neck as one of my better assets. Translation, please minimize scarring. We laughed, but he could not have done a better job. I had a full thyroidectomy and the scar is so small. At the second post op visit he injected the scar tissue with something that further minimized its size, and it is almost undetectable now. 

I am now a few months shy of being 5 years cancer free!! I am most grateful for all that Dr. Clayman did for me.
---
Patient: A B, 80 year old female, Los Angeles CA, retired aerospace engineer - poorly differentiated thyroid cancer
In 2010, I heard Dr. Clayman speak at a Thyroid Cancer Survivors' conference in Dallas, Texas.  Decidedly impressed by his expertise gained through over 500 neck surgeries a year, all of them directly referred to him because they were difficult, and his photos of actual surgeries, I made a mental note to contact him if I should ever need such challenging surgery.
That need came in 2012.  I had more cancerous lymph nodes in a neck internally scarred by four previous surgeries.  Dr. Clayman agreed to perform the necessary surgery, made especially difficult by scarring.  In my pre-surgery scans, he discovered I had lymph node involvement, multiple small tumors and invasion of a muscle.  He laid out the gravity of my situation to me and my husband with sensitivity, yet factually---to me an ideal way to learn what I was facing, what needed to be done.
The next afternoon he performed the surgery.  I woke up in the morning to learn that he had removed all the cancer he could find, but he strongly advised follow-on external beam radiation therapy to preclude any speck of it he had not been able to access from firing up my cancer anew.  I took his advice.  Over the four years since the surgery and radiation there has been no sign of cancer in scans or blood tests.  Hearing Dr. Clayman speak was one of the luckiest events of my life.  I believe that in performing this difficult surgery, he saved my life.
---
Patient: A.S., 20 y.o. female, Houston, Texas - Total thyroidectomy and central compartment surgery for papillary thyroid cancer
When I first came to Dr. Clayman for a consultation, I knew immediately that I was in the right hands. He listened to everything I had to say and answered all the questions I had about my surgery, making sure that I was informed as well as comfortable about the procedure. Although I was apprehensive about the surgery because of the resulting scar, I was very surprised with how small the incision turned out. After only a couple of months, my scar has healed extremely well and people can hardly even notice it anymore. My experience with Dr. Clayman has been such a positive experience and I can always be assured that every appointment will be met with sincerity and care.
---
Patient: A.R. , 22 y.o. female, Edgewood NM, Dental Hygienist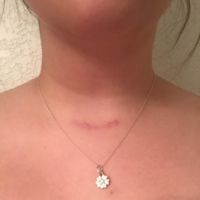 Hello. My name is April and I am a 22 year old dental assistant. One year ago, I had a sore throat and went to the doctor to have it checked. I was put on two different rounds of antibiotics and nothing helped, so I was sent for an ultrasound. After several tests, I was diagnosed with medullary thyroid carcinoma, a rare type of thyroid cancer. A surgeon in Albuquerque, NM was going to remove my thyroid, but she had no bedside manner and made me feel as if this was a terrible diagnosis. What's worse, she blamed my mother for not having me checked for cancer as a child. She performed over 20 biopsies on my neck and lymph nodes, which was terribly painful. She told me that my cancer had already spread beyond the scope of her ability to perform the surgery and we were put in touch with Dr. Clayman, who eagerly accepted me as a new patient. We flew to meet with him one week after we first contacted his office. When I met him in person, he made me feel as though I were the most important patient he had. I was very scared about having surgery and he made me feel at ease. He had some tests done and scheduled me for surgery the next day. The day of my surgery, a tropical storm was headed into the area of the hospital and all surgeries were delayed. I thought my surgery would be cancelled and I had not eaten anything all day. Dr. Clayman assured me that he would work hard through all his cases to make sure I was in surgery that day. He stayed all day at the hospital and I went in for surgery at 7:30 pm. I was so scared and worried that I cried all the way to the operating room. He held my hand and told me everything was going to be okay. I went to sleep and woke up after midnight. Everything went perfectly and Dr. Clayman told my mother that the surgery was a big success. He visited me in the hospital every day until we flew back to NM. The  scar on my neck is hardly noticeable and I feel that God put me in Dr. Clayman's perfect hands for a reason. Dr. Clayman saved my life and my tiny scar reminds me of the fact the I was blessed to have been accepted as Dr. Clayman's patient. Unfortunately, the type of cancer I had can come back throughout my life and I will constantly need to be reevaluated to ensure my survival. I have since been tested regularly and have consulted with Dr.Clayman via phone and text message regarding the results. Dr. Clayman always responds and puts me at ease regarding the results. If anything else happens with my case, I will fly to Dr. Clayman without hesitation, wherever he is. He was and is the savior I needed during the most difficult period of my life. 
---
Patient: CH, Age 40, Houston, TX, Museum Educator - Three weeks following right and central compartment neck dissections for persistent thyroid cancer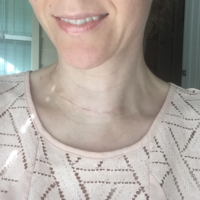 I met Dr. Clayman in 2015 after learning I would need a second surgery for thyroid cancer.  His calm, confident demeanor immediately helped alleviate the stress I was feeling in facing this challenge. He patiently answered questions and I left his office feeling assured about the next steps in treatment.
What I appreciate most about Dr. Clayman is his dedication to giving his patients the best possible care. He is a considerate, caring and truly exceptional professional.
---
Patient: SS. mom of patient, Age 57, professional nurse
Dr. Clayman, as far as your care, I think you're superb! You were able to extract all of the thyroid cancer and years later, still "clean"!  You were very conservative which we appreciate! By that, I mean we had one lymph node that looked suspicious and the total thyroid was taken
(as opposed to partial) so no chance the cancer could possibly be back ....we are happy with your decision; otherwise, we would've spent every single day worried if the cancer would return. You took your time prior to surgery and afterwords explaining and allowing us to have plenty of questions.....that is important !!
---
Patient: D. N., 62 y.o. Male, NY NY, President and CEO Investment firm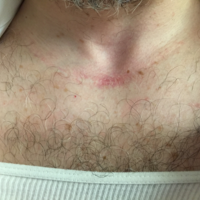 In late spring of 2010 the lump on my neck was diagnosed as a thyroid cancer tumor. Its size was about 7 cm (that's almost 3 inches). My original surgery was scheduled in early August with an expert head & neck surgeon (his experience as specialist in the field is over 25 years) in one of New York City's eminent hospitals. During the pre-surgery visit during which the doctor explained that a tumor this size, being greater then 4cm, represents a host of challenges with quite some mutilating post-surgery complications. The surgeon reassured me that in the interest of ridding my body of a large tumor that is a small price to pay. I then asked him a simple question: How often in your career have you operated on a tumor this size? His answer was less than 5%. In addition to this doctor's surrender of my post quality of life to his quest to remove the tumor, his answer pronounced him to no longer to be an expert to cure MY disease.
Contrast this with Gary Clayman, who when contacted the next day on his vacation by a family member, felt confident that he would be able to remove the tumor without any lasting post-surgery complications and mutilations. To top it all off he arranged to schedule my pre-op consultation, tests and surgery within 10 days of having first heard of me. My 6 hour surgery (performed off- schedule to accommodate my sudden appearance on his horizon) was a success in every sense of the word, and the scar is almost invisible.
I as every patient was faced with a conflict. I wanted the treatment delivered by an expert who has so much experience performing the procedure, that to him it becomes a routine. Yet I didn't want to be treated "as just another case ". I wanted VIP, kid glove treatment! Dr. Clayman has proven himself to have mastered these contrasting skills, being a world class surgeon and lovely reassuring person who notices and values the intrinsic needs of his patient.
I am grateful to be a patient of Dr. Clayman and wish him that at this point of his career he not only teach his surgical skills to aspiring surgeons but his compassion, empathy and dedication to his patients as well.
Below is a copy of my letter sent to you upon my coming home from surgery. I only looked it up after writing todays letter, the message I believe is the same.
Wed, Aug 11, 2010 at 10:25 AM
Dear Dr. Clayman,

As my wife and are back home now, permit me to share a few of our thoughts that come to mind.

First of all we want to thank you for doing a terrific job, as these lines are written by literally a "New Man".

I have recently had a chance to experience the difference between doctors who just treat the disease and you and your team, who treat not just the disease but also the patient (never mind what your attorney tells you about consent and risk) its all about how you establish a relationship where the patient really feels comfortable to trust you because of what you represent not only because there is no other alternative.

The memories that I have of our meeting with you just before the surgery are just wonderful and the credit for that belongs entirely to one of us and its NOT me.

With praise to G-d my wife and I are back home with our family and are looking forward to start our daily routine (neck exercises included). We also pray to G-d that all we will need to do in the future is routine follow up and no additional surgery or radiation & chemo (besides radioactive iodine ) ever be necessary.

G-d Bless You
---
Patient: DJ, 52 year old female, California, Pediatric Endocrinologist - Status post total thyroidectomy and limited central compartment dissection of lymph nodes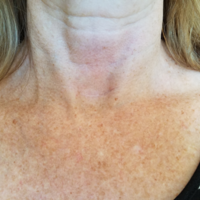 I went to see Dr. Gary Clayman last year for evaluation and possible thyroid surgery.  I had a thyroid nodule that was suspicious for a rare thyroid cancer.  Perhaps due to the fact that I am an endocrinologist myself, I had tremendous anxiety. My reason for seeking out Dr. Clayman was so that I could receive a level of expertise and coordinated care that I thought was not available to me locally – if my nodule did end up being this rare cancer, it would have to be a surgical cure.  I wanted to have the surgery done the right way, the first time.  My experience with Dr. Clayman was excellent.  He is a kind, knowledgeable and patient physician.  He spent as much time with me as was needed to review the available imaging and pathology, discuss my case with me in great detail, and come up with a treatment plan. It is notable that though I am a physician, he treated me like a patient, with great concern for my overall well-being and in this case, my anxiety. By the time we were finished I was completely at ease and ready for the treatment plan, which in my case was a total thyroidectomy.  Dr. Clayman's experience as a thyroid surgeon is extensive.  He has performed at least double the number of thyroid surgeries as the most experienced thyroid surgeons nationally.  This was evident in all aspects of my surgical care. First of all, I had no complications. In addition, it was obvious from all our interactions with his staff that he had created a cohesive team, and the communication within the team was excellent.  Dr. Clayman took the care to speak personally with my husband in the peri-operative period.  His pre-operative and post-operative care was attentive.  Because I had traveled long-distance, many of my post-operative questions were via email and pictures taken by my phone.  My post-operative recovery was smooth, and I was "back to myself" within a few months.  My scar is practically invisible. I have no voice changes.  My nodule was in fact benign, as were samplings of my lymph nodes.  I am incredibly grateful to Dr. Clayman.  He treated me and cared for me as I make it a practice to care for my own patients.  There is a quote by Sir William Osler :  "The good physician treats the disease; the great physician treats the patient who has the disease."  Dr. Clayman is a great physician.
---
Patient: D.S., 59 year old female, Donna, Texas - Left lateral neck dissection, central compartment dissection for persistent papillary thyroid cancer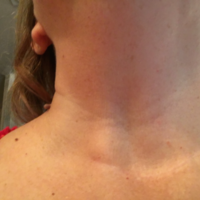 I am a 59 year old female from DONNA, Texas that was diagnosed with Papillary thyroid cancer and was very fortunate to have had Dr. Gary Clayman as my physician. He is a very caring, kind and skilled surgeon. If it wasn't for Dr. Clayman's  precision skills as a surgeon, I probably would not be able to speak today, my vocal cords were damaged by a previous surgeon and my cancer had metastasized and I was at high risk of having further damage to nerve that controls my only functioning vocal cord. People that know about my medical condition are amazed that my neck scar is barely visible. I have been truly blessed to have had Dr. Clayman as my surgeon.
---
Patient: E. M., 67 year old woman, San Jose CA, Business woman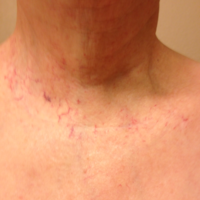 I was diagnosed with a rapidly expanding thyroid cancer that had paralyzed half of my voice box. It was needle biopsied and found to be one of the worst cancers known to occur in people, called anaplastic thyroid cancer.
Dr. Clayman was smart about my problem, quick to act, informative every step of the way, with a caring, thoughtful manner. He played a critical role in saving my life, so he's got to be doing something right. That was seven years ago now. I was cured of an incurable cancer!!!!!
My referring doctor hopes Dr. Clayman will continue practicing for a long time to come because she very much wants to continue referring all of her patients to him. We couldn't have made a better choice. 
Editor's note: Total thyroidectomy right neck dissection and central compartment dissection. Immediate post operative chemotherapy and radiation therapy for anaplastic thyroid cancer. Patient cured of rarely cured thyroid cancer. The red changes of the skin are a result of the chemotherapy and radiation therapy and are frequently observed.
---
Patient: FM, 59 year old male, Overland Park, KS, U. S. Postal Service employee
My first meeting with Dr. Clayman was exactly what I had always imagined a good doctor/patient relationship would be. He was booked solid, not my regular doctor, but took the time to get me in immediately for a visit and accurate diagnosis.
Dr. Clayman's surgical knowledge and skill is superb. Dr. Clayman performed a modified neck dissection on the left side of my neck, successfully identifying and cleaning out the thyroid cancer. Whatever I needed, Dr. Clayman came through for me.
He also diagnosed and successfully treated my silent, but severe acid reflux, which had caused temporary vocal cord paralysis.
My experience with Dr. Clayman is that he is an expert in papillary thyroid cancer, has outstanding clinical presence and is a great, caring surgeon.
---
Patient: H.R., 76 y. o. female, Boynton Beach, FL, retired
Dear Dr. Clayman,

As you know my thyroid was removed in 2003.  In 2008, my papillary thyroid cancer had spread to the lymph nodes of my neck and upper chest.
I went to the famous cancer hospital in New York City and the famous thyroid surgeon operated on me but did not remove all the cancerous lymph nodes.  The ones he did not remove were in a very "complicated area" and he said he couldn't remove them and eventually they would grow into my breathing tube and nerves to my voice box.

Shortly after my surgery in 2008, I came and saw you.  Thank God you agreed to operate on me.  I would not be alive today if you hadn't operated on me.

I have been cancer free in my neck for eight years now.  I would recommend you to anyone who requires surgery for their thyroid or thyroid cancer. Not only are you the greatest surgeon but a warm and caring person.  

Thank you again.
---
Patient: J. A. W., 70 y.o. male, Bentonville, Arkansas, retired secondary school principal - Total thyroidectomy with neck dissection 2015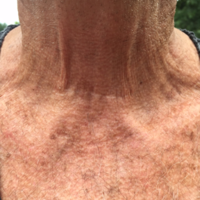 I arrived in Houston, Texas at MD Anderson in June of 2015 to have a surgical procedure done by Dr. Gary Clayman to remove my cancerous thyroid. He also removed 6 lymph nodes that appeared to be cancerous but were not.

When meeting with Dr. Clayman before and after the surgery, he was very upfront and positive about the procedure and the end results.

Dr. Clayman's follow-up care was excellent and he took the time to thoroughly answer every question I had pre and post-operation.

After surgery and post-op recovery went extremely well. I was told by all the people at MD Anderson that Dr. Clayman was the #1 choice for this surgical procedure and following my operation, I absolutely agree. I do not and will not hesitate to tell friends, family and people I know with thyroid surgery or thyroid cancer to contact Dr. Clayman. 
---
Patient: J.T. , 60 years old, Fritch, TX, Retired a 35 years at Phillips Petroleum Co.
I just wanted to say a few things about Dr. Gary Clayman. 
I've been dealing with thyroid cancer since 2001 because there were hidden cells/tumors my local doctors couldn't find. After a 12 year battle, they finally referred me to Dr. Clayman as my surgeon. 
We visited on my initial appointment and he ordered multiple tests to find the problem. When he read my PET scan, he identified the two hidden cancer growths my previous surgeons missed from 3 prior surgeries. 
Dr. Clayman scheduled one final surgery which was a success. 
After the surgery he was confident and assured me all cancer was gone, but recommended 7 weeks of radiation which was brutal but necessary. 
I love Dr. Clayman as he saved my life! 
He is not only an excellent surgeon, but knows how to comfort his patients when they are emotionally distraught. I can assure anyone that if you're unfortunate enough to get this horrible disease, I hope you're fortunate enough to get Dr. Clayman as your surgeon.
He is compassionate and uplifting which, in my opinion, are two very important traits any good doctor should strive for when dealing with someone having a potential terminal disease. 
I have always said a doctor's words could make or break a patient depending on how they express themselves. He is the best of the best! 
God Bless Dr. Gary Clayman! 
My surgeon, my friend.
---
Patient: JEP, 77 years of age, Sarasota, FL, retired CPA
In September 2015, I was diagnosed with papillary thyroid cancer and my local Endocrinologist recommended several surgeons, but he said that if he had to have similar surgery he would use Dr. Gary Clayman. At that time, nearly half way across the country from me. On October 8, 2015, Dr. Clayman removed all of my thyroid gland and the lymph nodes of the side and central area of my neck. The surgery was successful and the recovery period was short. In addition, the scar in the lower portion of my neck is almost invisible. I could not have selected a better surgeon than Dr. Clayman. He is a highly experienced, knowledgeable, compassionate and thorough professional. I could not recommend anyone more highly.

---
Patient: JAC, 70 y/o, South Florida , RN - total thyroidectomy and bilateral central compartment dissection . Simultaenous cancers of papillary thyroid cancer and thyroid lymphoma (very very very rare)
I am an RN who has worked in the healthcare field for 15 years and assisted surgeons in the OR. I know that not all physicians are created equal. Some physicians have an inherent "gift", a "sixth sense" when it comes to diagnoses and procedures and other physicians have "book knowledge". So, as a heath care professional when my own life was at risk, I turned to my medical professional insider's network and thank G-d I found Dr. Gary Clayman.
During a routine GYN physical, my physician noticed a nodule on my thyroid. I wasn't concerned. An ultra sound was ordered,
followed by a fine needle biopsy. During the biopsy the oncology thyroid surgeon stated, "I have seen a lot of cancer and this does not look like cancer to me." He was referencing the fluid he was removing. Again, I was not concerned after all I am an exceptionally healthy individual and the odds were in my favor that this was not cancer.
A month after the biopsy the South Florida oncology surgeon left me a message and told me the results of my pathology report were confusing. He said one portion of the report stated it was only suspicious for cancer and a later portion identified papillary cancer. He wanted to do another biopsy and send it for genetic testing. He said it would take a couple of months to "pull this together" but I need not worry as, "you have probably had this for a couple of years". But first he wanted to talk with the pathologist. Two weeks later he told me the pathologist quit! When he finally met with me six weeks after the biopsy, he said I did not need another biopsy or genetic testing, the thyroid had to come out!
Needless to say as a health care professional, the indecisive and confusing information alarmed me. I am well networked in the medical field and did my research. Complicating the situation making it even more stressful, I was threatened with job loss when I disclosed to my boss the potential cancer and told her at five days off for thyroid surgery. I was stunned and needed to get help and be back on my feet as soon as possible. I needed a definitive diagnosis and wanted it to come from the best. I requested a referral to Gary Clayman, M.D. Everyone knows he is an internationally famous thyroid surgeon. My hometown oncologist said, "OK, but Dr. Clayman may decide not to take your thyroid out. If you are going to see Dr. Clayman, I want to perform another biopsy and genetic testing." He went on to say that I had plenty of time as papillary cancer grows exceedingly slow. I left immediately and called Dr. Clayman's office.
I had a great relationship with my nurse manager. She knew I had a biopsy and told me not to worry, that it was likely benign. She said she too had a nodule and her doctors just "kept an eye on it with annual Ultra Sounds". I was so incredibly naïve going into this. When I disclosed that I would need five days off for cancer surgery my relationship with my nurse manager immediately changed. Although I had received awards recognizing the exceptional service I give patients, I was told my position was going to be posted. She said she knew I thought I would be on my feet fast but I was "older" and she did not think so. I worked for a hospital that specializes in oncology and was stunned and terrified by the threat of job loss.
I made an appointment and flew in to meet with doctor Clayman. What a blessing and a gift to humanity he is. After I met with an impressive Resident in training under Dr. Clayman, Dr. Clayman himself stepped into the room. He was dressed in a business suit and looked like he had just stepped out of GQ Quarterly. He stood in front of me casually with his hands in his pockets acting as if he had all the time in the world. He addressed the fact that I was more terrified of job loss and loss of my home than I was of the possible cancer. He told me I had a neoplasm and he would not know if I had cancer until he went in. He was very informative, discussing the possibilities of a malignancy, but had a plan to save half of my thyroid in the event that there was no malignancy. His treatment plan was intentioned, intelligent, and sensitive to my needs for care. He was very comforting, confident and concerned about my outcome.
He said he would send a specimen to pathology while I was in the OR and make a decision based upon the impromptu results from the pathologist. I have to say I felt as though a huge valium had walked into the room. He was so reassuring and confident that I left reassured and confident. He scheduled surgery for the next day, Tuesday and advised that I could fly home on Friday and return to work six days later on Monday. And I did!
I had absolutely no pain after surgery and no loss of my voice. My surgery was late morning and I was out of bed eating a sandwich later in the evening. My incision is barely discernable. I returned to work wearing a turtle neck. The patients and my colleagues thought I had been on vacation for five days. I returned to ten hour work days so quickly that my position had not been posted. Happy days were here to stay. I was elated and returned to my Pilates practice. I am grateful to Dr. Clayman, for his surgical ability, care and dedication.
During the surgery Dr. Clayman made the decision to remove my thyroid. When I awakened, this surprised me. The Fellow who spoke with me before I was discharged told me, "Clayman knows what he is doing. He performed your surgery himself without anyone assisting him. He would not have removed your thyroid unless he had good reason." And, I knew beyond a doubt that this was true. I would trust any decision Dr. Clayman makes.
Nine days after I returned to work Dr. Clayman called and left a message stating he would like to talk to me and find out how I was doing. He had my pathology report and asked me to let him know when I was available and he would contact me. I was not allowed to take personal calls at work so he called me at home on a Friday evening. He informed me that my pathology diagnosis was complicated and I would need additional follow-up either here in South Florida or a return trip to him. I told him I could not ask for time off due to fear of job loss. He said I must have further testing and we could accomplish it in one day.
My comfort level and trust was with Dr. Clayman. He told me to let him know what day I could be there and he would make all the arrangements. I flew back on a Sunday and Dr. Clayman made arrangements for all tests to be completed on Monday so I only needed to miss one day of work. He pulled out all stops and lucky for me that he did. My diagnosis was complicated. One of the specialists in his group was concerned that I may have only three months left to live without immediate chemo treatment.
Dr. Clayman had been so very thorough when he removed my thyroid that two of the three oncology specialists thought he had removed the threat. To be on the safe side, I did undergo preventative chemo treatment. I am alive and well today thanks to Dr. Clayman.
If you are in doubt do not hesitate to get a second opinion. My second opinion with Gary Clayman, M.D. saved my life. He considers it an honor and pleasure to care for his patients and treated me with the respect that in my experience is reserved for VIPs. I am not a VIP. I am just a nurse with my livelihood at risk. I am 70 years old and have no family to fall back on. I went from a place of indecision to a place of total confidence and fully accepted every move that was made on my behalf. His skills as a surgeon are outstanding and his skills as a caring professional rank him among the best in the world. More importantly he believes he has been blessed to have touched so many patient's lives and has stated the relationships he has established with his patients are "his most precious benefit".
---
Patient: JWR, age 79, Fort Worth, TX, Food Manufacturer - Bilateral neck dissection, central compartment dissection, tracheal resection for advance papillary thyroid cancer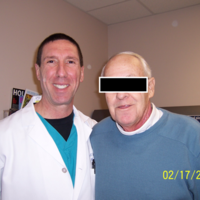 After being confirmed that I had Thyroid Cancer, it was determined that the cancer was growing inward and that I needed to see a surgeon- I first saw Dr. Clayman in October of 2009. Dr. Clayman said that I needed a Cervical Lymphadenectomy, which is a modified neck dissection. The main thing that I remember about that meeting was that I needed surgery on my neck and I was scared. I didn't know if the surgery would leave a big scar, or if I would have a voice left, and other things that entered my mind. I agreed to surgery with Dr. Clayman in December of 2009. After a very short stay in the hospital and then several weeks stay at home, the recovery went well. I didn't notice the very small scar at all. After that, I needed radiation treatment because my cancer had grown into my breathing tube (trachea). The redness you see on my neck is from the radiation. I can wear a shirt with a tie and none of the redness shows. I normally just wear regular shirts and go about life like I did before the surgery. Dr. Clayman performed a masterful surgery. My cancer has never come back.
---
Patient: K. B., 31, Dallas, TX
Having the best surgeon sometimes means they don't preform surgery. 
I came to Dr Clayman to have a lymph node removed after a biopsy and a recommendation of immediate removal for further inspection in Dallas, TX. Dr. Clayman performed a second biopsy and noticed large nodules on my Thyroid. After the biopsy came back clean, he recommended a change in lifestyle and diet.
At my six month check up, my nodules had shrunk on a sonogram... and my "over active" lymph node was substantially less prevalent. My family and I are very grateful Dr. Clayman saved me from an unnecessary surgery.
Many surgeons rush their patients through surgery, but Dr. Clayman takes a very clear and thoughtful approach to every patient. I recommend him for anyone struggling with decisions about their thyroid, his judgment is remarkable and his intentions are honorable.
---
Patient: KLC, Age 26, Ingleside Texas, Coordinator of Public Relations
When I first found out I had thyroid cancer, I had never been so fearful and emotionally brought down when I heard those words from my hometown physician. Being only 24 years old, I was terrified and had no idea what road lie ahead of me; was I going to make it to live to even be 25, 26, 27?? I made a choice to seek care from a place I knew had the most professional, experienced, knowledgeable staff in the world. I had never had a surgery prior to my care with Dr. Clayman, so one might imagine the fearful thoughts running through my mind. Once I found out who my surgeon was going to be, I researched him and found that he had been awarded many  distinguished honors: Best Doctor in America, Distinguished Chair of Head & Neck Surgery, etc.  I felt at ease. Then, when I met Dr. Clayman in person for the first time, he looked at me, held out his hand, and told me "I'm going to take care of you Kelsey, don't you worry." I'll never forget that moment, I gave all of my trust to him. I had surgery one year ago, and often get complimented by those who know my experience, how 'good-looking' my scar appearance is. One of my fears was having a huge scar across my neck. Dr. Clayman performed a surgery that made scarring as minimal as possible. I am so happy with my results, and I know it is without doubt, I had the best doctor in America. It may be cliché to say that Dr. Clayman has saved my life, but I know in my heart--because of him and his care, I've been given an opportunity to have a second chance to live my life. For that, I remain eternally grateful. 
---
Patient: JL, 59 year old male, Houston, TX, retired Senior VP global energy company - Left thyroid lobectomy and left central compartment dissection.(4cm tumor)
In 2011, Dr. Clayman surgically removed a large mass from the left portion of my thyroid. I was exceptionally pleased with every aspect of my experience with Dr. Clayman and I recommend him without any hesitation.
First, some background. At the time of my surgery I was a very active and healthy 54-year old male. I had completed over 20 marathons, including two in 2011. Other than cataracts, I had no significant medical issues in my life. I was a senior vice president for a global integrated energy company, working in both Houston Texas and The Netherlands. I traveled routinely around the world.
I had no indication that I had a thyroid problem but an inquisitive physician performing a routine executive wellness exam spotted the potential problem. A subsequent ultrasound showed that the thyroid gland was much larger than normal, and naturally I was alarmed. I was scheduled to leave the U.S. for two weeks, and I didn't want to leave without having a better idea of the seriousness of this matter.
Typically, it takes months to get an appointment with a surgeon as busy and prestigious as Dr. Clayman. After all, he only had "office-hours" one afternoon per week, and his office hours were always booked wall-to-wall. Although I knew my chances were slim, I drove to MDA without any appointment, just hoping to get lucky and get a few minutes with Dr. Clayman. The receptionist looked at me like I was crazy when I told her that I wanted to meet Dr. Clayman but didn't have an appointment. Nevertheless, she listened to my situation and promised to give Dr. Clayman the message. Sure enough, Dr. Clayman saw me that same afternoon and after evaluating the situation assured me that two weeks was not going to make any difference at all. This was the first of many times when I clearly observed that Dr. Clayman's only motivation is to help people and that he will do everything he can in that regard.
When I returned to the U.S., I had appointments arranged for x-rays, ultrasounds, and biopsies. Dr. Clayman quickly analyzed the situation and informed me that surgery was the only reasonable option. I was previously told that the entire thyroid would likely need to be removed, but Dr. Clayman assured me that he would only remove what was necessary (i.e., do a lobectomy) if the right side of the thyroid looked healthy.
My primary concern was being able to continue a very active lifestyle. Dr. Clayman assured me that this shouldn't be a problem, and was always the case, he was right.
The surgery was scheduled in a timely manner and proceeded like clockwork. Dr. Clayman had me so well prepared that I wasn't nervous at all, and I was thrilled when Dr. Clayman told me immediately after the surgery that he didn't need to remove the entire thyroid!
I started on synthroid immediately and although it took a few months to get the dosage correct, I never really felt any effects from the surgery. There was no pain, my energy level was normal, I was back to running and biking in a few days, and I was lifting weights a few weeks later.
Once the bandage was removed I was surprised to see that there was very little visible signs of the surgery. The incision was clearly visible, but it was small enough that there was no way that anyone would have known that I just had surgery unless they were to stare at the spot on my neck. Dr. Clayman recommended that I apply a cream to the area every day which I did religiously. I don't know how much of a role the cream played in minimizing the scar, but in any event, after a few weeks there was almost no visible scarring. After another few weeks, there really wasn't any sign of the surgery!
Thanks to Dr. Clayman, my surgery was a "non-event". I would rate him 11 out of 10 in terms of expertise, talent, doctor-patient interactions, communication, organization, follow-up, integrity, caring. On top of everything else, Dr. Clayman is incredibly modest. Needless to say, I would send anyone dear to me to Dr. Clayman for any sort of thyroid surgery or thyroid cancer surgery.
---
Patient: L. M. N., 67 y.o. female, Texas City Texas - total thyroidectomy, central and left neck dissection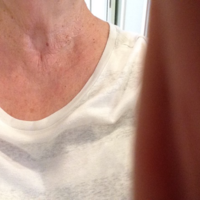 I would like to take this opportunity to let you know about my experience with Dr. Clayman.
I was diagnosed with Thyroid Cancer in 2014 to my complete surprise.  I was referred to Dr. Clayman's office for consultation and treatment.
From the very beginning I was treated with compassion and professionalism.   I was told I would have surgery to remove my Thyroid and some of the lymph nodes that were cancerous and then have radioactive Iodine treatment to assure that the cancer would all be gone. 
I was, of course, nervous and apprehensive, but Dr. Clayman and his staff assured me that this was very treatable, they explained every step of the process in detail and made me feel comfortable and confident about the process.  The surgery went flawlessl. I was then followed by the radioactive iodine treatment.  I have had no complications and my neck has healed beautifullyand you can not even tell I had the surgery unless I point it out.  I have attached a picture of my neck.
I highly recommend Dr. Clayman and his team for anyone needing treatment for Thyroid Cancer
---
Patient: L. G., 50yo female, full time ministry, Houston Tx - One year following right and central compartment neck dissection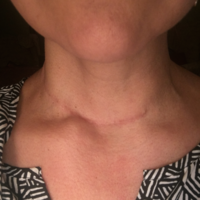 Its been one year since surgery, I am a better person because of Dr. Clayman's care in my health!  Even when I made the decision not to do radiation you gave me the BEST advice a doctor could give his patient. "Stay away from Carbs and sugars!!!"  I only wish I had taken that advice sooner... maybe I could have avoided that third surgery.  I know for certain I'm healed and well thanks to your amazing work, diet advice and the GOOD LORD above!  I know now I will never have a fourth surgery! 
As you can see from the attached pictures I have healed nicely.  It took a good six months for all muscles to get back to working order, I did all the exercises you requested and then some, like the use of essentials oils in the healing and reduced appearance of my scars. 
I took it upon my own to have two massages weekly (yes weekly) for the first 3 months after surgery, then one a week and I am now down to two massages a month.    
I still have the occasional muscle tightness on the right side of the neck and well there is nothing like having a great therapeutic massage to cure all that ails you!
My husband and I will be praying for great success in the coming months and years when your center officially opens. May God bless you and your family abundantly!
---
Patient: MF, 46 years old, Bellaire Texas, Finance - total thyroidectomy for papillary thyroid cancer 2013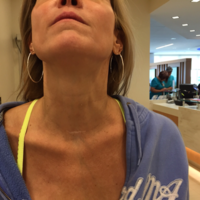 I was formally married to a surgeon so I understand the 'God like complex' so many over competent surgeons are known for having.
Dr. Clayman is one of the most humble, honest, professional surgeons I have known and he is well known within the medical profession as one of the best thyroid surgeons (and I was blessed to talk to all of the best surgeons prior to my thyroid surgery).  I would not hesitate to use Dr. Clayman again should my thyroid cancer come back and I will be flying to Tampa, Florida for the surgery with him again should that be the case.
---
Patient: M. M., Houston, Texas, Accomplished Author, Mother of infant child with thyroid mass in base of tongue - Thyroglossal duct cyst in tongue base at 18 months of age.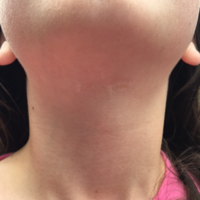 Recently, my ten-year-old daughter was at a swim meet and I was reminding her to put sunscreen on the fine white line on her neck that is almost invisible. A friend asked me what the scar was from. She commented she had never noticed it before. I smiled and thought of Dr. Gary Clayman.
When my daughter was eighteen-months-old, her pediatrician stopped one day during her check-up and looked at me. "There's a mass in her neck." My heart sank immediately because I knew that was not good. I remember calling my husband from the car and telling him. Later we would learn that she had an unusual thyroid mass that developed at the very depth of her tongue called a thyroglossal duct mass. Removing the mass could result in her losing the ability to speak and swallow. The rapid growth of the mass meant it had to come out as soon as possible.
The first doctor we saw, who came highly recommend, said he had done the surgery five times. Five times didn't seem like a very big number to me. By some miracle, a dear friend pointed us in the direction of Dr. Gary Clayman.
At our first appointment, I came in with my notebook of questions, as well as every appointment after that. He sat patiently and always answered every one of my questions. (I know on some level he probably thought I was crazy!) He always explained exactly what would be done and was honest with us. He showed a level of compassion and care that I never expected. I can't even count the times that he would answer his phone when we needed pain medicine or we were concerned about our daughter. We trusted him to perform a surgery that would determine how she lived the rest of her life.
Over the years, doctors have told me how fortunate we are that Dr. Clayman did the surgery. There are few individuals in the world who could have performed this surgery with such amazing results. To this day I thank Dr. Clayman every time we see him. We're so grateful for the care he gave our daughter. She continues to live a happy and healthy life. We are truly blessed!
---
Patient: M. B., 73 y.o. female, retired - Papillary thyroid cancer spread to right neck
I am a senior citizen that has never had many health problems.  There had never been any history of cancer in my family. 
When I was diagnosed in 2010 with Thyroid cancer I was filled with anxiety.
That was when I met Dr. Clayman.  He was so reassuring and after that first meeting I felt relieved.  Dr. Clayman explained my condition to me in terms that I understood.  He took the time to answer all my questions.
He is a very caring doctor.  I would be so happy if he were able to be my personal physician.  I am thankful for all that Dr. Clayman has done for me.
---
Patient: M. J. , Texas, 65 years of age
I first saw Dr. Gary Clayman when I incurred my third recurrence of Papillary thyroid cancer. Every other "expert" physician wanted to do a total laryngectomy while Dr.Clayman said a partial laryngectomy was possible.  Dr. Clayman did the surgery successfully and I still have my voice.  I have been cancer free in for over two years. I was never previously cancer free ever!!! I had an unusual papillary thyroid cancer that was very aggressive. I know most people have the more common thyroid cancers. Due to the scarring from previous surgeries, thick saliva and the need for radiation because my papillary thyroid cancer had grown into my voice box and breathing tube, I had to have a breathing tube in my neck. 
My breathing tube has since been removed. Dr. Clayman has been thorough, caring and has taken excellent care of me.  No one else could have done what he did for me. I highly recommend Dr. Clayman to anyone for thyroid cancer or thyroid surgery. I would happily answer any questions regarding his treatment.  I will miss Dr. Clayman immensely. 
---
Patient: T. R., Mother of an inherited medullary thyroid cancer patient
Hello! My name is Tracy and I am the mother of one of Dr. Clayman's thyroid patients. One year ago, my 21 year old daughter was diagnosed with medullary thyroid carcinoma. We knew her father, who was not really present in her life, had this type of cancer and that it was hereditary. I was told to have her tested as a child for this cancer gene, however, when I inquired what would be done if she was positive, I was told they would just monitor her and not proceed with any treatment until she was older. I, therefore, opted not to test her to keep her from having a "pre existing condition," for insurance purposes. When she tested positive a year ago, she was over 18, which presented many problems for me, as a parent. Her age meant that she could choose her own doctors and course of care and I could not get access to her records or call to ask questions regarding her care. She, initially chose, a surgeon in Albuquerque, NM to provide care for her. I went with her to her appointments and the doctor would not answer any of my questions regarding surgery, care or testing, even with my daughter in the room. At 21, she just didn't really understand what kinds of questions to ask. At one point, while I was alone in the room with the surgeon, the surgeon looked and me and yelled at me for crying and proceeded to tell me what a horrible mother I was for not having her tested as a child. She told me I was given the wrong information regarding treatment of children. Of course, how was I to know? After over 20 biopsies on my daughter, the surgeon indicated my daughter's case was too complicated for her scope of practice. We were referred to Dr. Clayman and he accepted her as a patient very quickly. We flew to meet him and he was such a caring and  imperturbable doctor. He patiently answered all of our questions with my daughter in the room. She gave consent for me to speak with Dr. Clayman regarding her care and he was the most kind and empathetic doctor we had dealt with. He met with me right after surgery and immediately put me at ease with how surgery had gone. He told me that my daughter had cried all the way to the operating room and he held her hand to make her feel comfortable. I still tear up that he took care of my baby during a time when I could not be with her and she was scared. He met with her every day in the hospital until we flew home. Since then, Dr. Clayman has always answered our calls and read her follow up test results. Since her cancer is very rare, she can still get cancer in other parts of her body. I will always take her to Dr. Clayman if anything new in her case pops up, no matter where he is. His hands are a gift that saved my daughters life and I am forever indebted to him. Being the parent of a young adult with cancer provided unique challenges that I could not have faced without Dr. Clayman. Even though she was older, she is still my baby and I could not have been more happy with her choice of surgeons. Dr. Clayman was the miracle we had prayed for. Without him, I am not sure the outcome would have been the same.
---
Patient: PRH, age 67, Architect, Jamestown, New York
I was referred to Dr. Clayman by my local ENT in 2008 – it was one of the best encounters of my cancer journey.
The timing of my thyroid cancer was terrible – our daughter's wedding was scheduled three months after it was discovered. I travelled over 1400 miles to our first visit, terrified that my thyroid cancer was an exotic Hurthle cell variant, for which there was no easy, or guaranteed, treatment. Dr. Clayman was calm and understanding, and after a few days of testing, let me know that my case was not life-threatening, reassuring me that the wedding was my first priority. My subsequent care could wait until after the wedding, even though his treatment plan included surgery and radioactive iodine.
You cannot imagine what a relief it was to hear his words of comfort and confidence!! The wedding went on as planned, and I happily walked my daughter down the aisle.
The follow-up surgery was painless, and the incision scar is almost invisible. I quickly returned to my normal life where I often lead public presentations, and speak at length. I can report that there was no effect on my voice - an added benefit of having this gifted surgeon on my care team.
I would enthusiastically recommend Dr. Clayman to anyone seeking extraordinary care for Thyroid Cancer.
---
Patient: PW, 58 year old male, Houston,Texas Oil Company Executive - Thyroid Lymphoma, presenting with right true vocal cord paralysis. Status post extended thyroidectomy.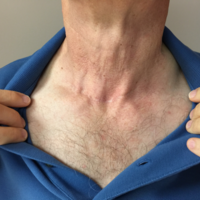 I have been truly fortunate to have Dr. Clayman leading the team involved with my journey with cancer ― fortunate not just because of his knowledge and experience but also because of his understanding of how a patient wants to be treated: namely with accurate information, urgency and compassion.
 
My case was not straightforward and required a medical team that would not give up.  Despite the rareness of my particular lymphoma, Dr. Clayman worked tirelessly to diagnose and treat me, a lesser doctor might have given up.  As his patient, I felt safe because I knew I could not get better care.  Throughout my journey, he was always there for me as my doctor and equally importantly a friend ― I have reached out to him in and out of business hours, on weekdays, on weekends, and even on public holidays and he has always answered or replied quickly.  I will always be grateful for his devotion to my case. 
 
Getting an accurate diagnosis took time and during that time external resources were used for scans, pathology, etc.  At any point if Dr. Clayman felt those supporting services were not performing he would step in on the patient's behalf and correct the situation to insure the patient was receiving the care to his standards.
 
For these reasons, I can without hesitation recommend Dr. Clayman.
---
Patient: SK, 31yrs old at surgery, Female, NY, NY
When I was first diagnosed with papillary thyroid carcinoma I was so scared. I had already gone through Hodgkin's lymphoma as a teenager and didn't want to face cancer again. We did our research and met with a few local head and neck surgeons in NYC, but we were told there was no one like Dr. Clayman. We flew out to see Dr. Clayman. We felt very comfortable with Dr.  Clayman, he assured me I wouldn't even need the necklace my husband had promised me to cover the scar from surgery. He was calm, confident, and most important to me, he really seemed like he cared about me. Surgery was absolutely smooth, follow up in NY was very pleased and went as far as saying that if Dr. Clayman did my surgery the odds of there still being thyroid cancer cells in me were absolutely minimal. They didn't even insist on my doing radioactive iodine treatment! My scar is tiny and healed beautifully. 

Thanks!
---
Patient: S. D., 62 yo female - Left neck dissection and central compartment surgery for medullary thyroid cancer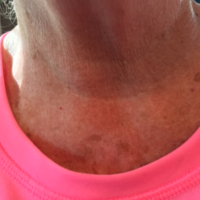 Hi. 
My name is Sharon, and I am a patient of Dr Gary Clayman. I have been his patient since September 2014.  
Dr. Clayman did surgery on my neck for medullary thyroid cancer on September 11, 2014. The surgery went extremely well and I was able to recover in a relatively short period of time.  
Dr. Clayman took amazing care of me. He has a wonderful bedside manner; he's very likable and makes a patient feel very comfortable in talking about their condition and what steps need to be taken.  He takes all the time you need to discuss your issues and to clarify anything that he discusses with you he always answers all of my questions and I never feel rushed or that I am just a number.  I feel very safe with him, and he takes excellent care of me. 
As I continue to see him on a yearly basis now, I'm always assured that I will have the best care possible.  
If you are having issues with your thyroid, I highly recommend Dr. Clayman.  He is an amazing surgeon and a wonderful doctor. He's very knowledgeable, very well educated, and knows the latest technology available. 
I highly recommend Dr. Clayman, and will continue to see him for my personal thyroid care.
---
Patient: S. M., 63 y.o. female, El Paso, TX, Computer Analyst
After being told that there were no doctors or equipment in El Paso capable of helping me with my aggressive thyroid cancer, I was fortunate to cross paths with a man I now call my Number 1, Dr. Gary Clayman. 
He saved my life regardless of the fact that we had been informed that I had hours to live, and he has given me quality of life six years to the date.  Not only is he extremely gifted, talented and dedicated, but it's his personal touch, his humanity and compassion; that's what distinguishes him from the rest.  He has made me feel so safe and protected, that I know I can conquer the world because he is always there to look after me!
Mere words cannot express my gratitude; all I know is that God has Blessed me by having my Number 1 in my life!!!!
---
Patient: TJD, Age 69, A retired Firefighter/ems and a current musician/trumpet player - Total thyroidectomy and central compartment dissection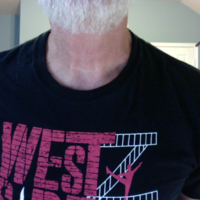 I had my thyroid surgery in October of 2014. Dr. Gary Clayman was my surgeon and I couldn't have asked for better treatment than what I got from him and his team. I found Dr. Clayman to be very personable and he was quick to answer any questions that I might have. He was upbeat and always smiling and of good humor. He always caused me to feel confident in what was going to take place to cure my cancer situation.  I always heard from other sources that I did good to get him as my surgeon, that he was the best, and I found that to be the case.
---
Patient: T. H., age: 64, Belvedere, South Carolina, retired educator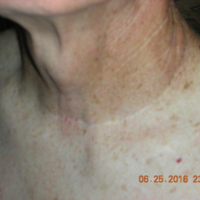 On my initial visit to MD Anderson Cancer Center in December of 2002, I met with Dr. Gary Clayman in preparation for a re-excision of a melanoma on my cheek. Because of of MDA's thoroughness my entire body was checked for cancer. A short stay turned into two weeks of testing. After each series of tests, my wife and I met with Dr. Clayman. As the days passed, my future looked progressively worse. Near the end of the two weeks, Dr. Clayman met with us. I asked him for his assessment of my situation. He said that tests revealed two types of cancer, melanoma and thyroid, lesions on my liver, and tumors in a kidney and an adrenal gland. This indicated that there might be a third type of cancer present or possibly one of my cancers had metastasized. His words brought such uncertainty. What happened next so typifies Dr. Clayman's manner and caring. He turned to face me directly and calmly said, "We are going to take of you." The words are oft repeated, Dr. Clayman's approach is not. Not only was I well taken care of, I was treated with dignity, understanding, and love.
 
Soon thereafter it was determined that the problems in the liver, kidney, and adrenal gland were benign. Dr. Clayman performed the melanoma and thyroid surgery. When I was moved from recovery to my room, I remember a couple of nurses commenting that Dr. Clayman had done my surgery. When I inquired as to how they knew, they said by the neatness and precision of the incision and stitches. According to the nurses most doctors preferred staples over stitches due to the effort and time required to stitch a wound. I had just over 100 exterior stitches in my neck. Thirteen years after the surgery, my scar is barely noticeable to me or others. As a man, I have plenty of scars and I can always come up with a good story as to how and why I got them. However if my wife had the long neck scar, she would be very appreciative for the excellent work.
 
Over the years, Dr. Clayman and I have become genuine friends. I respect the man and his work. I have not hesitated to recommend him to family and friends and he has not disappointed them or me. In short, I trust Dr. Clayman and I am thankful that he is my physician.
---
Patient: T.M., Katy Texas, Mother of 17 year old girl with papillary thyroid cancer
If you are facing thyroid cancer, two critical factors emerge from research and are well documented:
• Surgery is the best hope for a cure.
• High-volume surgeons with a lot of experience are essential to achieve an excellent outcome.
When my daughter was diagnosed with advanced papillary thyroid cancer, I had done my research. That is why I sought out Dr. Gary Clayman, with over 27 years of experience, specializing in complicated thyroidectomies. He has performed over 4000 surgeries of this kind. Over 100 cases per year is considered high volume. Surgeons who have extensive experience with pediatric cases are even rarer than those who do adult surgeries. When we asked Dr. Clayman the age of his youngest patient, we were surprised to learn that it was a baby only six months old. My daughter's CT scan and biopsy showed that her tumor was very large—6 centimeters--with extrathyroidal extension and had spread to her neck lymph nodes. Her cancer had wrapped itself around her laryngeal nerves, which are instrumental for speech. We were extremely concerned about the potential negative consequences of the surgery, like losing her voice or being hoarse for the rest of her life. At age 17, my daughter was very concerned about having an ugly scar around her neck because the extensive dissection that needed to be done.
Dr. Clayman listened to our concerns and alleviated our fears through his extensive knowledge and very caring approach. He set realistic expectations and explained every detail of the plan and the procedure. He was completely honest with us and we trusted him implicitly. I felt as though he cared for my daughter as if she was his own daughter. He told us that because of the way the cancer had grown, he might not be able to remove all of it surgically, but later, other treatments could be used to eliminate the remainder if necessary. He said, "I am not going to risk taking the voice of a 17-year-old away for the rest of her life." I will be eternally grateful to him for making that decision. I felt completely confident that he could handle anything that he encountered in the operating room and that she was in safe and capable hands.
In a surgery lasting almost four hours, Dr. Clayman removed her thyroid, the tumor, and 74 lymph nodes, that all together were the size of a man's fist. Because thyroid cancer grows so slowly, we were not aware that her neck had gradually been getting thicker for years. But now she has a slender, beautiful neck with barely a trace of a scar. We could not believe how quickly the incision healed. Six weeks after the surgery, she wore a strapless gown to her senior prom. She refused make up to cover the scar because she was so proud of how she looked. From my perspective, the best part of the story is that Dr. Clayman was able to remove all of the cancer in her neck area without impacting her voice at all. Only 25 of the 74 lymph nodes were malignant. He left "no stone unturned" and meticulously and thoroughly excised any tissue that looked suspicious. My daughter now uses her voice loudly and proudly to tell her story and raise awareness of thyroid cancer, which has been on the rise while most other types of cancers have declined.
In addition to his supreme surgical skills, Dr. Clayman has a truly kind heart and cares deeply about his patients. He seeks their direct input and collaborates with them on every aspect of their care. He continues to follow their progress long after the surgery and ensures their complete recovery by closely monitoring them and recommending a physical therapy program if needed. Dr. Clayman is everything you would want in a thyroid cancer surgeon and more. Thanks to him, my daughter's prognosis is excellent and her future looks very bright. But if the unthinkable happens and she has a recurrence that needs surgery, Dr. Clayman would be my first choice for a surgeon to treat her. Being active on the Thyca website, I know many other patients that feel exactly the same way.
---
Patient: Walter N. Ingram, MD, Internal Medicine, Board Certified, United State Air Force, Tacoma Washington - Left anterolateral neck dissection, total thyroidectomy, central compartment dissection for papillary thyroid cancer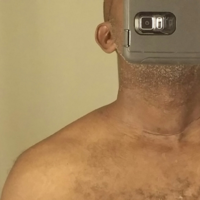 My name is Walter Ingram. I am a physician, military member and leukemia survivor. In October 2015, I thought my days of battle cancer were behind me. I had gone through very intensive treatment for my leukemia in the past and achieved remission. However, one day I noticed a new neck lymph node. I saw my local head and neck doctor. This doctor is was a colleague in my hospital, highly skilled and well respected throughout our hospital and by me. He worked me up and ultimately diagnosed me with stage IV thyroid cancer with metastasis to multiple lymph nodes in my neck. I was prepared for this surgeon to do the rather extensive surgery that I would need, because I knew his reputation and skills. He took care of many of my patients and I was very impressed with him. However, this doctor sat me down in his office and explained how extensive this surgery would be. He felt capable of doing the surgery, but he indicated that he would rather send me to the surgeon that HE would want if he needed this surgery. This surgeon is Gary Clayman. My local head and neck doctor explained to me that this was the guy who trained him and he was confident I would be in good hands.
When I first met Gary he exuded confidence without arrogance and professionalism without being cold. He walked me through exactly what to expect and his plan for surgery. Everything went exactly has he explained to me. There were no complications. Surprisingly, I was discharged from the hospital 24 hours following the surgery. A total neck dissection is a rather extensive surgery and today, no one knows that I even had the surgery unless I tell them. My scar is unnoticeable. Also, follow imaging revealed no residual gross tumor(s) in my neck.
Gary Clayman is the doctor's choice when they personally need the care of a head and neck surgeon. I am blessed to have been his patient.
---
Patient: W.B., 58 year old, El Paso, Texas, aggressive papillary thyroid cancer - total thyroidectomy, bilateral central compartment surgery, microdissection of recurrent laryngeal nerve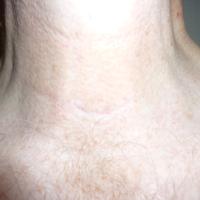 I am real estate investment analyst and a 58 year old male. In January 2015 I was diagnosed with papillary thyroid cancer. It was at this point in time I came to know and began treatment with Doctor Gary L. Clayman, a brilliant, multitalented, superbly skilled world class physician. I was and currently am very much impressed with his ultra-high level of professional standards of care and service. Additionally, Doctor Clayman has the experience, knowledge and expertise to manage complex surgical thyroid cancer cases.
One major part of my cancer treatment plan included a total thyroidectomy. This part of the treatment plan had my attention and was my upmost principle concern as this surgery can be extremely delicate and should be attempted only by a well-seasoned head and neck surgeon. The surgery was performed and the results of the thyroidectomy were deemed highly successful, but the cancer was much more extensive than originally anticipated. Doctor Clayman encountered cancer that had spread into the soft tissue, lymph nodes, and one of the parathyroid glands within the central compartment. Furthermore, the cancer was in the early stages of invading one of the laryngeal nerves. Doctor Clayman identified and meticulously removed the cancer effected areas by intricate and skillful surgery. Next he proceeded to dissect sections of the outer covering of the laryngeal nerve carefully removing the cancer thus sparing the ultra-sensitive nerve. Thanks to Doctor Clayman and his phenomenal surgical skills, I can call myself a stage 4a thyroid cancer survivor. Prior to my surgery, Doctor Clayman invoked a strong sense of confidence resulting in the knowledge and reassurance that I would be taken care of, before, during and after the treatment of my cancer. As of today, this still holds true.
It is known that Doctor Clayman is on the very forefront of surgical treatment and research of thyroid cancer and related issues. I regard him as a remarkable physician that is extremely passionate about his work, exhibits a very high level of confidence, has the utmost precision surgical skills and has incredible in depth knowledge in all areas within the head and neck medical field. Doctor Clayman routinely deals with the most extreme, difficult and most challenging thyroid cancer cases. Additionally, as I have witnessed, Doctor Clayman is both highly respected and admired by his colleagues, peers, support staff, and by his patients. He is an icon in the thyroid cancer surgery field.
Doctor Clayman is both a life changer and a life saver. He has touched and changed countless lives both in and out of the medical field. I am extremely fortunate to know and have Doctor Gary L. Clayman as my physician.
---
Patient: L.A, Sarasota, FL, 76 at time of surgery, retired
I met Dr. Gary Clayman  on September 28, 2015.  My Endochronogist advised me that, if possible, I should see Dr. Clayman as he was tops in his field and I had multiple cancer seeds in various locations of my neck.  As I have the utmost confidence in my endocrinologist, I knew Dr. Clayman would also be in that category for me. When I met him, I found this to be true.
 
Although I only saw him briefly at our first meeting, he scheduled all necessary physical tests during the four days before surgery to enable him to know my body and what was needed for me.
 
My surgery took place around noon on October 1, 2015, and by evening I was feeling good, eating and anxious to leave the hospital. 
Dr. Clayman came in the following morning to release me and give me his evaluation of my surgery.  He felt he had extracted all cancer seeds he found.  He then told me his recommendation for me was thirty three radiation treatments.  He knew I was unhappy with his advice, but he explained his reasoning, and I felt  he had a true and genuine concern for my future.  Because of my respect for Dr. Clayman, I chose this path.
 
About a month after my surgery and I was back in my routine, I developed some stomach issues.  While I was in the hospital, my neck became very swollen.  My neck surgery was evident and a doctor on staff asked to speak with Dr. Clayman.  He called me at home to find out what was going on, and had me send him a picture.  After seeing my neck,  he told me what to do and prescribed necessary medication.  He had me send him a picture of my neck everyday for approximately three weeks until it became normal.  I am very humbled by his treatment, as well as, very appreciative.  This to me was "over and above". 
 
I am very grateful for Dr. Gary Clayman.  I feel he is very honest, truly caring, as well as being a top doctor.
 
To say I am thrilled he is coming to Tampa, FL would be putting it mildly, and although I hope I don't need his services in the future, I am so re-assured as he will now only be "right up the road" from me.
---
Patient: A.R., 62 year old female, Santa Fe, NM
"Dr. Clayman is Compassionate"
" His Bedside manor comforts me"
" I always felt safe with Dr. Clayman"
"He took a scary situation and made me feel all would be O.K."
" I look forward to seeing him"
" Best Dr. and surgeon I have ever known"
" I had no scaring after surgery"
Words to Describe Dr. Clayman
---------------------------------------------------
Compassionate
Swiftness
Accuracy
Communication
Healer
---
Patient: B.D., 57 year old male, Prairieville, La. - Engineer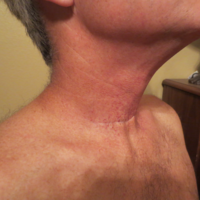 My journey with thyroid cancer started in 2011 after my PCP recommended that I get checked by an endocrinologist for a persistent lump on my thyroid. During my biopsy, my endo was reassuring me that these lumps are usually benign (95%) and that I should be fine. Needless to say, I was one of the 5% that had cancer of the thyroid - Medullary Thyroid Cancer (MTC). My endo recommended a local surgeon who scheduled the surgery 2 weeks later; this "monster" (tumor) couldn't have been taken out fast enough for me. After the surgery, I was out of work only 1 week and fully functioning with minimal long term effects. The only long term effect was that I had to take a tiny pill (Levothyroxine) every day for the rest of my life. This was the easiest cancer that someone could ever have and I just beat it!! I went back to my endo once a year; he monitored my TSH, CEA and calcitonin which were all non-detectable.
On my second anniversary, my endo found another lump in my neck, outside of the normal thyroid bed location. So I thought, okay, I will go see my local surgeon, he will take it out, I'll take a week off of work and then I'll be back to my normal self. When my wife and I visited the local surgeon, he had worse news than I had expected. He felt that since my thyroid cancer had spread out of the thyroid bed and into my left neck, that I would need a complete left neck dissection. I said, "Okay, let's do it and get rid of this beast again!" He then proceeded to tell me that this particular surgery was much more serious. As he only did 4-5 of these surgeries a year, he felt that I needed to be in the hands of a surgeon that did this type of surgery a couple times a week and that the only person he would recommend was Dr. Gary Clayman at MD Anderson. I had never heard of Dr. Clayman, but I did some research on him and found him to be quite an accomplished surgeon with many years of experience in the head and neck area. My local surgeon gave me a referral and we made an appointment with Dr. Clayman. Dr. Clayman is a very kind, quiet, and reserved doctor who reviewed the entire test results and discussed my options with me. We opted for the surgery which went quite well. I was up and out of the hospital the next day and back at work in one week. This surgery was in September of 2013. Since then, I have had two additional surgeries in different parts of my neck to remove newly formed tumors. Between the 3rd and 4th surgeries, I had 6 weeks of electron beam radiation to my neck area to slow or reduce the growth of new tumors, based on the wisdom and recommendation of Dr. Clayman. I have been surgery free for the past 18 months and it feels great. I know that I still have MTC in my body, but that the disease is stable and not progressing. I can live with that.
My suggestion to any newly diagnosed patient: take a deep breath and learn everything you can about this disease, as knowledge truly is power. Thyroid cancer tends to be a slow growing disease. It is wise to get the very best resources to take care of yourself, such as using Dr. Clayman. My wife and I have a friend that took our advice and sought out Dr. Clayman first and after one surgery she is completely clear of her cancer (also MTC).
I have also read Dr. Clayman's new book; Live It – A Diet & Exercise Program for Permanent Weight Loss, Disease Prevention, Longevity and Joyous Living. Currently, I have lost 20 pounds and have 10 pounds left to lose. I feel great and have a lot more energy. The key to this diet was to wean yourself from any added sugar to your diet. Naturally occurring sugar in fruits and vegetables are okay, just not the cake, cookies or sweets that normal Americans have grown up with.
I have had nothing but great success with Dr. Clayman and I would highly recommend him to anyone who is considering surgery for thyroid disease or thyroid cancer.
---
Patient: B.B., 63 year old woman, Port Neches, TX, Retired secretary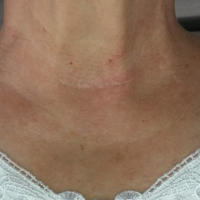 I live in Port Neches, Texas. I am a retired secretary from Texaco Refinery in Port Arthur, Texas. I was 57 yrs old when my gynecologist noticed my thyroid was enlarged and sent me for a biopsy at a local hospital in Port Arthur. The resulting pathology revealed that it was a Hurthle cell thyroid neoplasm.  In 2010, my Obgyn again was alarmed at the size of my thyroid and ordered an ultrasound again in Port Arthur.  The attending physician wanted to remove part of the thyroid for biopsy but my husband and I decided to seek a second opinion. The local doctor had heard of Dr. Gary Clayman and gave us a referral to try to get an appointment with him.  We were so blessed that Dr. Clayman accepted me as his patient.
 
We traveled with my medical records and had another ultrasound and fine needle biopsy.  When we saw Dr. Gary Clayman for the first time, he reviewed our case and immediately recommended a total thyroidectomy which he performed on Nov. 16, 2010. Dr.Clayman's surgical staff from all over the country, kept my husband informed  during my procedure as well as raved to the surgical skills of Dr.Clayman.  Everyone who sees my scar is impressed with how minimal it is even though my thyroid was very large. The resulting pathology revealed a Hurthle cell thyroid carcinoma of 6cm in size.  In Dec. 2010, I received 150 mCi of radioactive iodine ablation.  I continued follow up appointments and ultrasounds for the next 5 years, and in March of 2016 my treatment was moved to the Thyroid Survivor Group. The attached picture depicts how the scar looks today.
I tribute the success of my cancer treatment to the experienced, accurate diagnosis of my thyroid cancer and the surgical skills of Dr..Gary Clayman to remove the malignant thyroid with minimum damage or side effects and also accurately determining the extent of invasiveness and condition of lymph nodes involved.
                       
---
Patient: B.J.F., 64 year old male, Business owner, North Carolina - Papillary thyroid cancer with lymph node spread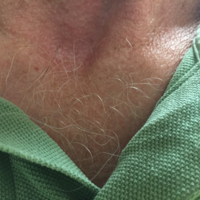 Everything seemed to be moving very quickly. This was in the spring of 2011.
After surgery, I recall Dr. Clayman visiting me in my hospital room and stating "you'll be fine, I was able to remove all the cancer"—those were great words to hear!
For the first year, I was followed on a quarterly basis, then the following year on semi-annual schedule and next on an annual basis. I am now in my sixth year of remission and successful treatment.
I feel very fortunate to have been treated by Dr. Clayman. I believe my wife and I made a very good decision and have no regrets. I am not a vain person, but the scar from surgery is barely noticeable. I am grateful to Dr. Clayman and appreciate the treatment received from him.
---
Patient: C.C, 56 year old, Personal Trainer, Houston TX - Total thyroidectomy and central compartment dissection for papillary thyroid cancer
To Whom it may concern:  
In October of 2014 I was in my recliner probably watching the Cubs play baseball when I suddenly became aware of a feeling in my throat which caused me to palpate that area and I noticed I had a "mass" below my Adams apple and I just remember thinking to myself, "that doesn't belong there".  Of course I waited 2 months to seek medical attention.  (Not a decision I would recommend)  So one thing lead to another and I had a biopsy done at another local hospital and was told I had thyroid cancer.  Meanwhile, one of the members of my gym told me I had to go see Dr. Clayman.  So I did and he confirmed that most certainly I did have thyroid cancer and that it needed to be removed.  I just remember Dr. Clayman saying in a very confident and reassuring manner, "we'll take care of you".  From that moment on, I never had any doubt that I would survive this diagnosis and go on to live a very healthy, normal life.  
On the day of my surgery, March 25, 2014, I remember waiting for Dr. C to come into the operating room and when he did, I told him, "I hope you have your A game today".  He looked at me and said, "Chris, all I need you to do is go to sleep" which of course I did and as they say the rest is history.   I feel as good today as I did before the diagnosis and surgery.  
I'm so grateful that I was referred to Dr. Clayman.  
---
Patient: C.D.B, Age 75, retired teacher, Houston Texas  
Your request for a testimonial came at a good moment.  I was planning to write you to express my gratitude for five and a half years of life that I didn't expect.  My diagnosis of anaplastic thyroid cancer was obviously considered more than serious- I could tell by the way doctors said the words of my diagnosis.  My husband, my son and I rushed to your office on an already full day of appointments and you operated the next day on an already full day of surgeries.
 
My surgery was successful and my neck shows no sign of scars.  In fact, I have sometimes joked about the M.D. Anderson spa. It was a lot like a chin lift and healed easily. After radiation and chemotherapy, I recovered well. 
 
Again, I thank you for these years and I don't think I would have had them if I hadn't been lucky enough to have you as my doctor. 
---
Patient: D.D.F.,69 year old woman, retired potter, North Canton, Ohio
I was diagnosed with thyroid cancer in 2002, in Pennsylvania by my family physician, and I was extremely upset. I knew Dr. Clayman through a friend and relative. I called him and a few days later I would be operated on after several tests to confirm the diagnosis. Of course, I was scared and concerned of what was going to happen. Dr. Clayman reassured me the cancer was contained and could be removed. He operated on me the next day.
I had so much confidence in him. I knew everything would be okay. I still have some scarring only because I have keloids, which causes me to scar (sometimes severely). After the surgery he administered shots into the incision area, which helped the scarring. To this day, I admire and recommend Dr. Clayman highly to anyone going through thyroid cancer. He has the greatest bed-side manner of any doctor that I have ever had, and I've had 16 other surgeries by other doctors for various procedures, and he is the best.
My thyroid cancer never came back although it had spread extensively to both sides of my neck and underneath the thyroid gland in those lymph nodes as well. I know my thyroid cancer is not coming back, but if would for some reason the first place I would come to is Dr. Clayman's.
I was 54 when I was operated on for the thyroid cancer and I am now 69. I live in North Canton, Ohio. I thank God for Dr. Clayman everyday.
---
Patient: J.W, CEO of manufacturing company, Browsville, TX
My Specifics:
● My name is J.W. I live in Brownsville, Texas and am the President and CEO of a manufacturing company.
● I was diagnosed with Thyroid cancer and Hashimoto's disease in May of 2011. I was referred to Dr. Clayman in June of 2011 and had my complete Thyroidectomy in August of 2011.
● I have just completed five years cancer free and am now a survivor.
● I am taking Tirosint and Liothyronine daily.
First, the community in Tampa will surely benefit from your presence, as the community at MD Anderson and in Houston will surely miss you.
Secondly, let me take the opportunity to again thank you for your care of me during my journey. Though you assured me that I would be fine (amidst the mandatory disclaimers of the risks associated with Thyroid cancer and thyroidectomies), you never made me feel that my case was not "serious" enough to be treated by you. I guess that would be the first thing I would like to comment on. When I walked into your office, I was met by your support staff that treated me better than family. Obviously great people in their own right, but, they must have enjoyed who they were working for and have been led by you in a manner which resulted in their wonderful treatment of me. When you walked in the room during my first meeting with you, you were up beat, positive and straight at me with your approach. I appreciated that. You seemed to be able to sense how I was. You never treated me like I was sick and you felt sorry for me. I needed to know that I had someone caring for me that knew he would make it right. I believe that once you all saw that I was approaching this with as much humor as I could, you played on that. I will never forget you telling me that I could lose my voice through the surgery. As my eyes popped, you looked me straight in the face and said "that's not going to happen because I know what I am doing!"
As I anticipated, every step was exactly as you and your staff said it would be. A major life inconvenience, but, nothing that you wouldn't help me get through. The tests, radioactive iodine treatments, and surgery went flawlessly. Biggest issue was not being able to raise my voice or sing after surgery for six months. Probably a great side effect for my family. I appreciated the informative approach you take. You were also there to respond to any questions or concerns that I had. Before and after surgery. You remembered me during my check ups as if it had been the day before that you had last seen me.
I am now doing perfectly well. I have healed to the point where it takes me actually pointing to my scar for someone to notice. Even then, they have to give it a good look.
Lastly, I would like to thank you for including me in this small part of your future. You started a difficult part of my life with care, compassion, trust, courage and humor. I thank you for that and will not forget you for taking such good care of me. Please feel free to use my name and contact information if any of your upcoming patients would like support on the process and my experiences.
---
Patient: F.S.Y. 64 year old male, Retired Business Owner, Llano, TX - total thyroidectomy for substernal goiter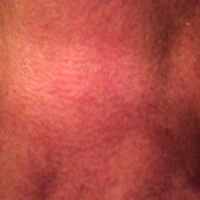 I am very thankful that Dr. Clayman removed my Thyroid. Based on the size of the Thyroid, the Growth that had occurred and the fact that it wrapped around both of the nerves to my vocal cords completely, it was a very difficult operation. In spite of that, I am able to speak with no problems. I do not think others could have accomplished both the removal of my Thyroid and not damaging my vocal cord nerves. I feel extremely fortunate that Dr. Clayman was my surgeon. I went through 2 years of diagnosis before it was decided I needed to have my Thyroid removed and Dr. Clayman dealt with my situation to make me better. 
I found his post operation bedside manner very comforting and calming since I had concerns about such an operation. He alleviated my concerns and explained my operation and how he would able to overcome the complexity of the operation based upon what he would identify during the surgery. 
I know you will continue to serve your patients in an exceptional manner. 
---
Patient: H. B H. ,Age 61, Elburn, IL and North Port FL, Retired
In early 2009, I was diagnosed with Papillary Thyroid Cancer and on April 16, 2009, Dr. Gary Clayman performed a thyroidectomy. The care I received before, during and after surgery was extraordinary and I would recommend Dr. Clayman for both his personal and professional skills as a surgeon.
The reason I most regard his skills is because he performed a complex set of 3 surgical operations in just a single operation: He (1) removed my thyroid, (2) removed some cancerous lymph nodes (found during the operation), and (3) removed/re-implanted my parathyroids to allow them to once again regulate calcium. I have researched and talked to other (similar) patients with my same diagnoses who have endured 2 or 3 separate operations to achieve the same (or lesser) end. Their experience has made me feel very fortunate.
I remain cancer free and quite healthy as of July 2016. Other than a daily dose of Synthroid, I also rarely think about the experience since there are no lasting effects or noticeable scars. I credit the advanced knowledge/skills of Dr. Clayman, the advanced state of cancer research, and the care received by Dr. Clayman and his entire staff for my success.
---
Patient: H.D.W., 71 year old male, Tyler Texas, Retired
Around the middle of 2009, I started having trouble swallowing and keeping liquid and food down.  I went to a head and neck specialist in Tyler, Texas where he set me up for testing.  First, a sonogram indicated that I did have cyst on my thyroid but my lymph nodes all looked good.  This led to an appointment with an oncologist where she did a fine needle aspiration with the help of a sonogram.  She stuck me nine times in order to do this but also indicated she saw no problem with my lymph nodes.  Then the two week waiting period for the test to come back and tell me whether I indeed had cancer.  Sure enough, it indicated that I had thyroid cancer and an appointment was made with a surgeon.  To make a long story short, after cutting on me for three and one-half hours, he backed out without having removed the cancer or my thyroid.  When I came to, he related to me that he was unable to remove the thyroid material from my trachea and I would possibly have to have a trachea resection and he was not prepared for that.  He also related to me the news that my lymph nodes all looked good.
 
I decided at that point to go to see a real thyroid cancer expert where I knew I could find the professional help I needed.  Dr. Gary Clayman headed up my medical team that evaluated and treated me.  A series of tests was ordered and the first test I was to have was another sonogram.  The sonogram tech told me after a few minutes that he thought I had cancer in my lymph nodes also.  I related to him all of my previous tests in Tyler but he asked if he could do a fine needle aspiration.  I agreed and after maybe 15 minutes he came back with the results that I did have cancer in my lymph nodes.  After numerous other tests, a time was set up for surgery with Dr. Clayman.  I was terrified that a trachea resection may be in order, but after five and one-half hours on the operating table, Dr. Clayman was able to separate the tissue between the trachea and the thyroid and remove my thyroid.  He also removed thirty lymph nodes from my chest area and sixteen of them were found to have cancer.  After a period of time to recoup from surgery, I went back for radiation Iodine therapy to help kill any remaining cancer. 
 
My wife and I are extremely grateful to Dr. Clayman for his professional skill to be able to remove the thyroid and cancer without having to do a tracheal resection.  His dedication to his profession and to his patients are unmatched by anyone in my opinion.
---
Patient: J.W., 54 year old male, Petroleum Engineer, Lafayette, LA
All you are asking me to do is tell the truth. As far as I see it, Dr. Clayman saved my life. I know Dr. Clayman sees thousands patients but in my case, the local doctor here in Lafayette La told me I had a 25% chance of survival. Dr. Clayman told me he would take care of it and he did!!!. I had surgery for my cancer in 2004 and now twelve years later continue to remain without any evidence of cancer. Thank God for Dr. Clayman
---
Patient: J.K., 60 year old gentleman, Retired, Seattle, Washington
After having been diagnosed with Papillary Thyroid Cancer, undergone two surgeries and two treatments with radioactive iodine at a regional hospital, and with the prospect of having a third surgery by the same surgeon followed by yet another treatment with radioactive iodine, with the help of my local Thyroid Cancer Survivor's Association, I found Dr. Clayman.
 
There were several factors that impressed me with Dr. Clayman during our first meeting:
All Dr. Clayman does is thyroid surgery and thyroid cancer surgery!
Not only does Dr. Clayman stay current with the developments in his field, Dr. Clayman is giving with his time in speaking to cancer groups about the latest developments in thyroid cancer as well as surgical options for patients.
Dr. Clayman and his team have a schedule and stay on it.  When he is scheduled to meet with you, he is there on time.
Dr. Clayman is present and focused when meeting with me and my wife.  He has his agenda, which he goes through and he allows us to get through our agenda in an unhurried and patient centered manner.
Dr. Clayman was open to all of questions and concerns and is open and honest in addressing our issues.
Dr. Clayman did not over- or understate my surgery, the expectations (my cancer was not encapsulated when it was first removed so it has the potential to come back….although it has not following Dr. Clayman's surgery), and my recovery (which was more about the scar healing than anything else).
Dr. Clayman not only has great follow-up (calling himself to see how I was doing after my surgery (after we returned to our home state) but makes himself available to follow-up questions and concerns.
 
I cannot recommend Dr. Clayman any more highly than I do and I feel lucky to be his patient.  While I never look forward to being operated on I am grateful Dr. Clayman is the one doing the operation and I know how I am going to be once I wake up from the anesthesia.  It is without hesitation that I highly recommend Dr. Clayman to anyone in need any type of thyroid surgery.
---
Patient: J.F.P., 72 year old gentleman, Physician, Delray Beach, FL
When I was diagnosed with thyroid cancer, I knew that it was highly treatable but required specialized medical expertise to achieve optimum results. As a practicing physician, I welcomed recommendations from my colleagues. Dr. Gary Clayman was quickly pointed out to me as a national expert in treating thyroid disease. Even though I was diagnosed with advanced thyroid cancer, my consultation with Dr. Clayman left me feeling reassured of good treatment options. He and his staff were very professional and the level of care was of the highest quality. My treatment plan went without a hitch and following recovery, I was able to resume all my normal activities. Cancer treatment is a team endeavor and I was extremely impressed not only with Dr. Clayman's skill, expertise, and kindness but with the quality of people working with him. Not only was his surgical care excellent, but he remained actively involved in my post op care and ancillary treatment.
---
Patient: K. Al., 47 year old man, Captain and Flight Instructor, Riyadh, Saudi Arabia - total thyroidectomy and central compartment lymph node dissection for papillary thyroid cancer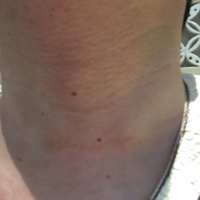 In 2011, l was diagnosed with papillary thyroid cancer. I search globally for the best thyroid cancer surgeon and Dr. Gary Clayman was recommended. I flew half away across the globe to see Dr. Clayman. He evaluated me promptly and did the operation 4 days after my arrival. The operation was a complete success. It was perfectly done that I didn't have to take radioactive Iodine. I thank God , since then I have been doing exceedingly well.
Dr. Clayman was not only excellent surgeon, he is so kind to me. Since I had a mild anxiety, after having the cancer, I was always worried of my cancer coming back! It has been more than five years now and there has never been anything to suggest that my cancer will ever return. I have never had a detectable thyroglobulin since surgery or any ultrasound abnormalities.
Dr. Clayman is very reassuring, helpful, and very sure of his work.
Despite he is very busy man , I was always able to reach him on e-mail, even on his personal phone ! And he always answered me even on his vacation. Dr. Clayman is not only my doctor, he has also become a friend of mine. I wish him all the best for his life. God bless him
---
Patient: K. R. , Age: 49 year old male, VP Sales & Marketing Houston, Texas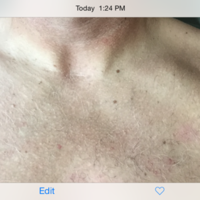 Not a week goes by that I do not think about the difference Dr. Clayman's expertise has made in my life. In June of 2009, my ENT noticed a lump on my thyroid.  He said it was nothing to worry about, but he referred me to an Endocrinologist in the area.  Following multiple scans and even more biopsies, the Doctor diagnosed me with Papillary Thyroid Carcinoma.  Of course, my family and I were devastated.  The Doctor laid out their proposed action plan.  Based on the diagnosis, they were going to remove my entire thyroid (both lobes and the isthmus), remove all lymph nodes in the area, put me on thyroid meds required due to the lack of a thyroid and do radiation treatments.
 
Upon getting this news, I contacted my ENT and discussed the findings with him. He recommended that we refer the case to someone who is a true expert in this disease.  He filled out the forms and forward the case accordingly.  
 
As most people do, I spent the day contacting my family members giving them the news of my diagnosis and telling them that we had the case referred to a thyroid cancer expert.  As luck would have it, my Mother-in-Law said that she went to school with a person who worked with a doctor who was in charge of the Head and Neck Endocrine Surgery Department.  The next morning, my cell phone rang and the voice on the other end of the line said, "Hi, my name is Dr. Gary Clayman, what can I do for you?"
 
I explained my case and diagnosis and the other Doctor's proposed surgical/treatment plan. He said, "I am away on Vacation just now, but can you be in my office Monday morning?"  Yes! a Doctor of his stature just called me from vacation to help.  This was beyond any fathomable expectation. I could not believe what just happened and was suddenly optimistic and hopeful during this incredibly scary and disheartened time.  
 
Following our visit and the rework of all diagnostic tests, Dr. Clayman told us that based on the results, he could see why the other Doctor would have diagnosed Papillary Carcinoma. However, he was not convinced that the diagnosis was correct. He laid out a different surgical approach. He would do the surgery to remove the 3 centimeter tumor from the right lobe of my thyroid.  While in surgery, he would conduct real-time pathology to determine if the tumor was malignant or not. If it was, he would then make the decision of how much of my thyroid to remove, most likely at least the right lobe and the isthmus if not all three sections. If it was not malignant, he would remove the tumor and minimal tissue and close.
 
As it turned out, the tumor was not malignant.  Dr. Clayman removed the right lobe and isthmus and left me with the left lobe. The diagnosis was, "Follicular Neoplasm of undetermined malignant potential." Apparently, this was an extremely rare case.
 
I quickly recovered from the surgery and have been operating on one lobe of my thyroid for the last 7 years.  I have had no issues and do not require any medications.  My health is great and I have never had cancer!
 
I am forever grateful to Dr. Clayman. His expertise and dedication to service truly changed my life.
 
---
Patient: L. D., 55 year old male, Marketing CEO, Lakewood, NJ
Approximately 3 years ago I met Dr. Gary Clayman. I was afraid and indecisive on what my next move should be. He was recommended as a world class expert on thyroid cancer and thyroid surgery. Gary examined me and recommended a complete thyroidectomy. I was far from home and very intimidated by the surroundings of of a cancer hospital. Dr. Clayman reassured me and did not pressure me. I felt confident he would give it his all. He gave me a hug before the surgery which I still carry with me today.
 
He performed the surgery and with g-ds help had great success he attended to every detail at the highest professional level.  The aftercare was as meticulous as the pre surgery. Gary is a master of his field packaged in an empathy and kindness not found among most people let alone thought leaders and elite medical professionals.
After the surgery, I felt I had a friend and resource for life . I've called Gary for medical advice and have never felt like a burden rather a brother being helped by a brother.
 
To a person placed in this medical challenge you can have no greater comfort that g-d has placed you into his gifted hands.
---
Patient: L.H., 61 year old woman, Esthetician and massage therapist, Mission Viejo, CA - Aggressive thyroid cancer invading trachea requiring total thyroidectomy, tracheal resection and central compartment lymph node dissection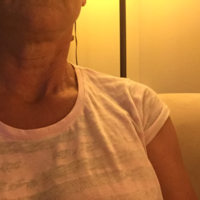 It's difficult for me to put into words how much I appreciate Dr. Gary Clayman.
When my husband and I first met him, we had traveled from So. California to see him.
Lots of fear and anxiety were hanging over our heads. Immediately, after meeting him and discussing my case, we were very extremely happy and quite relieved.
Dr. Clayman discussed everything in simple terms that we were able to understand.
We left him feeling that hope was on the horizon. We were not able to locate a surgeon familiar with my cancer in California. We were feeling very relieved and quite blessed. Dr. Clayman was a doctor who presented himself with confidence and had a lot of experience.
No one in California had performed the thyroid surgery that I needed.
Because of Dr. Clayman's high level of experience and knowledge, I was able to continue my life as a mom and a wife.  Eventually, I returned to work as an esthetician and massage therapist. I am a 61 years old woman and live in Mission Viejo, Ca.
If a need arises, I will travel to Florida without any hesitation.
---
Patient: L.M., 40 year old female, Professor/educator, Austin, TX
During what would be a very scary time for anyone, with the uncertainty of the future with cancer looming overhead, being placed under Dr. Clayman's care was one of the best things that could have happened to me. Upon meeting him, his kind and steady demeanor did much to calm my fears. I quickly understood I was in the presence of someone who had a lot of knowledge about thyroid issues and thyroid cancer, and he patiently answered questions that I am sure he has heard a million times. Having complete faith and trust in someone who is going to perform surgery on you is not something all patients have the privilege of having, but fortunately I did. Everytime I saw Dr. Clayman post-op was the same. A quick smile, sure and steady hands, and patience. I am very appreciative of Dr. Clayman and his care. 
---
Patient: L.S., 43 old woman, criminal defense attorney, Houston, TX 
Diagnosed with thyroid cancer in 2011 by my endocrinologist.  I went first to the surgeon he recommended, who scared me to death about the possibilities of the cancer spreading to my lymph nodes.  I was referred to Dr. Clayman by a friend and found him to put me at ease immediately.  Dr. Clayman was extremely thorough, confident and a good listener.  He answered all of my questions and concerns up front and my outlook changed immediately upon our first meeting.  I knew I was in good hands at that point.  
Dr. Clayman was able to remove all of the cancer and get the lymph nodes out in order to clear me of the cancer.  Before surgery, he was able to mark my neck on the exact line that was naturally there, so that the scar from the surgery is virtually undetectable!  
Dr. Clayman is a fantastic surgeon and has a wonderful bedside manner - which is uncommon.  
---
Patient: M.R.F, 58 year old female , Woodlands, Texas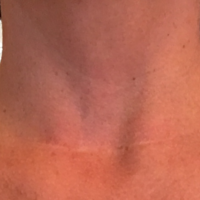 I was diagnosed with papillary thyroid cancer after my first surgery in January of 2008 at the age of 50.  After my gynecologist found an enlargement in my thyroid during a routine exam, a needle biopsy was inconclusive about the condition of the enlargement; therefore, only surgery could tell if the nodule was cancerous or not.  My half-sister, with whom I shared a mother, had been diagnosed with the same kind of cancer only two years before.  In that intervening year, our mother passed away.  Needless to say, this was an unsettled time in my life.  My husband and I had been married for almost 30 years at this time, and we had two sons---one finishing high school and one in college.  I was employed part-time in a small biotechnology firm.
 After first having an exploratory surgery and a consultation at my local hospital in The Woodlands, Texas, I decided to become a patient with Dr. Gary Clayman. I met Dr. Clayman, and, unbeknownst to him, he scheduled my surgery for my late mother's birthday in January.  No one said this would be easy.
After my surgery, I cannot say that I was thrilled with the appearance of my neck, however, now, eight years out, I no longer see the slight scar as anything but a reminder of my status as a cancer survivor.  The healing process for me was rapid and mostly painless, and there were times when I thought of myself as almost an imposter as a cancer victim because of seeing how much more difficult the disease was for other people compared to me. 
 I appreciate Dr. Clayman's attention to detail in my case, his patience in listening to my questions and then explaining what would happen in my surgery, and his confident follow-up care that assured me I would continually improve.
Thank you for the opportunity to recommend Dr. Gary Clayman, my thyroid cancer surgeon.
---
Patient: M.D., 60 year old female, Senior Associate at Sales Development Firm, Pembroke Pines, FL
In 2011, I was diagnosed at the age of 55 with Thyroid cancer. My surgeon in Jupiter, FL removed my thyroid and after the surgery, informed me it had spread to my lymph nodes in both sides of my neck and I would need a bilateral neck dissection. I asked him if he would be performing that surgery. He hesitated, and said, "No, I think you need to find someone a little smarter than me." He suggested I find a surgeon that only performed head and neck surgery. I immediately contacted a personal family friend that is an ENT surgeon in Peoria, Illinois and his partner recommended Dr. Clayman. His words to me were, "if you were my wife, daughter, or sister, I would send you to Dr. Gary Clayman." With that personal recommendation, I made the decision to travel to see Dr. Clayman but not before I followed-up with my Endocrinologist in Miami. I told her I had an appointment to see Dr. Clayman for surgery. She was thrilled with my decision and told me she had seen him speak and was extremely impressed with his knowledge and reputation.
In February 14, 2012, I met Dr. Clayman. He performed the bilateral neck dissection and clean-up in the area where the Thyroid was removed. The surgery was a success! I was hospitalized for 2 days and flew home to Florida at the end of the week. Dr. Clayman recommended I stay nearby for a few days in case there were complications. I can tell you I had absolutely zero complications. Dr. Clayman visited me before and after the surgery and told me all about the procedure and made me feel at ease. I am pleased to hear Dr. Clayman is opening a Thyroid Cancer Center in Florida. I contacted my Endocrinologist in Miami to let her know Dr. Clayman's status, and she, too, was thrilled with the news. I wish all the best to Dr. Clayman and would highly recommend him to anyone!!
---
Patient: N.T., 65 year old female, Retired nurse Lancaster, PA - Total thyroidectomy for papillary thyroid cancer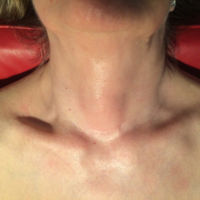 My long career as a professional nurse enabled me to meet and to work with many physicians, including chief surgeons.  My personal health history has also enabled me to meet and to be treated by many surgeons, including cardiac, oncological and reconstructive.
When I was diagnosed with thyroid cancer in 2013, my husband and I did extensive research in order to choose the most qualified surgeon to perform my thyroidectomy.  We ultimately chose Dr. Gary Clayman whose CV seemed to be outstanding. 
Meeting Dr. Clayman confirmed our feelings.  We found him to be brilliant, heartwarming and compassionate—and—his sense of humor was a welcome bonus. For the first time in my life, knowing that Dr. Clayman was going to perform my surgery, I entered the OR without fear. His technique was obviously exquisite and flawless, as I had a totally uneventful post-operative course and, as you can see, (photo attached) my scar is barely perceptible. 
Dr. Gary Clayman has touched my life forever and I trust him implicitly.  May this next chapter bring him continued success and fulfillment…
---
Patient: N. Z., 75 y.o. female Ph. D. psychologist, author, lecturer San Francisco, California  - Bilateral lateral neck dissection, total thyroidectomy, and central compartment dissection for papillary thyroid cancer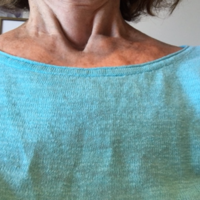 After receiving the news that I had Thyroid cancer and would need surgery, I tried for several weeks to make an appointment at my home town world renown San Francisco Hospital only to be told I would be taking a place of someone who needed surgery more immediately.  I asked my consultant ( Dr. Mark Renneker) if I were his mother or sister what would he do…without hesitation he said: " I would get on a plane tomorrow to and meet with Dr. Gary Clayman."  I agreed and he offered to make the introduction. On Sunday night, to my surprise, I received a call from Dr. Clayman. I could hear children in the background so I assumed he was calling from his home.  What doctor calls a stranger from his home on a Sunday night? " I hear you have an issue with your thyroid, what's going on?"  I explained my situation….thyroid cancer that had spread to the lymph nodes. "I would appreciate your opinion. "  " How soon do you want to come?" he asked. "In two days " I responded.  Dr. Clayman said:  "Ok. How is 7:00 a.m.?"   Flying to see him, I assumed I was going for a consultation and would return home for my surgery. 
My husband and I met with Dr. Clayman and he explained my situation clearly and patiently. He answered all our questions. We never felt hurried. We felt heard and understood at a level never before experienced in a doctor's office.  I had the feeling we were his only patients all day…I know that was not true as he was immediately in surgery as soon as we left his office. I have never met another doctor who represents the excellence of the medical profession like Dr. Clayman.   Our conversation was the beginning of all my fear and worry dissolving. I immediately felt safe. Before our trip, I had checked on Dr. Clayman's reputation as one of the nation's most experienced and respected surgeons in his field. What surprised me was his ability to be fully present with me and my husband, his compassion, his kindness, his sense of humor, his ability to connect with us and his caring. He is an extraordinary man… a surgeon with a huge heart. I knew I was in the best of care and immediately made plans to have Dr. Clayman operate on me. The best medical decision of my life! 
I am thrilled to report that my surgery went well. Knowing that I was in the absolute best of hands (and heart) I experienced no fear going into my surgery.  Often with my kind of cancer, ( papillary- stage 4)  patients require 2nd and 3rd operations. I am grateful that Dr. Clayman did such an amazing thorough job the first time I have not required any more surgery. I could talk with Dr. Clayman about everything including my hope that the scar on my neck would be minimal because I like to wear necklaces. My scar is hardly visible …I like to point it out to close friends who comment that it is beautiful. How many people want to hug their surgeons?  Yes, me! I am deeply grateful to you, Dr. Clayman, for dedicating your life to saving lives ….you saved mine. Thank you,  Dr. Clayman!
---
Patient: P.F., 55 year old female, Homemaker, Winnie, TX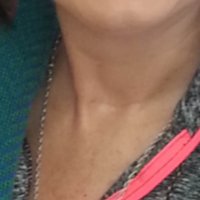 At 39 years old, in May of 2000, I was diagnosed with thyroid cancer. I'm 55 now, a 16 year CANCER SURVIVOR!!  I would like to tell you my story, so maybe it can help you.
 I was always a very health conscious person that ate healthy and worked out daily. I had two children, ages 17 and 13 at the time, and a wonderful husband. They kept me busy everyday with all their activities. I had been seeing a local endocrinologist for 9 years for a goiter. I had a ultrasound the first year and the fifth year, but I had never had a biopsy. The 9th year, I insisted on a biopsy because I had the feeling of something pushing on my windpipe. After a couple of weeks, I got a call from my doctor saying he wanted me to come in the next day. I knew it was something bad...That next day, I was told I had thyroid cancer and according to my previous ultrasounds, it had probably been there for 9 years. I was devastated, angry, and scared. I started searching about thyroid cancer online and it terrified me. I finally found the doctor that I wanted to treat me and that was Dr. Gary Clayman. He was the top Head & Neck surgeon at MD Anderson.
 The next 4 to 6 weeks, I was really anxious & scared. I tried to enjoy every minute with my family. My son at 17 was a top athlete in every sport, and my daughter played sports and was a cheerleader. This kept me busy everyday. My husband worked shift work, so a lot of the time , he couldn't go with me. I dropped about 20 lbs. before my surgery.
  Finally, my appt. day came to see Dr. Clayman.  You can only use your imagination what that waiting room looked like. There were patients from all over the world with cancer of the head and neck.  I was shaking inside and fighting back tears when they called my name. Dr. Gary Clayman came in and was very personal, kind, and professional. I had tears rolling down my face, and I told him to please not let me look like some of the people sitting in the waiting room. He took my hands in his and told me that he would take good care of me. Most of the people had a different type of cancer.  He said my scar would be minimal. He also told me to think positive. That our minds have a lot to do with our healing. 
  I knew I had the best doctor, but I also knew the cancer had probably been there for 9 years. I did a lot of praying and meditating remembering what Dr. Clayman told me about our minds having a lot to do with our healing. During my surgery there was an unexpected finding. I was born with a thyroglossal duct cyst. This is thyroid tissue remains on the back of the tongue left during development. Dr. Clayman decided not to remove that during surgery. My actual cancer was only 1.3cm, but I did have microscopic cancer cells on the nearby soft tissue. It surprised me that it was that small after all that time. Luckily thyroid cancer grows very slowly, and I was blessed to be able to have the best thyroid cancer doctor around. I only spent one night in the hospital. I had a drainage tube near the surgical site and it was all taped up. I was released without any thyroid hormone replacement.
   I would have RAI treatment (radio-active iodine) to kill any remaining thyroid cells in the next few weeks. I followed a low iodine diet as reccommended. My energy levels dropped quickly along with being able to think clearly. I also gained a lot of weight. This was a very low time for me, but I tried to remain positive. My TSH rose quickly and finally it was time for my scan to see if I had cancer remaining. My scan showed only the thyroglossal duct cyst. Dr. Clayman had successful removed all other thyroid tissue & cancer. I was so blessed. I had RAI and spent another night in the hospital and left with a rx for thyroid hormone replacement.
  My energy levels started coming back and I started feeling better soon. I saw Dr. Clayman for a 6 weeks follow up. He went over my surgical report and adjusted my medication. He's been with me on my journey through it all. I feel very blessed to not have any recurrences. Can't believe it's now been 16 years! You don't even notice my scar. I am followed with yearly ultrasounds & lab testing for thyroglobin, a special tumor marker. If I ever have any questions between visits, he always gets back with me. I believe the doctor you choose makes a difference. I was blessed to have the best, Dr. Gary Clayman!!
---
Patient: P.G.S., 85 year old man, Retired aviator/ Ranch owner San Antonio, Texas - Aggressive recurrent papillary thyroid cancer
I am 85 years old man who live in San Antonio, Texas. I am a retired Army Aviator, retired High School Educator, and I am an Active Cattle Rancher with tractors, backhoes, and other farm implements, all of which I am the owner and operator.
I was first introduced to Doctor Gary L. Clayman in September 2012. I originally underwent surgery for Papillary Carcinoma in 2010 at a military facility in San Antonio, Texas. The surgery went well,  but I lost about 30 pounds and had an extensive recovery period. In follow-up studies, it was determined that the cancer was still present in several areas. Some of these areas were critical and military Thoracic Surgeons refused to do surgery unless I demanded it and signed a release, releasing them of all responsibility for any adverse events during or after surgery.
My wife and daughter recommended (demanded) that I get a second opinion. This is how and when I was introduced to Doctor Clayman. I was impressed with him, his knowledge, and his confidence. He did "Not" say, "I think, maybe, I'm not sure". Everything was positive. I liked his self confidence, and the feeling that he knew his qualifications, and capabilities.  He assured me and my wife, and daughter that he could and would take care of my cancer. HE DID.
We, Dr. Clayman and I, decided to follow the areas of concern for a period of time ( 6 months), and see if there was movement, growth, or whatever.  It was determined , by Doctor Clayman, that more surgery was needed. I told him to schedule it and I would be there. He did and I was.
The surgery was scheduled for August 15, 2013. Prior to surgery, Doctor Clayman briefed my family, my wife, daughter, son and  his wife, two granddaughters, on the procedure and what to expect. When the surgery was finished, he again, briefed my family on the surgery, and my recovery aspects. All went well with the surgery and I went home to San Antonio, Texas the following day. There were no complications.
When ask, by my Endocrinologist and Radiation Oncologist in San Antonio, who did the surgery, I told them Doctor Clayman and they knew the name and the person. They had no problems with healing and follow up. Doctor Clayman recommended radiation to the neck because of the potential of microscopic cancer may be present. I underwent 30 days of programmed radiation. I did lose weight as I had no saliva, taste, swallowing problems, and an extremely sore throat. I made it. It was difficult but I made it.
My recovery, and follow up procedures, have been exceptional. I feel, as does my family, that had I not gotten a second opinion, met Doctor Clayman, had surgery under his expertise, I would not be alive today.
Doctor Clayman has always had my best interest throughout our meetings. I write this with the utmost respect and confidence in Doctor Clayman. If he called today, and stated that I needed more surgery, or whatever I would not hesitate to do what he said.
---
Patient: P.J., 57 year old woman, Business owner - Papillary thyroid cancer - total thyroidectomy and central compartment lymph node dissection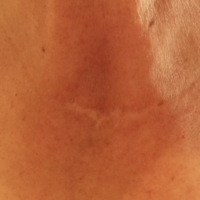 I first noticed a small lump in my neck while getting dressed for work. I didn't think too much about it but I did make an appointment with the PA (not the doctor).  She ordered several test which the results were all negative. One comment about my labwork was it almost perfect! She had also ordered a needle biopsy but I was so sure everything was fine that I cancelled that test. The PA called and left a message on the answering machine insisting that I go through that test even though all the other results were fine. I not only owe my life to that PA but also to Dr. Gary Clayman. I had no idea the journey I was about to take. Once I got passed the shock of hearing those words everyone fears the most CANCER I was then assigned to the most qualified, soft spoken, confident surgeon.  Almost instantly my fears turned into a feeling of calm the second I met him. I remember just an overwhelming feeling of being completely safe in his care. Of course at first I was scared of surgery, and needles but what about the outcome? What about my children? Am I going to die? My thyroid cancer had spread to lymph glands but Dr. Gary Clayman performed my surgery at my request as soon as he could do it. He actually worked me into his overbooked schedule. One surgeon had told me the scar could possibly be across my neck from ear to ear so I prepared myself for the worst. My scar is nothing to it!  Size of my pinky maybe? And I'm proud of it! It's like my badge of courage! I'm proud of myself for bravely going through it. Proud of myself now for living life to the fullest. I've started my own successful business called Nantucket Venue in Longview, Texas. I'm completely attached to my new granddaughter named Frankie. I have the upmost gratitude to Dr. Gary Clayman for my life! How can words ever express how important he has been to me? He is my angel, he is my strength, and I will never ever forget his reassuring and soothing voice telling me to go enjoy your life!
---
Patient: R. C., Age 42, Human Resources Coordinator, Boyce, LA
"I was diagnosed with recurrent papillary thyroid carcinoma in my home town and referred by my endocrinologist to a Specialist for surgery. I was blessed to be scheduled with the most skilled and caring board certified surgeon Dr. Gary Clayman. At the initial assessment, I instantly knew he had my best interest at heart and cared about my survival and recovery. I felt extremely comfortable putting my life in his hands. Personally I can say Dr. Gary Clayman is a highly qualified doctor with the most current skills and knowledge about thyroid cancer. He explained everything I would be facing in detail and calmed my fears about what to expect afterwards. It is clear to see why Dr. Gary Clayman has consistently been named one of America's Top Doctors."
---
Patient: R.K., Age at surgery: 38 (now 40), Attorney and business owner, West Palm Beach, FL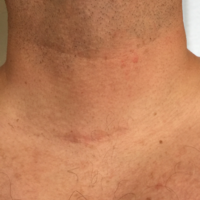 I was 38 years old with four kids when I was diagnosed with a 2cm papillary thyroid cancer. It was the scariest moment of my life but I was determined to find the surgeon who would had the (1) high volume experience and perspective on the latest treatment options, and (2) the skills to produce the best survival outcome. After exhaustive research and interviews across the USA, I chose Dr. Clayman to perform my surgery in November 2014. He suggested a partial thyroidectomy (and no RAI!) and explained the pros and cons and likely outcome very honesty. Two years later and his intuition was spot on. I'm still clear to this day despite a few positive lymph nodes removed during my surgery. Dr. Clayman was always patient, kind and responsive with my challenging questions from pre-surgery to regular follow-up imaging visits. I have recommended him to two members of my own family already.
---
Patient: W. & J. D., 38 year old male, attorney, Houston, Texas
My husband was diagnosed with Thyroid Cancer on November 4, 2014. As you can imagine, I felt I was at a road block -The rock of our family, now battling a cancer illness at 36…no idea where to turn. It was then a longtime friend contacted and sent me in Dr. Clayman's direction. This friend contacted Dr. Clayman via email, and within minutes (no lie 35 minutes) I received a return email – He (Dr. Clayman) would be "happy" to take the case, he responded. Dr. Clayman copied in those needed to set up the appointments and just like that, we were already better off than we were the day prior. This all took place on November 6th and by the 10th we were getting more tests and meeting with our new Dr. Our first interaction with Dr. Clayman was one I will never forget. The worry of the unknown, the cancer history of W's family, etc., did not have us in the best thoughts – When Dr. Clayman entered the room, it was a breath of fresh air. He walked in very confident and calm, spoke to us in a matter than we could fully understand what was going on, and he then said "I can remove all of this." He encouraged us to continue on day to day with normal activities. The confidence that he left us with when we both felt such defeat was remarkable; it allowed for us to go home in a better state of mind than we had come in.
Fast forward through time. December 2nd was surgery day. We arrive as told, and once again Dr. Clayman visits with W.D. before surgery, still calm and collective. Once surgery is complete, he comes out and visits with me and my parents. He was very thorough regarding the disease and the details of the surgery…and then again he left us with almost the exact words spoke at the first appointment "I got it all." With every appointment and check-up after, Dr. Clayman has been the same focused, calm and collective, thorough and confident doctor. The love and passion for his job shines through to his patients giving them the hope and fight needed to pull thru some of the darkest days. I feel Dr. Clayman was heaven sent to us, and my family will be in forever in debt to him. I will go out on a limb by saying he is by far the best in the medical field, and any patient of his will feel the compassion and care we felt. He was open and honest every step of the way. He never left us with things we did not understand, and always made sure we had no other questions. Thank you Dr. Clayman from the bottom of our hearts – without you, I am just not sure what W's future would have looked like. I believe in my heart you saved his life. ~
---
Patient: D. F. , 58 year old male with recurrent/persistent thyroid cancer, Attorney at Law Atlanta , Georgia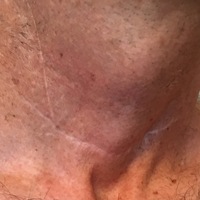 It is with great confidence that I endorse Dr. Gary Clayman. Dr. Clayman is a true warrior, a warrior who has declared war on his number one enemy....thyroid cancer. I came to Dr. Clayman having had a thyroidectomy at another hospital one year earlier by a thyroid surgeon at the major Atlanta cancer center. Unfortunately, I learned my first surgery was "incomplete". As a result,  we went looking for a warrior, a warrior to boldly finish the job. As soon as I met Dr. Clayman, I was immediately impressed with his combined intellect, skill and compassion. Three weeks after consulting with Dr. Clayman, he performed my second and this time "complete" surgery. It is now five years later and I'm disease free, healthy and have a new friend for life… Dr. Gary Clayman.
---
Patient: G.A.M., 83 year old female, Pasadena, Texas, retired
To Whom it may concern:
I saw Dr. Clayman in early September 2011 after having a biopsy at another hospital where they discovered I had Thyroid Cancer. I was Seventy Eight years old at that time and wanted to be with the very best. When I saw Dr. Clayman, he performed many more tests to make sure that the cancer had not spread to distant areas of my body.
Dr. Clayman did surgery November 15. 2011. I had already lost one vocal cord's function prior to my surgery. The cancer had grown into my windpipe so part of that had to be removed. When I awakened, Dr. Clayman was there and said he has sorry that he had to tie my chin to my neck so healing could happen without the stress of moving my neck. Yes, it was very uncomfortable but only lasted for two weeks. My neck healed well without any scar at all.
I did require radiation beam therapy for thirty days (I think) and that did me in far more than the surgery. It really zapped my energy for about a year.
Since then I have had a full life traveling to Nepal, Bhuton, a cruise on the Baltic Sea, and being very active with my six grandchildren. Now at eighty three my knees are not good. If Dr. Clayman did knees, I would have him do mine. He has all of my confidence. On my last office visit December 2015, I asked him why my neck was still tender? He smiled and remarked, "You must have a tender Heart".
---
Patient: J.B. 81 year old woman, Recurrent Papillary Thyroid Cancer, Houston, Texas
I am JB, 81 years old and a housewife living in Houston, Texas.
In 2003, I had my thyroid removed by another doctor. In 2008, there was a massive spread of cancer around the larynx, esophagus and trachea. I was referred to Dr. Clayman. Following an interdisciplinary review, it was recommended that targeted chemotherapy be tried to get the cancer under control. The cancer was deemed to be too wide spread to consider surgery without extreme risk. The chemotherapy caused improvement for some time but eventually the cancer became very active again and threatened my very existence. Dr Clayman recommended surgery. I told him I only wished to be able to live another two years in order to witness my grandson's high school graduation and my daughter's 50th birthday. He was confident this was possible.
I was operated on May 1, 2013 and am still going strong. I still have thyroid cancer that has spread to distant sites in my body, but none in my neck! I thank you , Dr. Clayman, for your confidence and expertise for getting me through all of this.
---
Patient: SL 55 year old female Business Owner papillary thyroid cancer with neck lymph node spread to both sides of neck Santa Ynez CA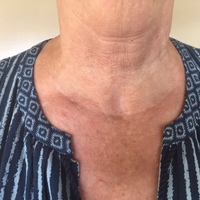 "How do you start a testimonial about someone who has saved your life twice?
In 2011, I had a carotid artery scan to see if I had plaque buildup when I
turned 50. A very large tumor in my thyroid showed up, I had a biopsy done
in California and the tumor was in fact malignant. Every doctor I saw in
California was very puzzled with this because my blood work was normal, my
thyroid was functioning normally, and I showed no signs of cancer except for
the biopsy. I told my husband that if I was going to have my thyroid
removed, that I wanted to go to the best surgeon possible. My fear was that
if I didn't, I would be under anesthesia and there would be possible issues
where I wouldn't be part of the decision making. I was referred to Dr. Gary
Clayman and made an appointment.
Dr. Clayman was very professional and confident in my diagnosis. His
confidence and his planning took away all of my fears, along with his years
of experience. At that point, I knew I had the best person for the job. He
was always extremely caring and personable; he took the time to answer all
of my questions, which were many. He performed the surgery, and then I went
back to California. Even miles away, he adjusted my medication and checked
in to see how I was feeling. He made sure my recovery went as planned and my
thyroid replacement medication was giving me the quality of life that I had
before surgery.
I have seen him once a year the last five years, plus blood work four times
a year. He is always there for me when I need him. Five years later, I was
rushed to the hospital for a medical condition unrelated to my thyroid. I
was in need of some guidance and I called Dr. Clayman for his advice. Even
thought this medical issue wasn't his expertise, I trusted his judgment
explicitly. Dr. Clayman got back to me immediately, and because of his
advice, he saved my life a second time. His exceptional care has gone past
removing my thyroid five years ago.
I would recommend him to anyone with a thyroid issue; there is not a better
doctor in my opinion. I have already referred two friends from California to
go see him in Florida for surgery and treatment."
SL
55 years old
Business Owner of Core Balance LLC, Equine Performance Nutrition
Santa Ynez, California
---
Patient: DGS 67 year old gentleman Aggressive thyroid cancer with local invasion into breathing tube and esophagus Albuquerque New Mexico
August 23, 2016
I am a life long resident of Albuquerque, New Mexico. I am currently 67 years old. I would like to share some information about myself regarding thyroid cancer and the doctor I refer to as "the man who saved my life", Dr. Gary L. Clayman, DMD, MD, FACS.
In April of 2005, doctors at Lovelace hospital, Albuquerque, New Mexico, diagnosed me with thyroid cancer. In May of 2005, I underwent surgery to have my thyroid removed. In 2006, one year after the first surgery, I returned to Lovelace for my annual check up. There, I was informed that the cancer had retuned. The doctors at Lovelace suggested another surgery be done. I went through another surgery at Lovelace only to be awaked to some horrible news. In the recovery room, the doctor who had performed the surgery told me that there was nothing he could do for me, the cancer had spread. He said if he were to go in to remove the cancer, he would have to remove my voice box and put a hole in my esophagus. He said he knew I wouldn't want to live that way, he said, "so I closed you up". He then said, by the way you have about two years to live.
Searching for answers and hope after the "unsuccessful" surgery, I went to see Dr. Edward, my Endocrinologist" He suggested that I get a second opinion. He mentioned he had met Dr. Gary L. Clayman, leading head and neck surgeon, at a seminar in Santa Fe, New Mexico. Dr. Edward recommended that I should see him as soon as possible. At this point, I was desperate, willing to try anything, so an appointment was scheduled.
Upon meeting Dr. Clayman in January of 2007, several tests were scheduled and done. On January 30th 2007, I went through yet another surgery, this time performed by Dr. Clayman. This man not only saved my life, but was so compassionate about taking care of me and treating me like I was a human being, not just another number. I was highly impressed by his "bedside manner" and I keep him in my prayers each and every night.
I know that anyone who has ever been in his care would testify that his up to date knowledge and kindness outshines many in his field.
He can be trusted and counted on for his expertise and I would highly recommend anyone I know to him.
As it has now been 9 years since that morning I met him and I can proudly say that Dr. Clayman was able to remove the cancer that plagued me and only had to remove a portion of my voice box cartilage. He continued his care with me while I went through radiation and has never left my side.
I talk with an excellent voice and eat everything I desire.
Now, I am happy to say I am cancer free! Thank you Dr. Clayman and may God bless you and guide you in all that you do.
DGS
67 year old gentleman
Aggressive thyroid cancer invading voice box
Albuqueque New Mexico
---
Patient: DW, 59 year old female, anaplastic thyroid cancer, stay at home grandmother taking care of three children, Big Sandy , Texas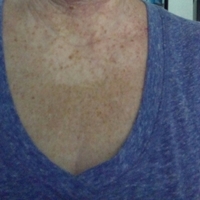 In June of 2013, I got the terrifying call that I had a rare, fast growing thyroid cancer call anaplastic thyroid cancer. One of the most devastating cancers know to mankind. I was immediately sent to Doctor Gary Clayman. Right away, I felt a connection with him. I went in frightened of what lied ahead. Doctor Clayman's calming and confident words made me feel I was in trusting hands. I felt as if I had an army fighting for me. He was very informative and told me what a hard fight will be ahead of me. I then underwent surgery followed by chemotherapy and radiation therapy immediately after surgery. Doctor Clayman showed empathy in my "low" times as well as my "high" times throughout this journey. Even now, three years later, he was truly a big part of my support system and I cannot thank him enough for all the help he has given me. He is an outstanding doctor and I feel blessed to have been referred to him.
DW
59 year old woman
Anaplastic thyroid cancer
Stay at home maker caring for three grandchildren
Total thyroidectomy and bilateral neck dissection with chemotherapy and radiation therapy
Big Sandy Texas
---
Patient: M.W. Television host and Vice President of Television Operations, Lake Charles LA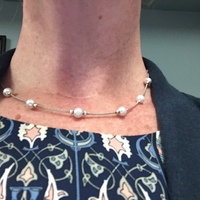 Dr. Clayman was highly recommended to me by my endocrinologist. He advised that although many general surgeons will perform a thyroidectomy, it would be best to use someone who performed this type of surgery often. I work at a tv station and host a daily show, so I was concerned about possible changes to my voice or a large, visible scar. I talked with Dr. Clayman about my concerns, and he made a special effort to keep the scar as small as possible. Within a few shorts weeks I was back on air, and my scar is hardly noticeable. I was very pleased with the treatment I received from Dr. Clayman, and would not hesitate to recommend him to anyone facing thyroid surgery.
M. W.
Television Talk Show Host and Vice President for Television Operations
Lake Charles Louisiana
---
Patient: Anthony Guillen, 40 year old male, total thyroidectomy and central compartment lymph node dissection for papillary thyroid cancer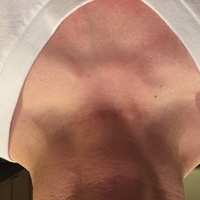 6.5 years ago an observant chiropractor noticed a goiter in my neck, which was soon thereafter diagnosed as papillary thyroid carcinoma. I was 33 years old. After consults with other surgeons, I felt most comfortable with Dr. Clayman's expertise and evaluation. We decided on a complete thyroidectomy, and Dr. Clayman performed the surgery. There were no complications from the surgery and now, over six years later, I have had no recurrence of cancer. My last evaluation from my endocrinologist was, "excellent response to therapy" and risk of recurrence at
---
Patient: Patient: J B, 39 y.o. male, vice president & principal, MMR Group, Inc., Baton Rouge LA
I was diagnosed with metastatic thyroid cancer, specifically papillary carcinoma on April 29, 2014 at the age of 37. I elected to pursue surgery specifically with Dr. Gary Clayman. My case was somewhat unique as I have an identical twin who was diagnosed with the same cancer six months prior to me. As a concerned family member, I was able to 'get smart' about the disease, the options, surgery, and treatment not by virtue of, but rather by the circumstances of my twin's experience. And so I first met Dr. Clayman as a supportive sibling bearing witness to a family member's experiences. Through our research, we had both read and heard through various sources (including a member of the board of MD Anderson), that Dr. Clayman was set apart as the very best among the very best. I was able to see firsthand the complete skill set that Dr. Clayman possesses. His personal care and attendance to the patient gave our family an incredible level of comfort quite apart from his professional distinguishment (which is literally second to none). Soon after, I myself became a patient of Dr. Clayman. Six months after my brother's successful surgery with Dr. Clayman, I was diagnosed with the same affliction and the choice was very clear as to the surgeon I wanted. What seemed like an overwhelmingly complicated, intimidating, and daunting procedure to me was nothing but straightforward and routine for him. His confidence was indeed infectious and reassuring. On May 13, 2013 (short two weeks after my diagnosis) Dr. Clayman performed a total thyroidectomy with an extended complicated left and right neck dissection to remove the thyroid, affected tissue, and the cystic metastatic lymph node areas. I spent two nights at the hospital and one night in an adjacent hotel prior to returning to my hometown of Baton Rouge. I have no long term vocal issues and the scarring is so minimal that it goes completely unnoticed by most.
I, my wife, our three kids, and our extended family are forever grateful for Dr. Clayman's lifework. As I have told others in the past and will repeat in the future; "if you ever have to face a thyroid cancer then attend to your care and treatment with one person, Dr. Gary Clayman. I am here today because of him." It's the strongest endorsement I can make.
J. B.
39 year old male
VP and Principal MMR Group, Inc.
Baton Rouge, LA
---
Patient: Age 31 – (age at time of surgery 26) – profession: linguist revision central and lateral neck dissection for peristent papillary thyroid carcinoma Los Angeles, CA
Before meeting Dr. Clayman, I had met with several surgeons, and they expressed concern about the complexity of my revision case, specifically the risk to my vocal cords.  I had undergone a surgery in Los Angeles at a major medical center by a surgeon reported to be an expert thyroid cancer surgeon. Unfortunately, he left significant disease in my neck which I have since found out is quite common except with truly exceptional thyroid cancer surgeons.
 When I met Dr. Clayman, he was serenely confident—and incredibly kind.  He took the time to answers all of my questions and wasn't at all uncomfortable about detailing his relevant experience as a surgeon, which far exceeded any national peers. 
 
Within a few minutes, I knew he was "the one" (to save my neck).  He is the paradigm by which I judge all other surgeons, and the example in my mind of what a surgeon should be – extraordinarily skilled but kind and respectful, and very patient.  I have always felt like a human being when dealing with Dr. Clayman, despite how busy he is and the number of cases he takes on.
 
It goes without saying, but years have passed since my revision, and I'm doing better than ever—voice intact...and never a hint of cancer again!
Age 31 – (age at time of surgery 26) – profession: linguist
revision central and lateral neck dissection for persistent papillary thyroid carcinoma
Los Angeles , CA
---
Patient: W. R. 66 year old female, Lake Mary Florida Insurance Executive
It is never good news when told you have cancer and will need surgery- in fact it is down right scary. After going through knee replacement surgery a few months earlier, I was not looking forward to another surgery so soon. I have been fortunate to have good doctors that recommend other good doctors when needed.
My endocrinologist, gave me the news and proceeded to tell me my surgery options and when he finished I asked "who would you go to for this surgery?' He didn't hesitate with his reply, "Tampa General! We now have a wonderful renowned surgeon in thyroid cancer, in our area."
What I found with the Clayman Thyroid Cancer Center was organization with tremendous organization and effectiveness. I was able to take care of paper work and questionnaires regarding my medical history ahead of time. Since I live several hundred miles away, my first visit was the day of surgery so being prepared with all information was essential.
Form the moment I arrived at the hospital (with my husband) the personnel were helpful and most accommodating. Admission was a snap and we were brought up to Dr. Clayman's door.
What a great staff! I have seldom felt so special. Dr. Clayman, Joan and Jolene were with me all morning pre-op and they actually read all those questionnaires I had filled out. If I had to have a pre-op test done, he did it or was there while it was done. When I had to have a pre-op x-ray, Joan escorted me to that and waited for me. This kind of care and attention meant a lot to me and I feel that this doesn't adequately describe my appreciation of the experience.
Talking to my after-care nurses it was obvious that they too have the utmost respect for Dr. Clayman and were glad to have him at Tampa General.
Thank you, Dr. Clayman for your attention and care. I know there were other people involved, whose names escape me, that helped make my time there seem so...effortless and to them I extend gratitude, also.
Your ever-grateful patient,
W. R. 66 year old female, Lake Mary Florida, Insurance Executive
---
Patient: V. C., 56 years old educator, Houston, Texas Recurrent thyroid cancer left lateral neck and central compartment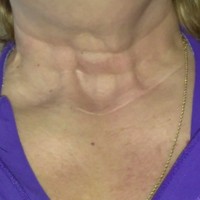 My name is Valerie C. and Dr. Clayman saved my life. On November 2, 2002, I was diagnosed with Metastatic Papillary Thyroid Carcinoma. In layman's terms: thyroid cancer that spread to the lymph nodes and soft tissue in my left neck and central compartment. I had already undergone multiple other operations for this thyroid cancer by other surgeons and I was terrified. I was referred to Dr. Clayman and got an appointment one week later. At the time, I was a very healthy 42 year old woman with a preteen age daughter. I was overwhelmed by the entire concept of recurrent cancer and a major institution but was assured by Dr. Clayman that all would be well. My surgery was performed that following week and from that day to my returning to work was exactly one month. I have remained cancer free for the past 14 years. I am truly grateful for Dr. Clayman and all of his knowledge and expertise. Thank you for being such a great surgeon and such a caring doctor.
V. C., 56 years old educator, Houston, Texas
---
Patient: E. S. 77 year old female with recurrent papillary thyroid cancer and paralyzed nerve to voice box , West Palm Beach Florida, retired
After being diagnosed with recurrent thyroid cancer, it was imperative that I find a surgeon that I had confidence in and a background to go with it. My son's surgeon in Colorado recommended Dr. Gary Clayman of the Clayman Thyroid Cancer Center in Tampa Florida.
After speaking with Dr. Clayman on the phone, his positive attitude, the knowledge that he preformed these high risk surgeries (I have only one functioning vocal cord and that he had to avoid damage of the voice box). He assured me that I would be fine.
A few days later, a patient cancelled their surgery and I was offered their appointment. I believe God was looking out for me. I accepted and was operated on October 17,2016.
The care and compassion that I was shown prior, during and after the operation was, and still is unbelievable. Dr. Clayman and his staff , Jolene and Joan were with me every step of the operation and Caroline set up and coordinated all the paper work. At this point, I am cancer free. I would recommend Dr. Gary Clayman and his staff without hesitation. My sons and my husband felt that Dr. Clayman was the surgeon for me and I totally agreed.
Thank you again and God Bless
Sincerely,
E. S.
77 year old female
West Palm Beach , Florida
retired
---
Patient: ST, 53 year old male from San Antonio, Texas. Right Thyroid Lobectomy.
In January of 2017, I was diagnosed with a large mass on my right thyroid Lobe measuring about 8cm X 6cm. I had no symptoms and was shocked and terrified with the thought of cancer, thyroid removal surgery, etc. I was referred to a local ENT for surgery and treatment. When I asked how many thyroid surgeries he had performed he responded – "about 100 in the last 20 years". He told me he does a variety of ENT surgeries like ear tubes and tonsils every Wednesday. I became really nervous with that response. I immediately started researching Thyroid Cancer and related surgery and of course came to the conclusion that this area of the neck is loaded with very sensitive areas like nerves to the larynx (voice box), the trachea (breathing tube) itself, parathyroid glands, lymph nodes, and the thyroid gland just to name a few. There was no way I could trust my surgery to anyone who was not an expert. That's when I found Dr. Gary Clayman. Dr. Clayman has performed over eight thousand thyroid related surgeries. He performed thousands of thyroid surgeries over many years first at Houston's prestigious MD Anderson Cancer Center, and then he opened the Clayman Thyroid Cancer Center at Tampa General Hospital in the fall of 2016. Please research his bio and related work on your own and I believe you will find he is an expert in thyroid disease and surgery.
When I arrived in Tampa from Texas, I found Dr. Clayman's staff to be very experienced and professional. They truly cared about my feelings and explained and performed all pre-operative tests, scans and biopsies with care and expertise. Dr. Clayman met with me personally and reviewed all of my test results and answered all of my questions. His confidence and obvious expert experience showed in the details he described about my diagnoses and prognoses. To give you an example, my thyroid mass was very large and Dr Clayman calmly explained that removing it was no problem for him in fact he had just removed a huge mass 4 times the size of mine the day before! I instantly was reassured and I knew I was in the hands of the best! My surgery went very well and Dr. Clayman was with me before and after my thyroid lobectomy to explain all details of surgery both pre-op and post-op. The incision was small and is healing well after just 3 weeks. My pathology turned out to be benign so obviously I was thrilled. I was so thankful to have Dr. Clayman perform my surgery and my trip to Tampa to be his patient was the best decision I ever made.
53 year old Male
S. T., President and CEO private business, San Antonio Texas
Thyroid lobectomy for large thyroid mass of undetermined malignant potential proven by surgery to be benign
---
Patient: A. B., 36 y. o. female, Saint Augustine, FL, IT Consultant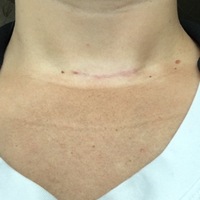 First off, let me say that if your search for a thyroid surgeon has brought you to this site, search no more. Dr. Clayman is who you want to see. Cancer is a scary thing, and to hear that word at such a young age can be surprising. I was blindsided by my diagnosis, having discovered it by accident when at the doctor for a routine medical issue. I was immediately referred to Dr. Clayman by a family member, and the rest is history. He performed a full pre-surgery evaluation on me using top of the line ultrasound, biopsy, and other imaging. I had everything and everyone needed to perform the tests in one room there in Tampa, which is quite rare. I was able to go in and walk out a few hours with all my tests finished. After the test results were in, Dr. Clayman called me himself with the results, a plan of action, and assurance that all would be okay. A month later, I had full thyroidectomy to remove my papillary thyroid cancer. In addition to removing my thyroid, he took the time to check the lymph nodes in the area to ensure that the cancer had not spread. Dr. Clayman's bedside manner is excellent - he listens well and is calming, caring, and kind. He explained the process to myself and my family in great detail, making us feel prepared for what was to come. Both he and his staff were excellent to follow up after the surgery, even visiting the recovery room and making sure I had all my post-surgery medications. I had very little pain from the surgery (only over-the-counter pain medications needed) and no issues with my voice. My scar is minimal - most people don't even see it and it's only been a few months since surgery (the attached picture was taken 3 months after surgery). The best part is that my cancer is now 100% cured. I feel so blessed that I was able to find and be treated by Dr. Clayman and his staff. Dr. Clayman's knowledge and experience is unsurpassed.
Patient: A. B., 36 y. o. female, Saint Augustine, FL, IT Consultant
---
Patient: LT 68 year old woman with papillary thyroid cancer Melbourne Florida (retired)
When my Endocrinologist called and told me I needed my thyroid removed, I was stunned and upset all at the same time. My Endocrinologist said "Go to Tampa to the Clayman Thyroid Center" for the thyroid removal. I was hesitant about going to a hospital 200 miles away and meeting with a doctor I was unfamiliar with.
I "Googled" leading thyroid surgeons, and the #1 name was Dr. Gary Clayman. I called his office and explained that I was going to put off the surgery for two months until my recent surgery(unrelated) had a chance to heal. I decided to start all the paperwork still wanting to wait.
What changed my mind was a phone call at 9:30 pm from Dr. Clayman. He was so caring, so understanding and listened to every word I said - Understood my concerns. I had never met this man! What doctor calls patients whom he has never met!? He explained my thyroid issue and the need not to wait. At the end of our conversation, I knew he was my surgeon.
The next day, his office called me and I had my surgery two weeks later. I had a very difficult and complicated operation and I cannot imagine any other doctor doing this surgery! Dr. Clayman's expertise is known worldwide and it was an honor for him to do my surgery. The professionalism of his staff and the caring of Dr. Clayman helped me through a most difficult time. The caring continues and is still continuing a month after surgery!
Dr. Gary Clayman is AWESOME! His staff is just as AWESOME.
LT 68 year old retired woman with papillary thyroid cancer
Melbourne Florida
---
Patient: HM 72 year old male with Hurthle Cel Neoplasm of the Thyroid Altamonte Springs, Florida
At the end of last year, at the age of 72 I was diagnosed with a nodule of my thyroid gland. Although the diagnosis was benign there were some hurthle cells that could lead to thyroid cancer.
My mother, father and only sibling had died from cancer and I was concerned. My research lead me to the decision for surgery. After consulting with doctor friends and searching around the country for a thyroid surgeon, Dr. Gary Clayman rose to the top of my list.
He and his staff were wonderful. I filled out an online questionnaire from Dr. Clayman's website and shortly afterwards, I received a call in the evening from Dr. Clayman. We discussed my case thoroughly and Dr. Clayman was extremely knowledgeable, helpful and supportive. After that conversation with Dr. Clayman, I decided he would be my surgeon. A few weeks later I had my surgery at Tampa General Hospital with Dr. Clayman. The caring time spent with him and his staff was unmatched by any other medical experience.
My surgery went well as I had one half of my thyroid gland and two lymph nodes removed. I believe Dr. Gary Clayman has given me the opportunity to live a normal life. I would highly recommend Dr. Gary Clayman for any family member. My daughter has just been diagnosed with multi(3) nodule goiter and we will be consulting with Dr. Clayman as soon as we get the results from her fine needle aspiration (biopsy).
HM
72 year old gentleman with Hurthle cell neoplasm of thyroid
retired Optometrist
Altamonte Springs, Florida
---
Patient: SPC Palm City, Florida Retired 65 year woman total thyroidectomy
Date of surgery: 2/22/17
My experience with Dr. Clayman and the entire staff at Clayman Thyroid Cancer Center surpassed all of my expectations and then some!
Dr. Clayman's personal phone calls to me letting me know what to expect and how to proceed were certainly unexpected and reassuring. His staff made me feel like a family member. What blew my mind was the level of care I received. The nurses did everything possible to make my stay overnight comfortable and painless.
What really amazed me was and the fact that I had absolutely no pain after the surgery! A little bit of a sore throat was my only discomfort and even that was slight! Bravo Dr. Clayman and to the entire staff at Clayman Thyroid Cancer Center thank you all very much for the outstanding level of care you gave me!
Thanks again!
SPC
65 year young woman
Palm City , Florida
retired
total thyroidectomy
---